Website Designing For Higher Education Institutions

MasterSoft gives institutes a website which is responsive, interactive and elegant. The web portal gives higher education institutions, global recognition. This module of higher education erp is designed by us; the website offered will be content rich, professional, creative, smooth functioning and secure.
Every user has a unique secure login. We provide a dynamic site which allows the institute to independently design web pages, menu and content flow. Moreso, the content layout and user-interface will showcase events, examinations schedule, time-table and latest updates of the university.
The sites will be high-tech & fully secured against hacking threats. Security codes are regularly up-dated for new hacking threats. We assure 100% up-time of your site by hosting sites on world standard & world-wide mirrored servers.
Higher Education ERP Modules

University ERP

University ERP
Higher Education ERP

Higher Education ERP
Mobile-Friendly Responsive Design for Colleges and Universities

Are your potential clients logging into your college website on their laptops, smartphones, or tablets? With the current internet penetration, there is a strong preference for using mobile phones for checking websites. Thus, your institute's website must be compatible with all devices, especially smartphones.
To generate high-quality traffic, you should employ a responsive design approach on your website, which uses flexible page layouts to build web pages that automatically detect the orientation and layout of the user's screen and adjust the page and loading time accordingly.
The website should consider the following for achieving maximum traffic :
Have a clean-looking website that is fully accessible, functional, and engaging across any device without any downtime.
Website alignment with user expectations and needs.
improved aesthetic appeal and colour scheme of the website
User-friendliness of the portal on all devices.
Implementation of branding elements such as the institute logo, font variations, colors, etc.
Visual positioning and alignment of key elements on pages.
Right placement of CTAs, enquiry forms, and lead magnets will help drive leads towards high conversion.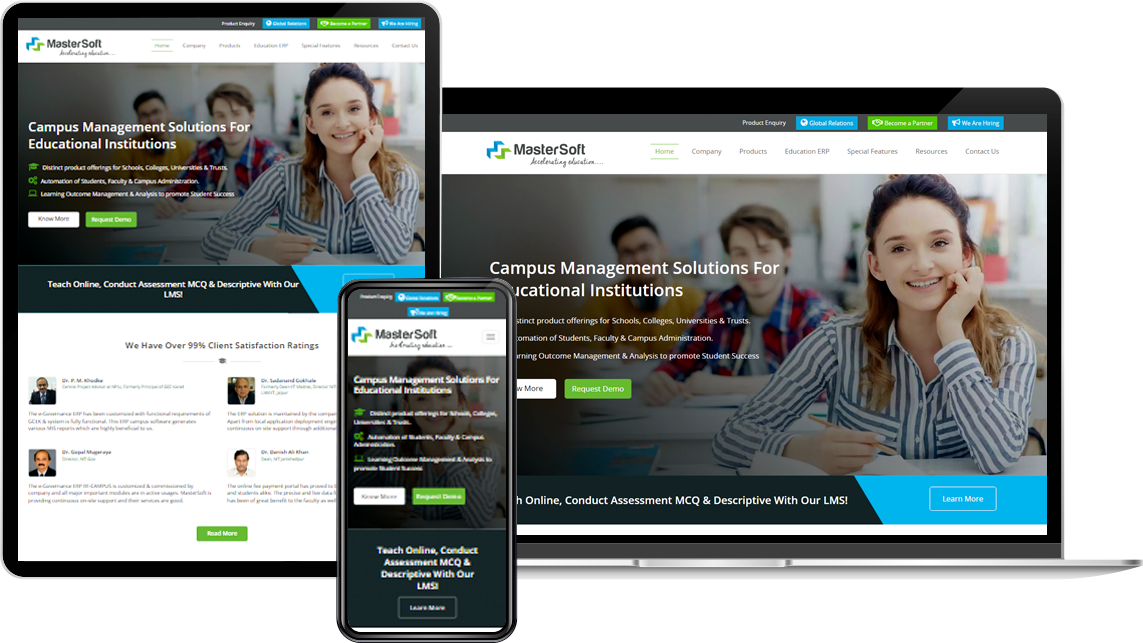 Web Services Includes

Web Design – Full Dynamic (Content based)

SEO-Search Engine Optimization
Domain Booking & Web Hosting

Site Maintenance & monitoring
Web Email solution

Site link-up with Social networking sites such as Facebook, Twitter, LinkedIn
Create Your Own Website - Dynamic Web Portal

We provide a fully dynamic website portal with great flexibility for you to independently design most of your own web-pages & manage their contents easily. For designing web pages you get a powerful text editor. The site visitor can select the color theme from several color themes defined by you. You can add / delete news in news room option. You can define multiple photo galleries with any number of photos in each gallery. You can upload files & images (Videos / PDF / JPG / Word / Excel) on a website. Various departments can have their own home page, independent menus & submenus and authorities for page creations for that department including news room & quick links. Department can have their own web admin for designing & monitoring departmental site. Following major tools & utilities are provided for designing site.
Keep Your Institute at the Forefront of Technology by Positioning your Brand with an Appealing User-Friendly Website!
Request Demo
Tools For Creating Web Pages & Links

Defining Menu Links: Define menu links such as home, departments, infrastructure, contact us by defining menu link name, tool tip, parent menu link & position of the link in menu structure. This menu link defined can be linked with your own created pages, your uploaded files, any external URL or to the system pages.

Page Design: You can design pages using predefined templates. Customized web pages can be designed in a simple way using a power full text editor similar to MS-Word.

Upcoming News: You can define brief news which will appear on the home page in NEWS BOX window. Define news title (description), expiry date of news and readjust news sequence. You can give different news rooms to different teaching departments / sections.

Photo & Video Gallery: Create several photo albums which will be shown in photo gallery window and can add any number of photos (with titles & description) in each album. You can add / delete photos in album or you can remove albums from photo gallery. Similarly you can upload videos also.
Upload Files : You can upload files & images (Videos / PDF / JPG / Word / Excel) on site which can be further treated as web links for download and images can be also be inserted in the web page while designing.

Member Creation: You can create any number of members by giving user name & password who will maintain the various links of the site. You can assign various tasks to these members for maintaining the site.

User Role Creations: You can create various roles of users such as admin, photo uploader, page designer, forum master, news creator and assign the permission to handle the various appropriate sub-modules such as Menu, Page, Links, Forum, Photo Gallery, News, etc.

Admin: ADMIN Module is used to define masters such as country, state, city, departments, designation, degree, branch, course, role, and module. It is also used to add / modify contents of dynamic links such as - news, announcements, citation, useful information, latest event, alumni, scrolling top links, internal circulars, send message (SMS & E-mail), RTI matter, Feedback, Enquiry.