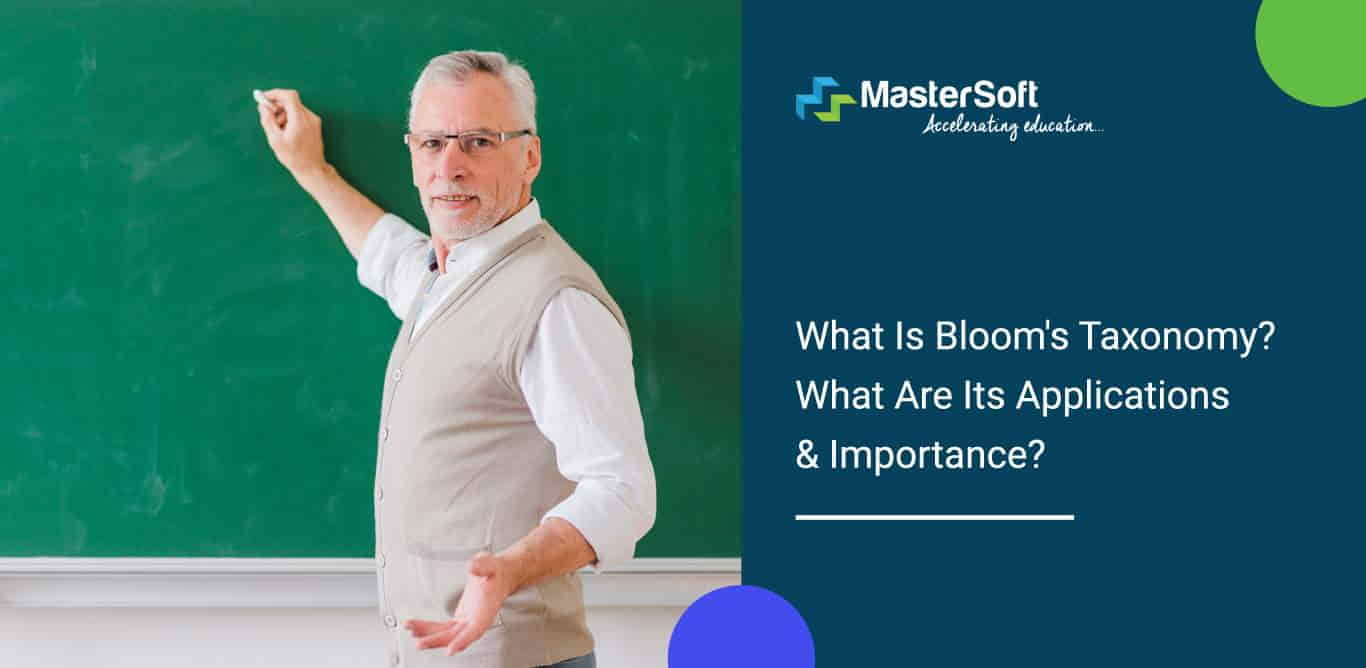 "Give a man a fish and you feed him for a day; teach a man to fish and you feed him for a lifetime."- Maimonides
"Bloom's Taxonomy" is a popular educational model.
However, before we discuss the purpose of Bloom's Taxonomy, let us talk about the conventional educational system which was unlike the modern system.
Although the traditional educational setup lacked a lot of things when it comes to providing the best teaching-learning provisions to students but, the goal of achieving–
"Best student learning outcomes + skill development" remains the same.
Be it the time when students used to study in "Gurukuls" or the recent times using "edTech", the purpose is to make students life-long learners & inculcate good values & skills in them.
Bloom's Taxonomy can be understood as one such attempt to revive the educational practices with the best teaching methodologies & the way of student performance evaluation.
Let's begin with understanding what is Bloom's Taxonomy?
What is Bloom's Taxonomy?
Originally introduced in the year 1956, Bloom's Taxonomy was a concept created by Mr. Benjamin Bloom along with Mr. Edward Furst, Mr. Max Englehart, Mr. David Krathwohl & Mr. Walter Hill.
The concept or rather the educational model has categorized the levels of education as well as the skills that need to be imparted whenever a teacher teaches something.
The learning objectives go beyond just scoring good marks in the exam.
The major categories that Bloom's Taxonomy speaks about are as follows -
Remember
Comprehension
Application
Analysis
Synthesis
Evaluation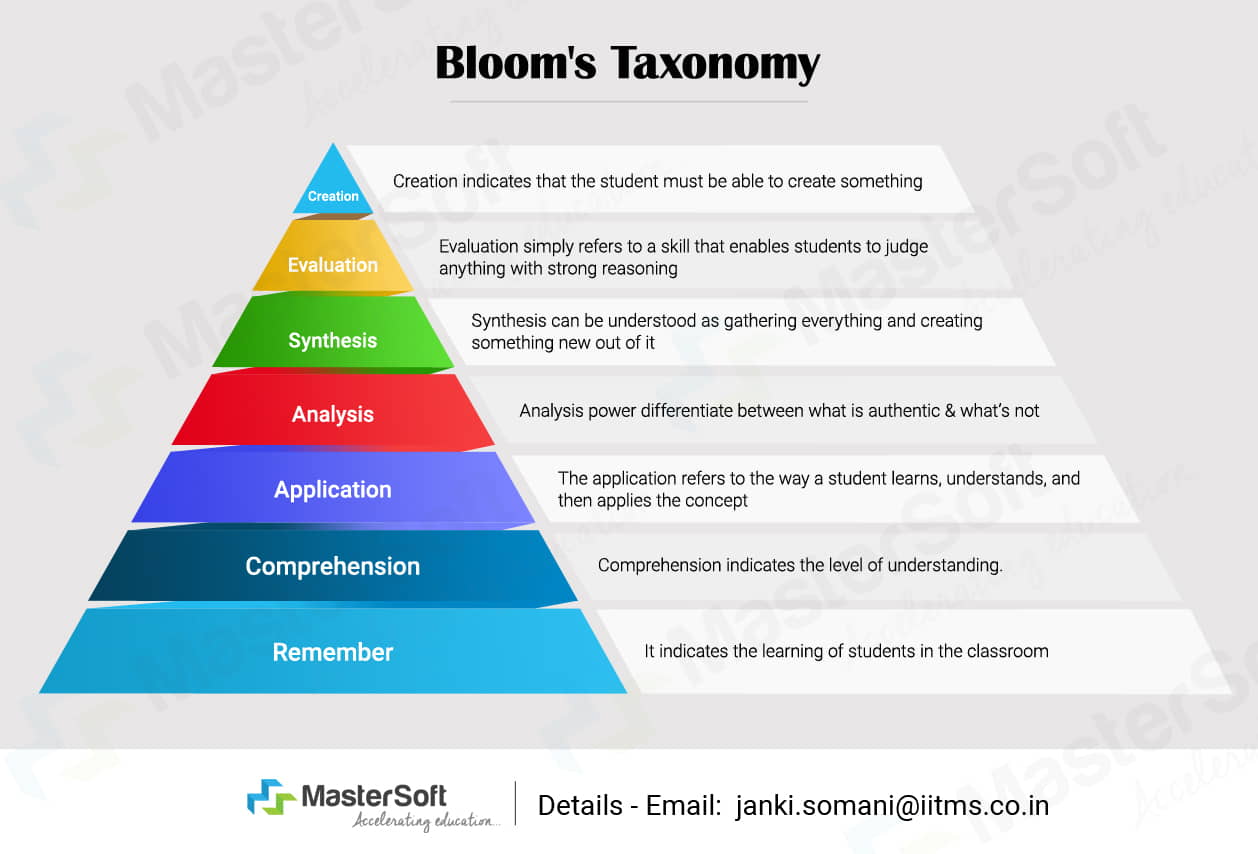 Six Levels of Bloom's Taxonomy & Its Importance
Wondering what do the above-mentioned levels of Bloom's Taxonomy indicate?
Let me explain it to you step-by-step…
Level #1: Remember
Remember - it indicates the learning of students in the classroom.
Whatever a student has learned theoretically or practically, both are considered as knowledgeable aspects. Just like any other aspect of education, knowledge, though basic, but is one of the most important.
A student's knowledge level acts as a "catalyst" in unlocking the other levels.
If a student has good knowledge, he/she can implement it in a way that no one could imagine.
So, this level could be considered as the pillar of the educational model.
Level #2: Comprehension
Comprehension indicates the level of understanding.
For instance, no matter how much a student scores in the exam & know about a concept, but the value of education would be when he/she truly understands it.
Understanding a concept to the core can be a game-changer for students who want to have a successful career ahead.
Therefore, students must focus on understanding the teachings to their depth and not take them lightly.
Level #3: Application
The third most level of Bloom's Taxonomy is application.
As the name indicates, the application refers to the way a student learns, understands, and then applies the concept in real life.
For instance, a student learns how to write in the "English" language.
He understands it well and has a good aptitude. However, if there comes a time where his parents need to write a letter in English for urgent work then, he should be able to write the letter.
This is where he would apply his knowledge in real life.
So, if you doubt-
"Is Bloom's taxonomy a learning theory?"
I hope the query has been resolved!
Level #4: Analysis
Analyzing anything is quite an imperative task.
Just because someone says something, the students must not accept the same.
They must develop an analysis power that could differentiate between what is authentic & what's not.
It would help the students deal with any situation in their career.
Level #5: Synthesis
Synthesis can be understood as gathering everything that is learned and then creating something new out of it. As easy as it may sound, but to reach this level, the student needs to be well prepared & has gained knowledge in depth.
The student must be at a stage to become an avid learner.
Level #6: Evaluation
Evaluation simply refers to a skill that enables students to judge anything in terms of whether it's true or not along with giving strong reasoning.
The students can reach this stage only when all other stages are cleared. It won't happen overnight, the entire process takes a good amount of time.
However, teachers need to encourage a student to clear all the stages & develop skills that would help them fulfill their dreams.
Revised Bloom's Taxonomy Model in 2001 indicates the highest level to be - creation.
Creation
Creation indicates that the student must be able to create something out of the teaching-learning process. It can be understood as a student writes a book on something or he creates a device that would help society in some way.
Creation in itself is a great achievement. It aims toward the welfare of the society – which is one of the main purposes of Bloom's Taxonomy.
How Can MasterSoft Help You in Implementing the Bloom's Taxonomy Model?
As a faculty, you have certain restrictions while managing the classes online. Unlike the physical classroom, you don't get to know whether the students are understanding the topic or just attending classes for namesake.
MasterSoft understands your challenges very well.
To help you make a mark in the digital space, Team MasterSoft offers you a learning management system (LMS) developed on the basis of all the aspects mentioned in Bloom's Taxonomy.
The online assessment module in the learning management software would help you evaluate the levels of students' learning.
For instance-
Understanding Level - You can add some questions that would help you analyze the understanding level of students.
Application Level - You may also ask them to work on a project that would comprise the application level of Bloom's Taxonomy.
Online assessment tools offered by MasterSoft are the best way to help students grow & enhance their skills in the long run.
For more assistance on MasterSoft's online assessment tools & educational ERP software, do get in touch with the team today.
We are happy to help you transform your institution!