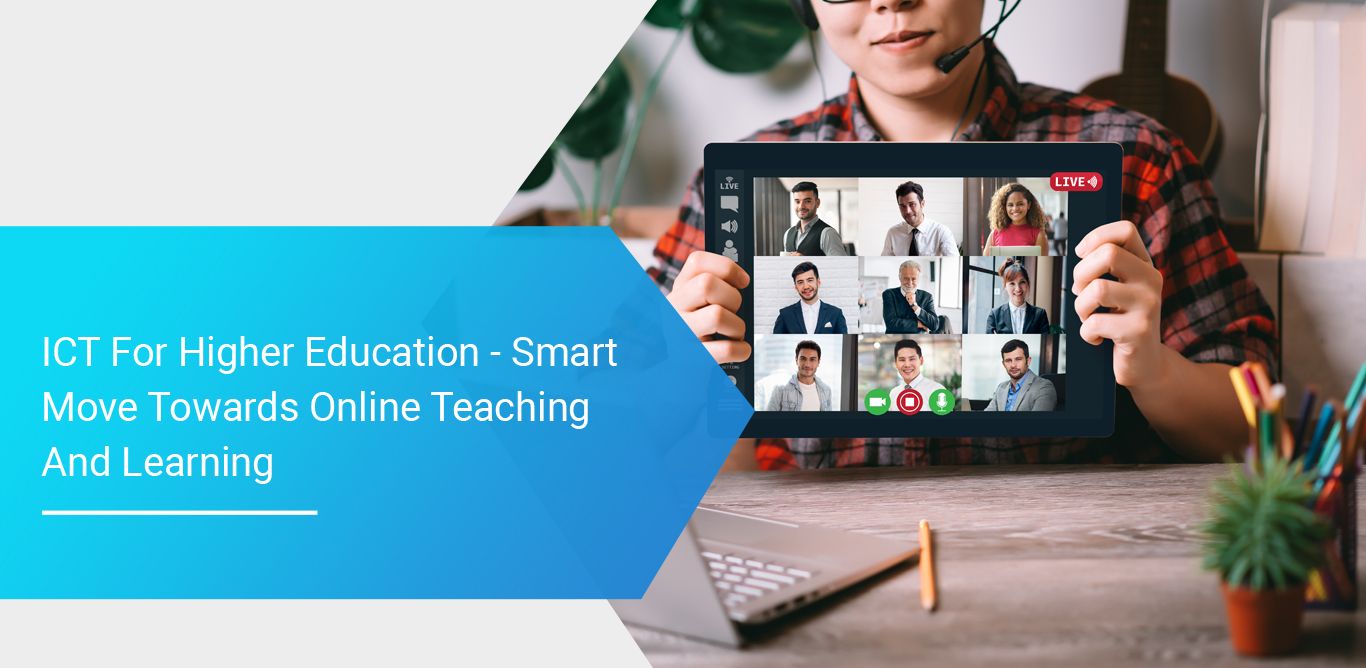 Updated On |
01

, March 2021
"I used to walk 10 kilometers daily to attend school…You have so many facilities today!"
You must have heard such stories of struggle where your parents had to walk many kilometers to attend their schools & colleges daily.
You probably have got schooled for scoring low grades!
Well, that's quite fair because from the traditional classrooms to the new digitized classroom era, a lot of transformation has taken place in the education ecosystem. The young Gen-Z surely has got so many advantages that our parents' generation never had. Having said that, we must also not forget that the bar of education & competition is rising day by day!
As an educator, you may wonder – "What is the need of ICT in education?"
Owing to the changing global standards of education & modern practices of online teaching and e-learning, the role of ICT in education has become relevant or rather imperative. A few years back ICT & e-learning was considered to be a privilege for institutions. Very few institutions were using edTech tools to streamline their daily classroom & Campus Administration activities. However, the current situation has made each of us realize how important it is to have tech-driven classrooms!
As an educational institution, you have to build a strong community of faculty & students which can be largely eased by the use of Information and Communications Technology (ICT) to attain their goals & reach the next level when it comes to their career!
Before, we understand the importance of ICT in education, let us understand what ICT is...
What Is the Role Of Information and Communication Technology (ICT) In The Teaching-Learning Process?
The definition of imparting knowledge in higher education has made a remarkable shift. With the introduction of New Education Policy 2020.
EdTech not just eases the workload of faculty members, but also, helps students to perform better, which in return will help them to build their careers. In simple words, 'ICT' in education stands for Information & Communication Technology in education, and it signifies the implementation of ERP technology for promoting innovative teaching & learning processes.
Importance of Information and Communication Technology (ICT) in education
As per the current educational trend & emerging industrial requirements & standards, one thing is crystal clear that the growth of industries will solely depend on "skillful professionals".
With demand for innovation, creativity, and skilled professionals to go uphill, you will have to make changes in your teaching methodologies and the ways of communicating with students.
One has to embrace new ideas in terms of creating e-content & using e-learning modules like online assessment software to scrutinize & enhance students' performance gradually. You can't rely on old pedagogies and expect better student learning outcomes. Right from the designing of the new curriculum to adapting to ICT for every single activity, you will need to go the extra mile in giving your students the best learning experience in order to ensure their development. The importance of ICT in education can be summarized by the following quote by the National Association of Advisors for Computer in Education-
"ICT is not the future of our children's education, it is the present and we need to make an investment in ICT now!"
Therefore, this is a golden time for you to consider the implementation of ICT and reap its benefits in upcoming years where the education ecosystem may get 100% digitized.
Benefits of Information and Communication Technology (ICT) in Education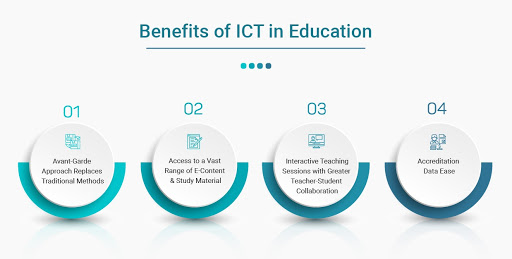 #1: Avant-Garde Approach Replaces Traditional Methods
ICT eradicates the need for traditional chalkboard classrooms 100% -it's up to you whether you need virtual platform study completely or partially!
No matter if it's a UG course, PG, or even school, everything can be shifted to a digital platform to widen the boundaries of education for students across the globe. It can prove to be extremely fruitful for children with physical disabilities who can't visit the institutions frequently.
As an institution's administrator, you can save countless hours by modernizing your campus! All activities & processes & the major challenge of Data Management can be resolved by introducing the right ICT Solution
Transparency across all institutional activities
Tracking real-time information & institutional progress
Streamlining the daily activities with zero possibility of errors
Saving countless hours that can be utilized for institutional development
Supporting accreditation & compliances
Optimizing the work processes while ensuring accuracy
Maintaining clear communication between all stakeholders
With an experienced Solution Provider, who understands the challenges of implementation & the best practices, ERP implementation can be made smooth.
With just an initial training, you can learn how to handle the ERP successfully & manage online teaching and learning ERP tools to conduct online lectures.
#2: Access to a Vast Range of E-Content & Study Material
It enables you to share video tutorials, infographic statistics-driven images, e-books, e-notes, and interactive e-content to increase student engagement & enable them to grasp their curriculum with ease.
Students don't need to spend hours & hours in libraries anymore!
They can enjoy access to a vast range of study materials merely by login into their educational ERP portals - 24*7!
Thus, ICT in higher education, schools, and universities promotes better education with self-paced & highly impactful learning.
#3: Interactive Teaching Sessions with Greater Teacher-Student Collaboration
With online classrooms, faculties often face problems while keeping a tab on students. Since there's no "human intervention" the virtual classroom setup makes it difficult for them to judge whether the students are getting the concept being taught.
An effective online assessment software & tool that enables teachers to arrange online exams, tests & quizzes on a daily/weekly/monthly basis can be a key player in such circumstances.
For instance, the faculty members can arrange a quiz at the end of every week, and analyze whether the strengths & weaknesses of students in terms of their academics & skill development. In short, as a faculty, you get the provision to measure and map student progress accurately. They can even arrange online feedback sessions for real-time & personalized counseling.
The enhanced teacher-student collaboration will surely bring positive outcomes & escalate institutional growth.
#4: Accreditation Data Ease
Gaining the accreditations like - NBA & NAAC accreditation requires consistent efforts in terms of handling, compiling, and managing institutional data.
As a faculty, you need to adhere to the strict rule of accreditation for institutions and clear every stage by ensuring the best practices like data management of the previous years.
Relying on paperwork & files is just not a viable solution!
However, with education ERP implementation integrated with an accreditation data management software, you can compile, collect, and store 100% accurate student & faculty-related data including the documents & records that are required to prepare compliance reports. In short, you get the provision of data management chronologically, data privacy management as well as data compilation as per the requirements.
Thus, ICT in higher education in India can give a push to educational institutions like you that aim to acquire the NAAC/NBA accreditation and better NAAC/NBA rankings in the long run.
Is It Simple To Adopt ICT By Implementing Education ERP?
With a dream to transform India into "Digital India" – Prime Minister- Narendra Modi has expressed his views on technology as-
"I see technology as a means to empower and as a tool that bridges the distance between hope and opportunity."
The words of the honorable Prime Minister depict not just the importance of ICT in education but its role in identifying & bridging the gap of unemployment in India.
But the question remains –
Is it simple to adopt ICT in higher education, schools & universities?
While implementing an e-learning solution, you need to take care of the following aspects –
Research about ICT in education

Opt for a One-Stop Solution for All Activities Academic & Non Academic, Island of software may restrict cross modular analysis & data sharing
Look for a futuristic Solution such as, Integrating - LMS, proctored examinations, Accreditation & Compliance
Understand the Training & support model of Vendor during & post-ICT enablement

Understand & analyze the requirements of your institution
Get in touch with a trustworthy ERP provider
Configure the ERP software with the best possible features
Security & data privacy are most crucial,Ensure that Data Policy is Stringent & in accordance with GOI Norms
Keep the user navigation experience simple
Train your faculty in handling the ERP software
Take a demo of ERP before making it live
Stay in touch with the vendor for any troubleshooting
ICT in educational institutions can be implemented successfully under the guidance of an experienced ERP campus vendor who's got good repo in the market. Being a responsible educator, you just need to research the top-notch names dealing with education ERP software.
About MasterSoft
With a phenomenally successful track record of more than 2000 ERP implementations over the past 22 years, we recommend MasterSoft e-governance ERP Solutions. Not just the ERP campus implementation, MasterSoft is renowned for its post-implementation support & services as well.
To promote ICT in higher education, schools & universities, team MasterSoft has been consistently conducting workshops on 'ICT enablement for Educational leaders to improve Institution Management and compliance ready'.
You can visit the website to explore more details. You can furthermore schedule a demo for identifying how MasterSoft ERP products can be beneficial for your institution.
Key Takeaways
The benefits of ICT in education are countless!
ICT provides an innovative and effective platform promoting student-teacher engagement & achieving NBA/NAAC accreditation. The virtual learning environment it creates can be highly beneficial for education institutions in terms of improving productivity & efficiency.
Most importantly, it complements the NEP Policy 2020!
Therefore, you must give thought to the idea of investing in ICT-enabled teaching & learning tools!