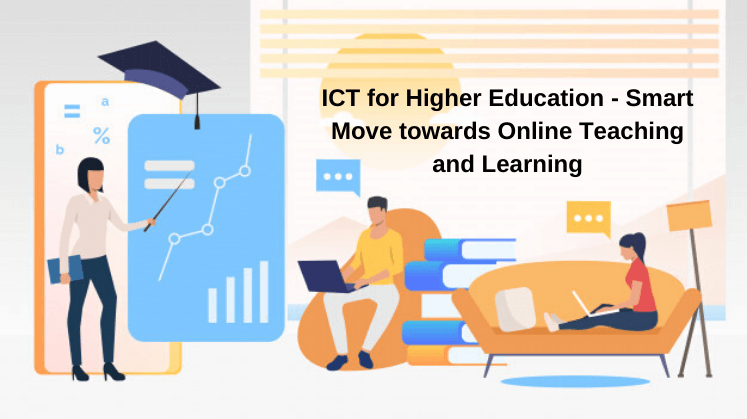 "I used to walk 10 kilometers daily for attending school…You have so many facilities today!"
You must have heard such stories of struggle where your parents had to walk many kilometers to attend their schools & colleges daily. You probably have got schooled for scoring low grades! Well, that's quite fair because from that era to this new digital era, a lot of transformation has taken place in the education sector. The young generation of today definitely has got so many advantages that our parent's generation never had. Having said that, we must also not forget that the bar of education & competition is rising day by day!
Owing to the changing global standards of education, the role of ICT in education has become relevant or rather imperative. Before, we understand the importance of ICT in education; let us understand what ICT is.
What is the Role of ICT in Teaching Learning Process?
As you know, the definition of imparting knowledge in higher education has made a remarkable shift, it has become mandatory for teachers to implement edTech in the classroom. EdTech not just eases the workload of faculty members, but also, helps students to perform better, which in return will help them to build their careers. In simple words, 'ICT' in education stands for Information & Communication Technology in education, and it signifies the implementation of ERP technology for promoting innovative teaching & learning processes.
Here are the major benefits of ICT in education…
Avant-garde approach replaces traditional methods
With ICT enablement in education, teachers & students don't need to depend on the chalkboard and four wall teaching-learning processes. Everything can be shifted to a digital platform eradicating the boundaries of teaching & learning. It can prove to be extremely fruitful for children with physical disabilities who can't attend the college frequently.
Access to a vast range of study materials
It enables teachers to share video tutorials, images, and e-books for helping students grasp the curriculum with ease. Also, students get a provision to get access to such study materials merely by login their portals. Thus, it promotes better education with self-paced & impactful learning.
Interactive teaching sessions with greater teacher-student collaboration
Teachers can arrange online tests & quizzes to understand whether the students are getting what they are being taught. For instance, the faculty members can arrange a quiz at the end of every week, and thus, keep track of student progress. The enhanced teacher-student collaboration will surely bring positive outcomes & escalate institutional growth.
NAAC/ NBA Accreditation with Ease
As per the guidelines of NBA & the NAAC, it is essential for an institution to focus on ICT enablement. Therefore, ICT enablement is a sureshot way to achieve the NAAC / NBA accreditation & gaining better NAAC / NBA rankings in the long run.
Is It Simple to adopt ICT by implementing Education ERP?
Well, this is mostly the concern of senior & highly experienced teachers who have given so many years in teaching. Despite understanding the current scenario, the senior teachers still hesitate when we speak of technology. But, there's nothing to worry about! With just an initial training, teachers can successfully handle & manage online teaching and learning ERP tools and conduct online lectures. Education ERP can be implemented successfully under the guidance of an ERP vendor who's got good repo in the market. Educators just need to research the top-notch names dealing with education ERP software.
With a phenomenally successful track record of more than 2000 ERP implementations over the past 22 years, we recommend MasterSoft e-governance ERP Solutions. Not just the implementation, MasterSoft is renowned for it's post-implementation support & services as well. To promote ICT in education, team MasterSoft has been consistently conducting workshops on 'ICT enablement for Educational leaders to improve Institution Management and compliance ready' in cities such as Latur, Jalgaon, and Nanded. You can visit the website to explore more details. You can also schedule a demo for identifying how MasterSoft ERP products can be beneficial for your institution.
Read more - Workshops on ICT Enablement Conducted by MasterSoft
Key Takeaways
ICT provides an innovative and effective platform promoting student-teacher engagement & achieving NBA/NAAC accreditation. The virtual learning environment it creates can be highly beneficial for education institutions in terms of improving productivity & efficiency. Therefore, educators must give a thought to the idea of investing in ICT enabled teaching & learning tools!