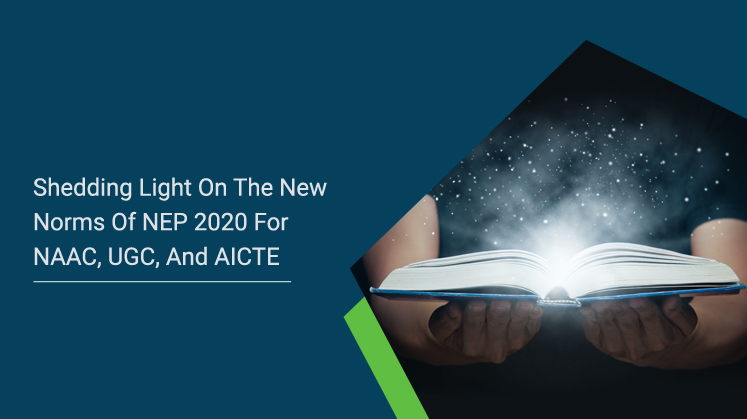 "Till date, we've been focusing on 'What to Think' in our education policy. In the NEP, we're focusing on 'How to Think'." - Shri Narendra Modi, Prime Minister, India
Reciprocating the vision of Narendra Modi, The National Education Policy 2020 is exactly what it takes to bring a massive change in the traditional system.
NEP has touched all the arenas of education and aims at delivering state-of-the-art education to empower students, faculty, educators, and ultimately – the nation!
One of the key transformations that NEP has brought is the introduction of a single authoring body that would take care of all the functions of higher education –HECI or the Higher Education Commission of India. You can say that it is a one-stop solution for all the needs of higher education institutions!
Under the vast umbrella of HECI, there will be various verticals that would look after accreditation, funding for institutions, and academics. The highly renowned autonomous entities like National Assessment and Accreditation Council (NAAC), University Grants Commission (UGC), and All India Council of Technical Education (AICTE) will no longer be in existence and will be swiftly replaced by these new bodies.
The primary goal is to make the work processes hassle-free, transparent, and highly effective.
Let's understand the main responsibilities of the verticals under HECI...
Vertical 1: National Higher Education Regulatory Council (NHERC)
Until now, the UGC was majorly involved in the functioning of higher education institutions; NCTE was handling the teacher training & education department, and AICTE was assigned to technical and engineering institutes.
To ease & upgrade the traditional working pattern, the National Higher Education Regulatory Council (NHERC), the first vertical of HECI will now be the focal point of contact and address all the concerns related to these sections.
However, there's an exception - NHERC won't be responsible for legal & medical education.
Vertical 2: National Accreditation Council (NAC)
Accreditation helps in building reputation of the HEIs and most importantly signifies the quality of education.
This is why most of the institutions pay special attention to getting accredited.
National Accreditation Council (NAC), the second authoring body under the HECI will replace popular accreditation bodies like the NAAC and perform the duty of accreditation institutions based on its merits.
Some of the key parameters it will strictly scrutinize include- good governance, basic norms of the institution, public self-disclosure, and most importantly the student learning outcomes ratio.
Only the institutions adhering to the quality parameters would be accredited successfully.
Vertical 3: Higher Education Grants Council (HEGC)
Funding and financing are vital for institutions to work smoothly.
Higher Education Grants Council (HEGC), the third vertical under HECI will facilitate financing & funding to genuinely deserving institutions maintaining transparency to ensure fair practices.
Vertical 4: General Education Council (GEC)
To persuade greater student learning outcomes via best educational delivery- General Education Council (GEC), the fourth vertical under HECI will take the charge.
It will form a thoughtful criterion and decide the expected student learning outcomes for various institutions. Along with that, the GEC will also be responsible for creating - National Higher Education Qualification Framework (NHEQF).
Various professional councils listed below will act as the PSSB - Professional Standard Setting Bodies–
Council of Architecture (CoA)
National Council for Vocational Education & Training (NCVET)
Veterinary Council of India (VCI)
National Council for Teacher Education (NCTE)
Indian Council for Agricultural Research (ICAR)
Read More: ICT for Higher Education
To ensure efficiency and transparency of work, and clear communication between officials, HECI will focus on the enhanced use of technology. The Government officials are also encouraging institutions to switch to automation and edTech for seamless online-teaching experience.
For more details on the role of ICT in education and detailed discussion on National Education Policy 2020 for higher education, you can refer to one of our previous blogs.
And for further assistance on implementation of university ERP or college ERP software, get in touch with us!