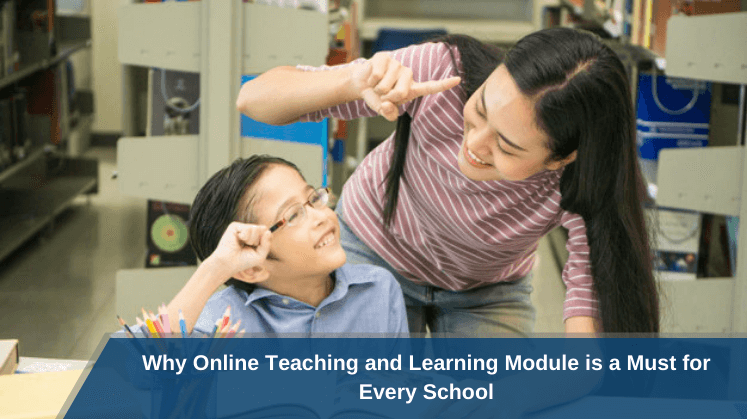 "Education is the passport to the future, for tomorrow belongs to those who prepare for it today": Malcolm
Are you concerned about the decreasing enrollment rates of your school?
Wondering why the admission rate is low despite excellent education facilities?
Well, the answer is quite simple! In this generation of tech-savvy kids, traditional means of teaching just don't suffice their requirements. Introducing technology in the classroom, an e-learning system to be precise, has become the need of the hour. Being an educator, you must implement an education ERP system that would help teachers & faculty collaborate better with the students. Interactive online teaching sessions & multimedia content will surely improve student engagement, help them gain valuable insights, and pave the way for their success. We have compiled a list of top reasons to help you understand the benefits of e-learning for your school in detail.
Here's why online teaching and learning module is a must for every school…
Convenient way of Learning
There are so many factors that sometimes become a big hurdle in the path of students with the potential to excel in their field. Some of these factors include – long-distance, health complications, and physical disability. A bright student may have to leave your school owing to such unfortunate reasons. To avoid such instances & retain students, educators must have a campus management system integrated with the e-learning module. Online teaching and learning system seamlessly increases the interest level of kids by allowing them to learn as per their own convenience. Also, it enables the faculty members to stay in touch with children and collaborate with them with a few clicks.
Boost Student Retention Rates
A recent research states that retention rates of children in schools providing the online learning facility are double as compared to schools following the traditional norms. Therefore, implementing edTech is a complete win-win situation for educators. It will ensure better student performance as well as increase the retention rates of students in their school!
e-learning is Time-efficient
In a traditional classroom setting, it has been seen that teachers have to make a lot of arrangements prior to delivering lectures. They need to be prepared with daily homework and teaching plan. In addition to this, they also need to mark the attendance of the entire classroom. These activities are sure to consume an enormous amount of time which otherwise could be utilized for purely teaching purposes. With a campus management system with an e-learning portal, students & teachers can simply enter their credentials and start the session. There's no need to do tasks manually. Teachers can further upload assignments & homework on the portal within a few minutes.
Assessments for Enhancing Overall Performance
For identifying the effectiveness of teaching methodology and also tracking the students' progress, it's crucial for the faculty members to take short tests from time-to-time. The online teaching-learning portal enables teachers to take tests which in return help them analyze students' performance and also loopholes in their method of teaching. In case of poor performance, teachers can arrange sessions with students and ask for their feedback to plan new & effective strategies for boosting overall institutional performance.
To Sum Up
Online teaching and learning is a modern, convenient, and time-efficient option that promotes a better learning environment for students. Along with enhancing the quality of education, it enables schools to boost student retention which is a key parameter in institutional success. Therefore, every educator must adopt an ERP integrated with an online teaching and learning module.
Get in touch with us to ease your teaching habits with our e-learning module.