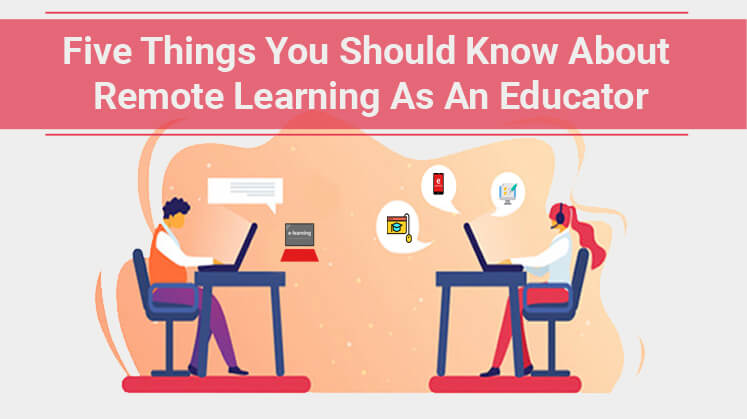 Because e-learning requires a different set of skills
Of all the jobs that exist, a teacher's job is, arguably, the toughest one. Teachers are often expected to do the unexpected, in unexpected circumstances, while delivering exceptional results. With the COVID-19 pandemic forcing schools to shut down, online classes appear to have taken a life of their own. Teachers whose jobs started at 8 or 9 AM in conventional classrooms now find themselves facing a screen at this hour and trying to make sense of the virtual class they are supposed to be conducting with self-assurance and flair! Now if that's not unexpected, what is?
The miracle, though, lies in the manner in which teachers are rising to this challenge by rapidly acquiring new skills and adopting avant-garde technologies because, "the show must go on"!
The educators I have worked closely with for the past two decades have, over a period of time, shared some useful tips and insights with me on learning and teaching. Some of these insights could apply to traditional learning too. However, here I would like to share a handful of suggestions that, I believe, would be of immense benefit to educators who are currently tasked with e-learning.
So here are five things I believe an educator should know about remote learning:
1. Be the best version of yourself, since you set the tone
Teachers teaching online often do not realize that students can tell a robotic, cold, computer-generated or pre-set message from a human "voice". If your online communications are infused with all the positive traits that make up your personality, your online classes are more likely to succeed. So be the best possible version of you. The computer is the medium. But YOU set the tone. You can lift or dampen a spirit, bring out the best in a young mind or cause them to tune out.
In the words of Dr Haim Ginott, teacher, psychologist and renowned author of "Between Teacher and Child": "I am the decisive element. It is my personal approach that creates the climate. It is my daily mood that makes the weather."
2. Learn to engage your e-learners
What do you do in a traditional classroom to engage your pupils? You make eye contact, you smile, ask questions, intersperse boring lessons with amusing anecdotes…A good teacher knows that involving the student in the learning process is key to improving learning outcomes. However, when done online, if you lose the student's interest, you may find it hard to draw the student back into the virtual class. Demos, lively conversations, thought provoking topics, engaging content, enticing captions, well-conceived video lessons, clear graphics...You need to use every resource your learning management system permits to engage your students. And don't forget that positive personalized learning always works. Reach out to the more timid ones; acknowledge those who seek your attention; praise, reassure, engage!
After all, "The most profound words will remain unread unless you can keep the learner engaged. You can't see their eyes to know if they got it so ... say it, show it, write it, demo it and link it to an activity." -James Bates
3. Customize your e-learning modules
Creating content that your audience (or pupils) cannot relate to would be an opportunity wasted! Before you choose your LMS, before you create your content and organize your modules, it would help to define your objectives and acquaint yourself with your students. What are their needs, their goals? Which language are they comfortable learning in? How conversant are they with remote learning tools and technology? What is their demographic/social/financial/educational profile?
As Bianca Woods, Senior Manager, Programming for the E-Learning Guild advises: "Know your audience! Great eLearning design isn't universal".
4. "Provide opportunities for an emotional connection to the content; invite conversations, create associations to personal experiences, and provide opportunity to practice and reflect upon that practice with others" - Mark Britz
Emotions matter. A competent teacher cannot afford to disregard a student's feelings. But remote learning is different. The buffer time traditional learning sessions give the teacher to catch up on a missed opportunity or a harsh word do not exist in remote learning. And so many subtle messages can be lost on the teacher, when working remotely with a student!
It is, therefore, imperative that teachers proactively create "opportunities for an emotional connection". As Haim Ginott puts it succinctly, "Only if a child feels right can he think right".
5. Avoid cognitive and verbal overload
There may be enough time to cover every topic. There may be enough space in your powerpoint slide to include every little detail. But word-heavy content or cognitive overload is more likely to discourage a student than poor presentation. So don't rush to complete a curriculum. Take it slowly, break it down, and allow it to sink in with plenty of graphics, concrete examples and interactive activities. Some students may be slower learners; others may have more trouble focusing and yet others may be facing technical difficulties. Again, remote learning throws up a very different set of clues to the cognitive capacities of different students. Your best bet would be to break down the content and take it one step at a time, and, most importantly, to avoid a very complex or cluttered learning management system.
There is more…much more to remote learning and teaching than one can cover in a blog. But if you, as an educator, can adhere to these fundamental ground rules, you will enjoy remote or online teaching and learning as much as you did traditional teaching. And you will deliver those exceptional learning outcomes in unexpected situations!
Read More: Online Teaching and Learning Module is a Must for Every School