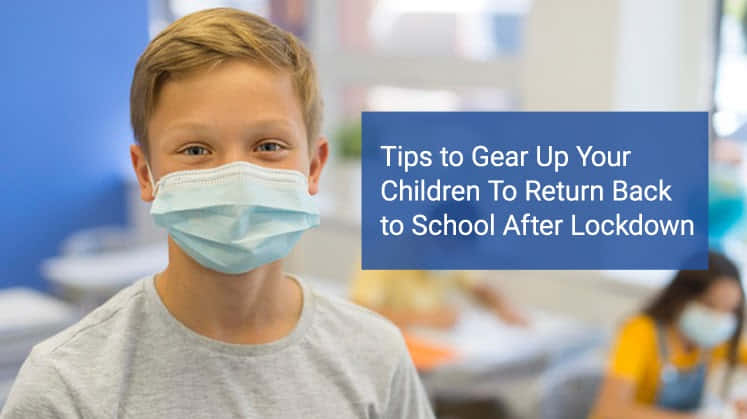 In response to the deadly virus COVID-19, Prime Minister of India, Shri Narendra Modi announced a complete lockdown by the end of month -March 2020.
Merely 4 hour notice was given & immediately lockdown came into power play!
From wondering how to maintain the continuity in education & cope with the setbacks imposed by COVID-19 to –
"How can we keep children safe?"
"How can we maintain social distancing in classrooms?"
"How can we meet the socio-emotional needs of students?"
The teaching-learning equation has gone under a vast change and educators across the globe are brainstorming about the ways to manage educational quality after the reopening of schools after a long lockdown phase. They are consistently making efforts to plan & strategize a new educational roadmap for the students.
However, as a parent, I am sure; you are deep-down facing insecurities of how you'd send your kid back to school.
Read out the following tips to gear up your children to return back to school after lockdown...
1) Talk About it to Your Kid
After attending hundreds of online teaching-learning sessions, your kids might have got used to the e-learning study techniques. On the other hand, they might be feeling confused & traumatized by the entire lockdown environment.
Those who are below 8 or 9 years old might don't even understand what's happening so far.
So, as a responsible parent, sit with them & try asking them questions like – "Do you miss going to school?", "Are you worried about anything?", or "Do you have questions regarding the situation all around?"
Don't dismiss the concerns of the little mind, or tell them not to ask silly questions. Let them speak their heart out— and listen to what they have to say.
Just talking will make them feel confident.
2) Make them Comfortable the New "Rulebook of Practicality"
As I mentioned, your kids are experiencing so many phases of educational changes for more than 5 months now. Earlier, when they were comfortable with the traditional teaching-learning process, we pushed them to the digital classrooms where they learnt how to study online using quick school ERP solutions integrated with e-learning modules.
And now that lockdown is over, they again need to go back to the school.
However, many schools have decided to deploy school management software to conduct in-house processes even in future but the system is not yet transitioned to 100% online.
You need to explain the practical scenario to your kids.
Don't let them make conclusions based on their "magical thinking"!
Tell them the truth as it is.
Help them understand the new "Rulebook of practicality", make them aware of the virus impact to keep them safe as well as other kids in their classroom.
Explain to them why maintaining "social distancing", "using "masks" & "sanitizers" is crucial once the lockdown ends.
Help them with the basic hygiene protocols like - washing hands for 20 seconds, eating home-made lunch, drinking water from own water-bottles, avoid going in crowded areas of school, following the school timetable & obey guidelines of teachers strictly.
Most importantly the student to faculty ratio in a classroom would be around 15:1.
So, help your child to be mentally prepared for the new classroom environment. Ask them to maintain at least 6 feet distance from other kids.
3) Go Slowly Initially
As your kids have become used to the "home-comfort-zone", it might be tough for them initially to go back to the school.
Having spent ample of time with you and other family members, they may behave differently or seem moody while leaving home.
Therefore, keep a track of their daily activities right from the moment they travel to school & come back via a school mobile app with real-time bus tracking system. You can even monitor the activity of the bus until your kid reaches school safely.
Also, ask the faculty members to send updates of their kids throughout the day as they attend classes.
It will give them warmth and a sense of safety.
They'd feel happier when they know their loved ones are there with them always. Slowly they'll get comfortable with the school environment again.
4) Focus on Well-Being of Children than Academic Grades
After a long gap, your children are rejoining the school.
Possibility is they will take time to get into the serious academic mindset.
While the school would be taking care of regular assessments and exams, you must stay calm and composed if their grades decline.
Give them some time to settle themselves.
At this moment, more than anything, your kid's well-being should be at priority!
To Sum Up
The ultimate aim of holistic and quality education is to truly empower students & help them learn new skill sets without harming or adversely impacting them psychologically.
Syllabus, examination, evaluation, assignments, and streamlining daily administrative tasks including online admissions and fees management via school ERP solutions- these activities are on the radar of school management.
As a parent, you should support the faculty & school authorities by helping your children stay fearless & sensible to cope with the situation.
If you're an educator searching for a seamless education ERP system, get in touch with my team today!