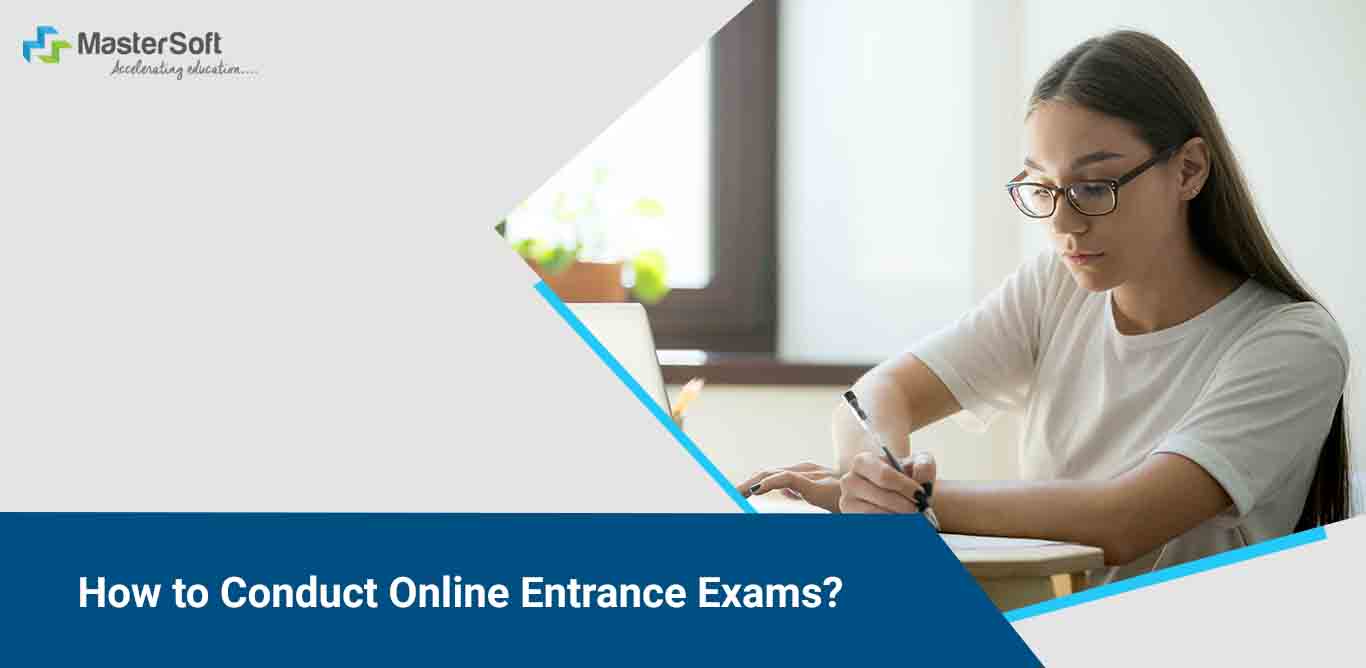 "The cutoff for the engineering entrance examination is 95% this year!"
Well, the competition in the educational field today is enough to brightest of the student nervous.
However, it's imperative for educators to conduct entrance exams as it helps them shortlist the best candidates for their institutions.
The entrance exam conduction process which used to be conducted just like traditional exams has become tedious for a couple of years due to the ongoing pandemic. Now, the educators have to follow the "social distancing" norms of government for the safety of students & staff and need to conduct online entrance exams with the help of entrance exam software.
To be honest, the concept of the online examination process is relatively new for most institutions & thus requires a lot of patience, efficient ERP software that's user-friendly.
If you are facing a similar situation, and new to the world of edTech, this blog will guide you to conduct online entrance exams with college ERP software.
Steps to Conduct Online Entrance Exams
You can successfully conduct online entrance exams with the help of the following steps.
#1: Requirements of Entrance Exam Software
First & foremost, you need to decide the requirements of the entrance exam software. It must be configurable depending on the course or program you are offering. Once you have decided what the core requirements are, you need to search for a reliable educational ERP vendor that has a good track record of providing efficient entrance exam software.
Do check for client's testimonials while choosing the ERP vendor.
#2: Define Exam Pattern, Rules & Grading
Once you finalize the software, the next important step is to check for user-friendly entrance exam software that allows you to –
Define exam pattern – MCQs or descriptive tests
Define examination rules & regulations
Define timing & requirements for the exam
Defining the rules will sort out the entire examination process. You won't need to calculate the results on the completion of the exam. The results will be auto-calculated & the result will be displayed accurately.
Shortlisting eligible candidates & preparing merit lists will no longer be a headache!
#3: Provision of Online AI-Proctoring
During the online entrance exam, the online entrance software with an AI-proctoring tool will help your faculty to watch out for the activities of students.
It will also keep a tab on whether the students are doing any malpractices or cheating.
AI-based proctoring will eliminate any chances of unauthorized students accessing the exam on the behalf of any candidate.
A win-win for students & faculty!
#4: Auto-calculation of Marks
Entrance exam tests are meant to sort students that deserve to be a part of any course, degree, or program.
They provide talented students a gateway to learn the courses for their choice & pursue a career of their choice.
However, the online exam process can be tedious when thousands & lakhs of students appear for it! In such instances, online entrance exam software that automates the result calculation can be a boon. There's no need for the faculty to check the question papers of individual students.
They get everything auto-evaluated at the clicks of their fingertips!
That too with 100% accuracy!
#5: Online Result Display
Last but not least, the online entrance exam software displays results within a short span!
Unlike the traditional exams where there used to be vast instances of wrong results with errors, the results offered by the software are precise.
No matter how many students appear for the exam – the results will be evaluated easily.
Thus, the chances of manual errors are completely eliminated making the entrance exam conduction process a huge success.
How MasterSoft's Online Examination Software Can Help You Conduct Online Entrance Exams Successfully?
MasterSoft's Online Examination Software is a one-stop solution for all your requirements. Right from exam conduction to generating final merit lists, the exam software is tested software with a great track record. Trusted by 1000s of educational institutions, the online exam software offered by MasterSoft is highly cost-effective despite the best features.
It simplifies the pre-exam, exam & post-exam process as follows -
Pre-Examination
During-Examination
Post-Examination

Create question paper
Schedule entrance exam
Setup rules & regulations

Students login digitally
Exam starts – MCQs/Descriptive
Proctor students activities

Auto-generated scores
Declare results online
Share online feedback
Team MasterSoft not just offers ERP products but also helps institutions successfully implement them. 24*7 services & support post-implementation makes MasterSoft your best digitization partner!
Do implement MasterSoft's online exam software for smooth conduction of entrance tests in your campus!
Get in touch with our team of ERP experts for more details –
Email: janki.somani@iitms.co.in
Mobile: 8448010216
FAQs

Depending on the courses & programs, there are a plethora of entrance exams. Some of the major types of entrance exams include the following.
National Aptitude Test in Architecture (NATA)

All India Engineering/Pharmacy/Architecture Entrance Examination (AIEEE)

DAT (Dental Admissions Test)

Graduate Aptitude Test in Engineering (GATE)

Joint Entrance Examination (JEE)

LSAT (Law School Admissions Test)
An online entrance examination system is a virtual cloud-based ERP system that helps the faculty & educators to conduct entrance tests. The online examination system requires online registration and students can attend the test online with login Id and password. The entrance exam system enables the faculty to monitor student's activities in real-time with AI-based proctoring and generate & publish online results.