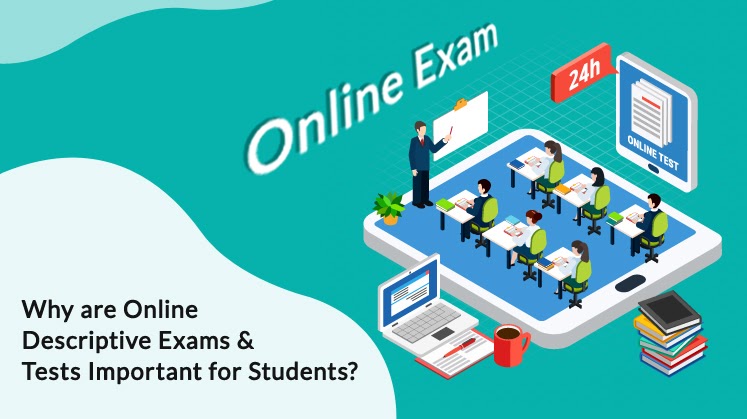 Online teaching-learning processes & exams have brought a tremendous change in educational landscape. Faculty & staff are using various online assessment tools today to track the student performance.
But do you remember the days when kids used to give written tests and oral exams?
Oh! I still get nervous thinking of the days when I used to study all night.
This brings to me memories of experiences. I would like to mention a specific incident that changed the way I perceived my school examinations and assessments...
You know, I scored a 4 on 10 on an essay exam when I was in 9th grade.
It was a terrible experience.
The essay was called, "My Aspirations!"
It was quite long, however, it didn't have anything sensible and my marks were clearly justified.
Ever since I indulged in reading books after my professor's suggestion, I realized that my speaking, writing skills, and confidence improved tremendously.
More knowledge.
Better ideas.
My mind adapted to the process of acquiring authentic information. I became curious. It helped my imagination power outgrow and bloom.
I would credit the success of my career to the teaching-learning practices of my school.
And now that the teaching-learning sessions have become virtual, online descriptive tests and assessments can prove to be the best carriers of skills & personality enhancement.
I am jotting down the top benefits of conducting online descriptive exams and tests for students to help you understand its importance...
1: Brainstorming & Involvement in Studies
Unlike the multiple choice questions (MCQs) and short quizzes, framing descriptive answers for distinct questions requires brainstorming. Your students would need to do extensive research using search engines like Google or they can also opt for studying the e-content provided by you.
A students' answer may differ from the other.
However, this is the beauty of descriptive tests.
Students can learn better and experiment with their writing pattern by working on the spontaneous thoughts peeping in their mind thinking of the subject.
2: Supports Bloom's Taxonomy
Circling back my previous point, descriptive tests can maximize student learning outcomes as it helps faculty to achieve the following 6 educational objectives stated in Bloom's taxonomy effortlessly-
Knowledge: Recalling of parameters such as specifics, teaching methods, setting, and pattern.
Comprehension: Indicates the type of understanding for a certain idea being communicated.
Application: It depicts the utilization of abstractions.
Analysis: Brainstorming in such a way that it makes logical sense.
Synthesis: Collaboration of various ideas to create a new one.
Evaluation: Comparing & judging the learning outcomes for a particular subject or topic.
In short, it will help students develop a deeper engagement with the e-content that you provide to them on a regular basis during online classroom teaching.
3: Creativity at its Best
No more ruts & narrow mindset!
No more cheating!
No more mediocrity on educational level!
If you observe precisely, MCQs may attract malpractices as the answers are choice based which would obviously be the same. However, in case of descriptive answers, no two descriptive answers could be the same ever!
Everyone's mind is not alike.
Sometimes, you may find a few ideas similar, but the writing style would surely differ.
In a nutshell, descriptive online exams and assessments are more reliable when it comes to evaluating student progress and giving them a chance to play with creativity!
Dr. Abdul Kalam once quoted that -
"The purpose of education is to make good human beings with skill and expertise. Enlightened human beings can be created by teachers."
Therefore, along with conducting quizzes and MCQ based tests, you must pay focus towards online written tests and empower students with skills and create a mindset that tells them -"how to think" instead of "what to think"!
Thinking of implementing a learning management system (LMS) with a descriptive test option?
Get in touch with me for the best school ERP software deal!