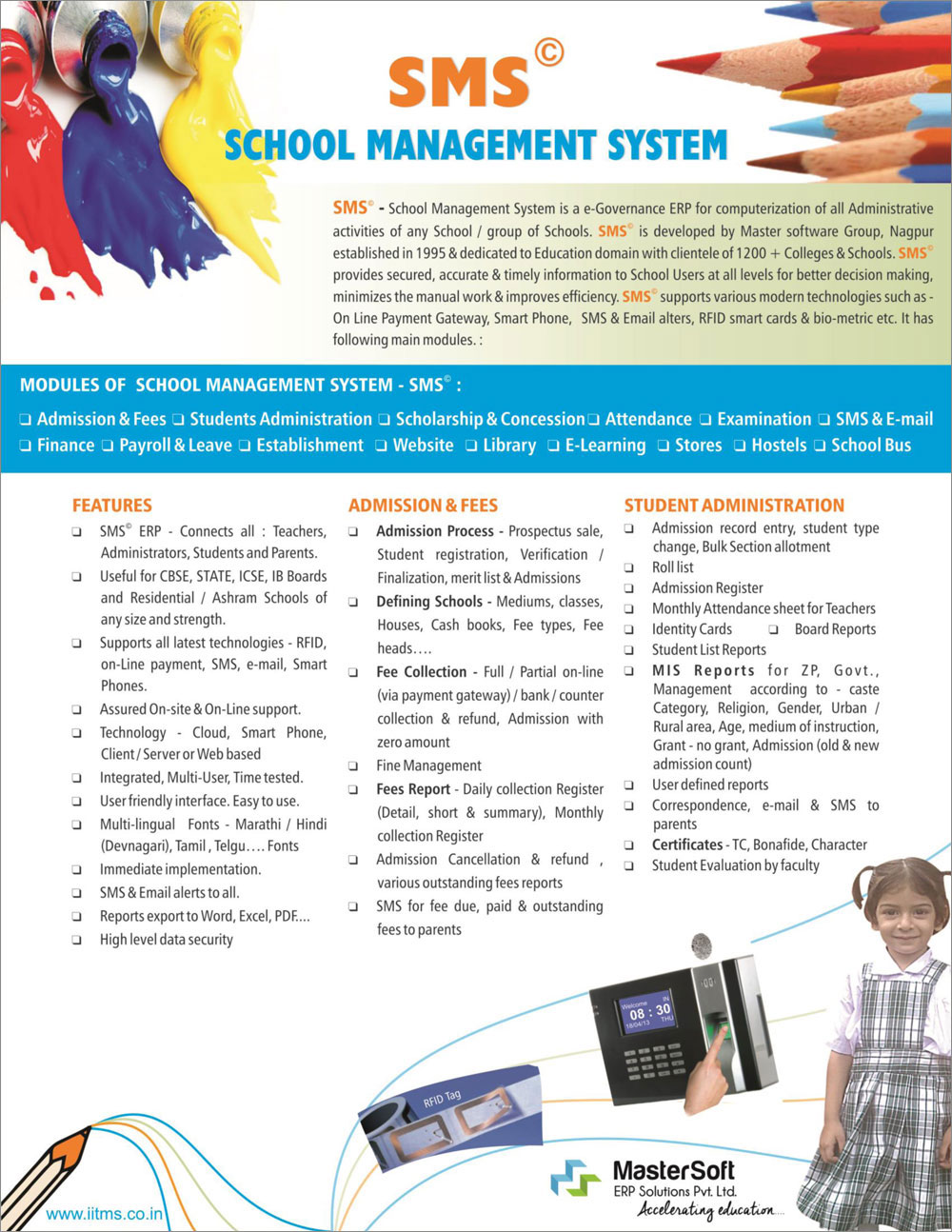 SMS © - School Management System
SMS - School Management System is an e-Governance ERP for computerization of all Administrative activities of any School / group of Schools. SMS is developed by Master software Group, Nagpur established in 1995 & dedicated to Education domain with clientele of 1200 + Colleges & Schools, provides secured, accurate & timely information to School Users at all levels for better decision making, minimizes the manual work & improves efficiency. SMS supports various modern technologies such as - On Line Payment Gateway, Smart Phone, SMS & Email alters, RFID smart cards & bio-metric etc. It has following main modules.
School Management System features
SMS© ERP - Connects all: Teachers, Administrators, Students, and Parents.

Useful for CBSE, STATE, ICSE, IB Boards and Residential / Ashram Schools of any size and strength.

Supports all latest technologies - RFID, on-Line payment, SMS, e-mail, Smart Phones.

Assured On-site & On-Line support.

Technology - Cloud, Smart Phone, Client / Server or Web based

Integrated, Multi-User, Time tested.

User friendly interface. Easy to use.

Multilingual Fonts - Marathi / Hindi (Devnagari), Tamil , Telgu... Fonts

Immediate implementation.

SMS & Email alerts to all.

Reports export to Word, Excel, PDF...

High-level data security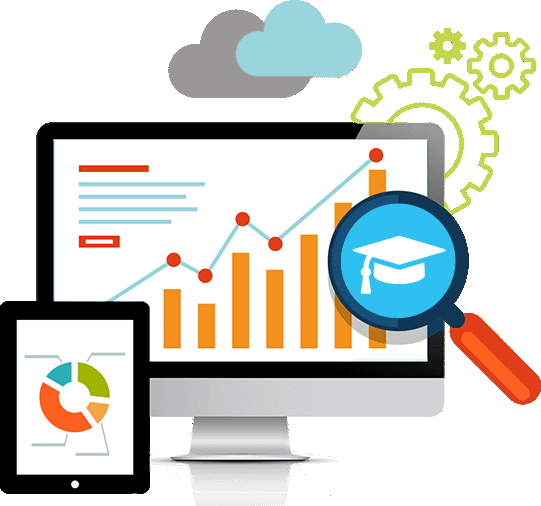 SMS modules
ADMISSION & FEES
Admission Process - Prospectus sale, Student registration, Verification / Finalization, merit list & Admissions
Defining Schools - Mediums, classes, Houses, Cash books, Fee types, Fee heads...
Fee Collection - Full / Partial on-line (via payment gateway) / bank / counter collection & refund, Admission with zero amount
Fees Report - Daily collection Register (Detail, short & summary), Monthly collection Register
Fine Management

Admission Cancellation & refund, various outstanding fees reports

SMS for fee due, paid & outstanding fees to parents
STUDENT ADMINISTRATION
Admission record entry, student type change, Bulk Section allotment

Roll list

Admission Register

Monthly Attendance sheet for Teachers

Identity Cards
Board Reports

Student List Reports

MIS Reports for ZP, Govt., Management according to - caste Category, Religion, Gender, Urban / Rural area, Age, medium of instruction, Grant - no grant, Admission (old & new admission count)
User defined reports

Correspondence, e-mail & SMS to parents

Certificates - TC, Bonafide, Character

Student Evaluation by faculty
ATTENDANCE
LF (Low Frequency) RFID ID cards are issued to students & / or students thumbs are registered in biometric device. Biometric Readers are installed in each classroom or multiple Readers are installed at various common point of School. Each Student is required to show the ID card or put the thumb on Reader while arrival in School & leaving the School. Reader reads the card/thumb impression & attendance is marked & SMS is sent to parent. Teacher can correct the attendance of student.
In UHF technology UHF Portals are installed at School common entrance gate and students are required to go through this portal while coming to School & leaving the School. RFID Antenna reads the card & marks his arrival / departure time & SMS is sent to parents.
A Cloud based smart phone enabled M-Attendance software simplifies attendance process for all teachers of the School. Faculty mark absent students in his smart phone which is updated on cloud and absent messages are sent to parent. Also parent can securely access the attendance, performance and home work details of their ward using smart phone.
Faculty updates absent roll nos. data on day to day basis on attendance Server. SMS are sent to parents for absentees. Monthly summery attendance SMS to Parents can be sent & uploaded on Institute web site.
Read more - Why Online Attendance Management Software Is Beneficial For Schools?
SCHOLARSHIP & CONCESSION
Useful for scholarship / free-ship of students - GOI, EBC, BC, Free-ship, Girls concession, PTC, STC, Ex Service Man...
EXAMINATION
The module is useful for Examination Result publishing from Std. I to XII - Mark based system/Grade based system/combination. This module is totally flexible & can be configured for any number of classes, medium of instructions, subjects and any type of examination. Any type of Grace & Exam rules can be defined by Users. Strong validations are provided for minimizing human errors. This is integrated module of School Management System and Students data is transferred from Fees collection module. User can
Define Class wise Examination scheme - Defining subject offered, maximum marks, passing marks etc.

Defining Grading / passing criteria, Grace rules, Ordinance...

Test, mid-term & Final Mark entry by faculty / administrative staff

Result Processing & finalization
Mark sheet /Grade card

Tabulation register / Result Sheet

Certificate printing

Merit list-overall / subject wise

Result analysis according to - Percentage, subject, gender, Caste category...
Results of Selected Class

Publishing Result on Internet

In-built facility to customize report, certificates, mark sheet

SMS of results to parents

Institute performance
SMS & EMAIL TO PARENTS
SMS can be sent by school - Administration to Parents for various reasons listed below:
Unplanned Absentee of ward in class

Fee dues, paid, over dues details
Schedules of various examinations, events in school, school notices

Progress / Remark of student
Monthly attendance record

Declaration of holidays
FINANCE
Any number of Account (cash books) can be maintained for any number of financial years.
Master creations - cash books, Ledger heads, Final account main & sub head

Receipt, Payment & JV entries

Fees & Payroll entries direct transfer
Bank Reconciliation

Multi- Language printing of Reports - cash / Bank /JV/& Day book, Ledgers

Cheque Printing, Cheque Preparation, Cheque Cancellation
Cheque Reports, Cheque Outgoing Register

Final Accounts - Trial balance, Receipt & Payment, Income & Expenditure statement, various schedules

Personal Ledger Report
Read more - Benefits Of Implementing School Management Software
PAYROLL & LEAVE
Employee Information

Monthly Pay bill of all employees

Attendance L.W.P

Monthly Salary Calculation

Supplementary bills
Income Tax calculation

PF & Loans management

Leave record

User defined 15 Earning & 20 Deduction heads

User defined rules for calculation of - DA, HRA, CLA, PT, PF...
Pay Slips / Salary Certificate

Salary Register & Abstract

Bank Statement

SALARY Comparison Report

Schedules' of - PF,LIC, GSLI, PT, DCPS
Income Tax Reports - 16,24Q

Employee's Personal Information Reports

Junior College Reports

Annual Salary Reports

MIS Reports-According To - Pay Scale Designation, Departments, Caste Category
ESTABLISHMENT
Entry & reporting of all the services book entries such as - personal memoranda ,Appointment details ,Family details, Qualification, Previous qualifying services , Loan & advances details, nominations details ,Pay revision, yearly increment leave promotion & transfer, change of scale, LTC, training programme etc.
Scanning, storage & retrieval of original document of Employee's personal file.
WEBSITE
Professional, Creative & Attractive-eye-catchy design

Smooth functioning & User-friendly

Easy to navigate

Search Engine friendly
High-tech & secured

Linking with ERP - Admission & Fees, Student attendance, e-Learning, Results modules

Secured login to students, Parents, faculty, staff & management
Infrastructure of school

Courses offered & admission procedures

School Mission, History & Management

Photo Gallery

Achievement, awards, donations

Event - student's event conference, sports meet, cultural activities

Faculty & Officials
News Room

Student's attendance & Result, Notices

Students Feed back, Emails for All Faculty & College Staff

Linkup with Social Networking Site

Alumni - Online Alumni Registration & Searching, Chatting, Discussion forum

Notices board & News room
LIB - MAN: LIBRARY MANAGEMENT SYSTEM
This is a fully integrated, user friendly, multi-user package, for all the in-house operations of the Library. The Library Application Software is powerful, and easy to use.
Acquisition & Cataloging

Circulation

OPAC - On-Line Public Access Catalogue

Serial Control
MIS Reports

Smart Phone OPAC

UHF RFID Integration
Requisition & Purchase order

Bill Processing & Accessioning

AACR2 Catalogue

Binding

Barcode

Sock Verification

Circulation

B. T. record

Reservation / Claims

Overdue / Recall notices
Clearance / Fine

Notices / Reminders

Book bank

SMS & Emails

MIS Report, Graphical Reports, Utilization of documents, Lost/Missing documents analysis, Budget Analysis

Serial Controls - Purchase, Indexing search circulation & OPAC

Web OPAC - ON-LINE PUBLIC ACCESS CATALOGUE - Powerful search engines according to: Title, Author, and Subject...
E-LEARNING
Web / Cloud based interaction (e-learning) tool for Teachers-student–parents
Uploading of course material By Faculty:

Homework & assignments

Notes

Sample question papers & question banks

Video & Audio Content

On Line test Quiz for one / all subjects, sports etc.

On line submission of assignment by student
Group email / SMS and announcement facility for faculty

Online lesson plan

Exam time table & notice

Subject wise roll list

Performance comments by Teachers
STORES
Co-operative Stores

Transactions related to purchase, issue transfer & write off of inventory

Stock register - Centralized & Department wise

Daily goods receipt / issue register
Current Stock Position - Centralized & Department wise

Stock Ledger - Centralized & Department wise

Reorder level report, Requisition slip

HOSTEL
Hostel creation - Hostel name, Wings, Room no. & capacity, Standard Fees

Mess Creation

Merit list & Hostel Admissions

Hostel Fees demand creation & collection

Hostel & Room Allotment / Room Change

Mess allotment & change

Admission Cancellation & refund of fees

Fees collection Register

Hostel Admission Register
Mess Bill Management

End Sem. / year student's dues & refund

Hostel Room Status

Student Certificates / Hostel I-Card

Selected Fees Reports

SMS / Email Facility

Integration with Exiting Fees collection package

Hostel Reports and certificates - Residential Fees paid etc.
SCHOOL BUS MANAGEMENT
Defining Bus routes

Vehicle details

Driver details

Transportation fees
Maintenance

students reports

SMS to parents for delay / change in Bus schedule