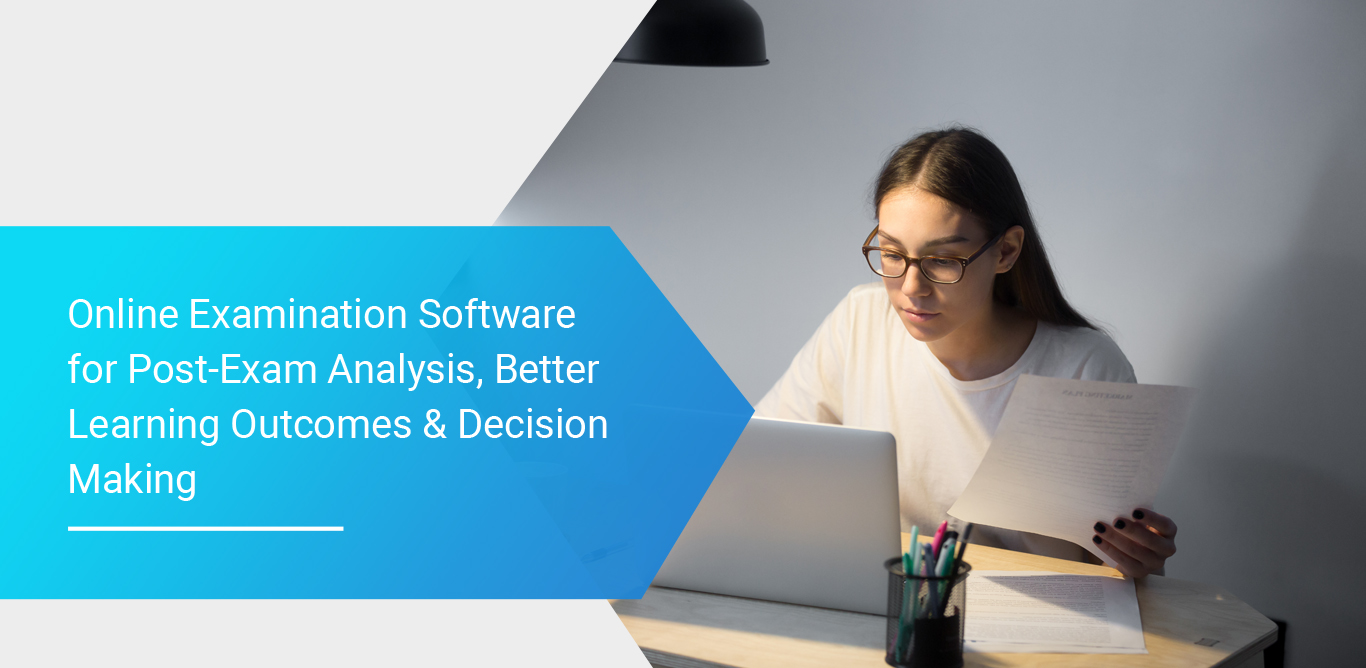 Have you noticed the correlation between the six levels of Bloom's Taxonomy for education?
Remembering | Understanding | Applying | Analyzing | Evaluating | Creating
Well, these levels have been thoughtfully designed to impart value-based knowledge to students & encourage them to develop new skills including the ones that deal with life-long experiences.
When it comes to a school – it has been observed that children often study the curriculum just to pass the exams. Even teachers follow the same teaching methodology that doesn't add any innovation in their regular curriculum but is designed to help students pass the exams with flying colors.
But as an institution-
Don't you think that the students' curriculum & examinations need to be defined more prominently?
The student learning outcomes need to be evaluated continuously?
Don't you feel that tracking & improving students' performance should be the goal?
If you are facing challenges in performing post-exam analysis, ERP school software integrated with an online examination system & AI-powered analytics dashboard can be the best solution.
Before understanding the functions of the analytics dashboard, let's first understand what an online exam system is -
What is Online Examination Management Software?
An online examination system is an edTech tool that helps faculty & educators to digitize & streamline the examination process by enabling them to perform the following activities online-
Planning exam schedule – subject/year/section-wise
Creation of assessments & questionnaire in multiple formats
Configuration of various questions as per Bloom's Taxonomy
Easy login & exam process
Mock test papers
Customization of time to take tests
Instant feedback providing mechanism
Thus, right from deciding the assessment & online exam pattern – the exam management system helps the faculty to scrutinize the performance of students & provide them instant feedback.
In addition to these functionalities, the school software can be utilized more smartly by implementing an ERP analytics dashboard. The analytics dashboard calculates everything & offers in-depth information regarding the students' performance in pictorial, charts, graphical, and various other formats.
Identifying & Analyzing Learning Gaps with Examination Management System
According to a piece of recent news published in TOI –
"Nearly 82% of the school's students experienced high-stress levels during the exam season."
However, this doesn't mean you should stop taking tests and assessments. After all, the examination is the key to analyzing students' knowledge & skills. Here, as I mentioned, you need to analyze the learning gaps & then work on the improvement strategies.
Let's now understand how it works-
1) Filter the Students' Data
An analytics dashboard enables you to sort students' data and get answers to questions like-
Which section's students scored the best?
Which students performed poorly or below average?
How many students excelled in a specific subject?
Which faculty's performance is better (based on student outcomes)?
Once the online examination is finished, you can visit the dashboard of the faculty's login and find everything you need in one place! The ERP solution software generates all the data based on students' results of online exams. Initially, you need to define the passing criteria and exam pattern and once the rules are decided, you don't need to do anything manually. The examination management system would perform everything.
2) Exam Performance – Test/Section/Year-wise
You can access the number of students who pass or fail the exam. You can even check the status of every student individually.
Now you might be wondering - what's so unique about it?
The best part is – you can access the performance of not just the current year, but previous years as well! You can compile the student data and compare them. This way, you get to track, measure, and compare the year-wise record.
If you require the information in a graphical format – you need to select the option and voila!
You will get the data at your fingertips.
3) Discover the Academic Strengths & Weaknesses
They say – Practice makes a man perfect!
However, how would you know – what your students need to "practice"?
What if you are focusing only on the positives & not aware of the negative aspects of your academic journey? This is where the ERP campus with an analytics dashboard plays a vital role. It allows you to explore every academic aspect of students while maintaining 100% accuracy.?
Discovering the academic strengths of students can help you plan a better teaching-learning strategy that leads to the maximization of student learning outcomes. On the other hand, you can also discover the pain areas where the students are facing hassles.
This initial diagnosis can serve you a long way in maintaining the scholastic goals with ease.
4) Map Students' Understanding Levels – Question-wise
Bloom's Taxonomy has differentiated various students' skills and clearly defined how the understanding levels of students need to be mapped. With an online examination management system – you can prepare question sets that are in synchronization with Bloom's concept.
This means – every question would carry a weightage and skill judgment parameter. Basically, you will be following an outcome-based education concept. Thus, you don't even need to wait for the final assessments to gain a detailed insight into students' learning.
You can arrange time-to-time quizzes & short tests to know whether your online teaching-learning strategy is working or it needs to be changed.
This "SMART" way of imparting education will surely bring the best to your table!
To Sum Up
The online examination system inbuilt with an analytics dashboard automates, streamlines the online exam process, and gives you post-exam analysis for better student learning outcomes & decision making. Therefore, to maintain the perfect equilibrium of the educational ecosystem – ERP solution software with such provisions should be on your must-have edTech modules' list.
Remember that- just encouraging students to perform well is not enough. You need to take logical, actionable, and measurable steps towards improvement.
Thinking of implementing ERP solution software?
Why not attend a FREE virtual demo of the best school ERP in India?
For further details, get in touch with our team of ERP professionals today!