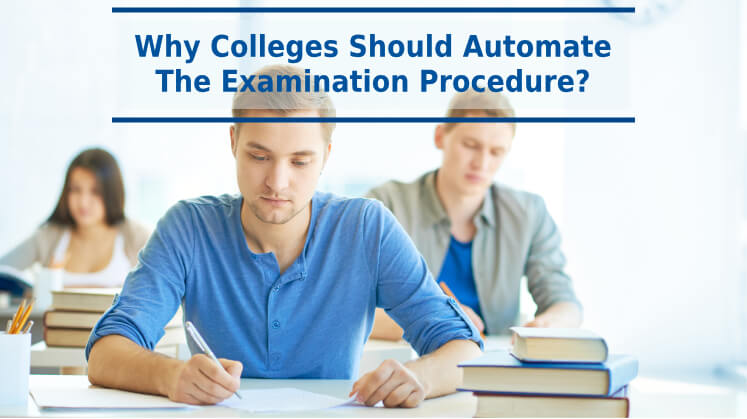 The massive changes in the information and communication technology have changed and given new and very innovative methods to the operational procedures of different sectors. In the educational sector, the innovative methods have improved the management, teaching, examination and all the other administrative processes along with making them easy, quick and more effective.
The use of college management software or application is to create a platform which can easily manage students data for effectiveness in learning at the classroom and assessment of performance. The examination is a key factor in performance assessment and must be carried out with accuracy and precision. The automated examination management system is a smart, agile and scalable solution which automates each task related to examination effortlessly.
For schools, colleges and universities that are not yet convinced about the automated examination system, the article will discuss the reasons you must consider before coming to any conclusions.
Hassle-free Procedures
The use of manual examination system requires a lot of stress and cumbersome practices. Teachers are majorly under serious work to distribute printed papers, manage records of each and every candidate using a manual list or manuscript and all this provides room for laborious exercise. The collation of all the answer booklets from every student and invigilation of a large number of students in a single examination hall also is a big problem that characterize the manual systems of assessing students. The automated system has all examination questions of each type well loaded into the computer which is provided to all students. It takes care of identity fraud and also makes invigilation very easy.
Streamlined Processes
Examinations involve a lot of activities, right from registering students, preparing roll lists and creating timetable to setting question paper, creating a seating arrangement to assessment of answer sheets and many more. If all these activities are not carried in the proper sequence, it may lead to a lot of repetitive tasks due to missing or disorganized data, along with loss of crucial time.
Streamlining all the process by automation of the examination will streamline your processes and align them in the most efficient way. Also, it will ensure that all your data is organized in the desired way and stored on a single, central platform which will provide easy access to everyone involved.
Prompt Release Of Results
The results of a very college or school examination determines many things. For students participating in the entrance examination, it means an opportunity to secure admission or a case of trying out another examination in another college. Results are mostly released late for the manual examination system especially with a high number of students or candidates. The late release of examination result causes so much tension among students and perhaps a mistake with teachers trying to mark and get the result released on time.
A college equipped with college ERP, the examination is conducted using the college examination system that has an ability to mark each student as soon as the examination is conducted. It is fast, quick and much less stressful. Also the results are immediately sent to a centralized database of the college system for proper storage. This data can then be either printed or displayed publicly or privately over the internet for easy and quick access.
Robust Performance Management
Management of students' performance is very important as well as beneficial for every school. Results from every examination conducted by every college must be well managed, easily kept for the record and accessible to parents of each student. The college management system helps to collate and store the data for record keeping.
Being a paperless solution, the chances of data loss are highly eliminated with the college examination system and every school or college aspiring to keep pace with the rapid changes must opt a proficient examination management system. This will not only save their time, efforts and hassles but also will help them in making processes easier to handle, manage and stay updated.
In conclusion, the creative possibilities brought about by information and communication technology to colleges is to provide a good solution to myriads of problems and challenges faced by school managers and administrators. The education ERP software is thus the way to go now and in the future times for a well-managed colleges and other education institutions.
Contact us to schedule a FREE Demo!!