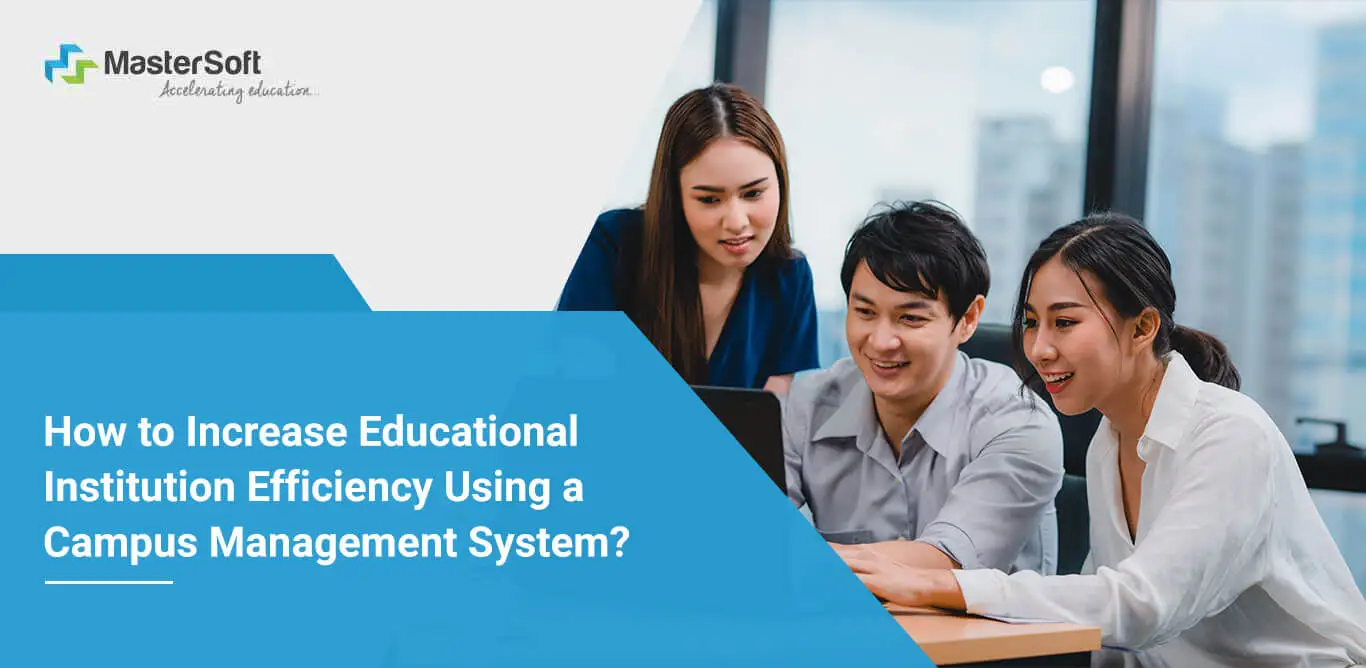 What are the top ten institutes in my state? Diploma courses in the best colleges in the country - These are two basic examples of sentences that students often type while browsing through colleges on the internet. But have you ever wondered what it takes for colleges to get on the coveted list of reputed institutes?
What constitutes the excellence of higher education? The number of students is certainly not the deciding factor, and neither is the expansive college campus. Instead, a combination of several aspects is responsible for the efficient operation of a college or university. Furthermore, it is noteworthy that previously, the conventional approach was mostly manually controlled.
For instance, paper-based systems were central to maintaining all information related to the institute, and teachers used blackboards and attendance registers. However, manual mechanisms have become less relevant owing to the technological revolution. So, naturally, the integration of advanced tools like the campus management system became the new norm.
6 Step How can We Increase Institutional Efficiency Through Campus Management System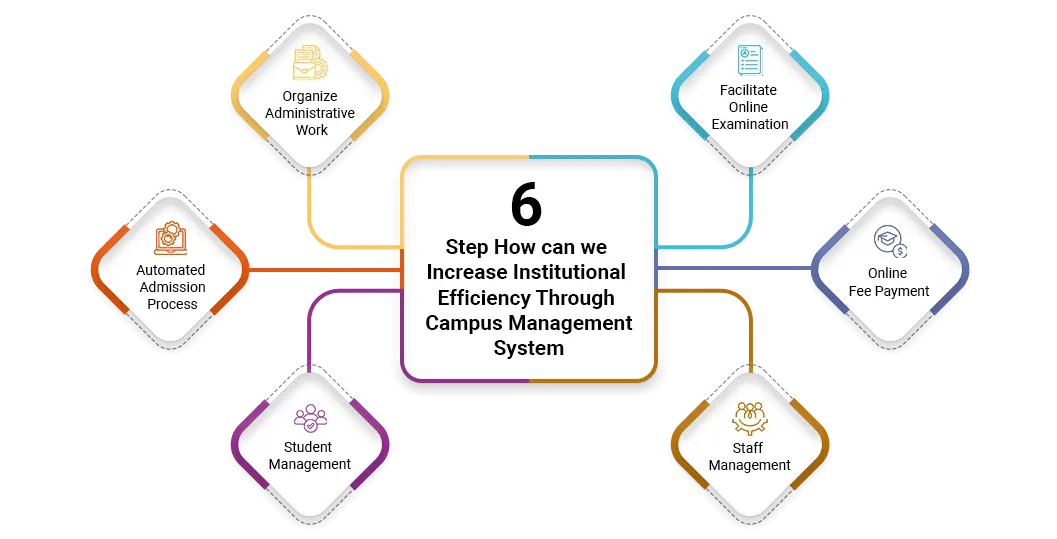 1. Organize Administrative Work
What would you do if you ever had to simultaneously complete different tasks? The college's administrative department has the responsibility of carrying out several duties. Moreover, the department comprises team members who execute day-to-day institutional activities. Hence, it often happens that they are already busy with something, but suddenly they might have to shift their focus on retrieving an important file.
For instance, they could be conducting admissions-related procedures and sorting through audit reports; the pressure is evidently quite intense, and outdated methods like Excel sheets or paper-based systems are ineffective. On the other hand, teachers have to deal with something similar; apart from ensuring excellent teaching delivery, they also have to keep track of student performance.
Furthermore, the traditional approach to making student reports is time-consuming and exhausting. Meanwhile, integrating CMS with the college ERP will help you organize administrative work effectively. For example, the admin staff won't have to rush anywhere to submit documents; they can share files digitally. Also, data storage and maintenance are error-free processes that provide the institute with timely and accurate information.
2. Automated Admission Process
The admissions phase of college is the most stressful, not just for students but also for the institute staff, as they have to strategically plan and execute all procedures. But you must be aware that despite the elaborate planning and scheduling, errors occur, leading to procedural delays.
Students unintentionally make errors related to filling out the application forms or other associated formalities. On the other hand, the admin department or the admission committee that requires managing multiple admissions within one day gets exhausted. Irrespective of their years of expertise, it is normal to encounter tiredness, especially when they work within the framework of old methods.
Institutes can easily reduce manual errors and alleviate minor and major issues with the help of CMS; in fact, incorporating it with the college management system will help automate the admissions process. Consequently, students will not need to physically travel to the campus to process their enrollment; the system is built to send automated updates to registered students.
Also, the admin doesn't need to individually collect student information as the cloud server stores it, and they can review the student details and shortlist students based on criteria.
3. Student Management
Maintaining student-related information is a top priority for higher educational institutes; no wonder they have strived to choose the best way to achieve the goal. Outdated computer systems or Excel sheets are not fit for institutes because they are not scalable enough to cater to the expanding student population.
Therefore, CMS is the perfect tool for colleges and universities, as it helps them collect and maintain student data easily. The in-built modules have an auto-update feature that streamlines the examination schedules, students' marks, subject schedules, curriculum details, and individual progress reports.
Besides, the student management module within the system, integrated with ERP solutions, enables easy access to the college administration and the teaching staff. In addition, students and their parents can check the details as well.
4. Facilitate Online Examination
Examinations in the traditional sense relate to in-person tests that students take in allotted classrooms under the supervision of invigilators. Institutes usually conduct these tests in the middle and end of the year, also known as semester exams. However, colleges have been facilitating a hybrid of online and offline exams.
Moreover, teachers can conduct online exams to check students' ongoing progress; for instance, they can assess their knowledge and understanding of previously taught lessons. And CMS helps to conduct such assessments, as it comes with various templates that enable teachers to develop different kinds of questions. For example, MCQs, short essays, coding, mathematical equations, etc.
Also, the system helps establish a regular feedback system that allows students to get guidance from the teachers in real time.
5. Online Fee Payment
Students must pay semester or examination fees within the given time, or else they must pay fines. But missing deadlines due to busy schedules and academic pressure is normal; CMS helps facilitate online fee collection through the online fee payment portal. Hence, students can pay their fees via different payment modes like debit/credit cards, net banking, etc.
Furthermore, the system automatically generates weekly and monthly fees and admission reports, which the admin sends to the college management.
6. Staff Management
You must note that the campus management system does not just ease the specified operations related to students and administration but also the entire campus. For instance, paper-based registers have been the staple for recording the leaves of faculty members and other staff. Also, they must write an application whenever they need a leave, which gets approved depending on the availability of the authorized personnel.
However, the campus management system effortlessly streamlines such activities as it reduces HR work pressure. In addition, the faculty management system helps create the respective profiles of the staff and teachers, providing them with a platform to apply for leaves and get approval on time.
Besides, the system maintains the faculty profile and updates details such as increments and salary payments. Also, it facilitates end-to-end payroll processing and generates salary slips with deductions and bonus details.
In Conclusion
The campus management system is one of the most sought-after software because it helps automate the most tedious tasks. In effect, it helps to bring efficiency and productivity to institutional activities.