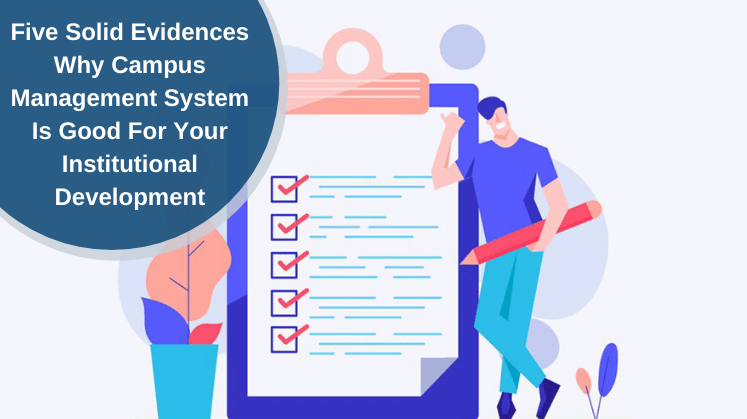 "Campus management software is a boon for the empowerment of educational institutions."
– MasterSoft ERP Solutions
To strengthen our point, we'll briefly discuss the case of the LNM Institute of Information Technology, Jaipur. We'll try to explain to you everything in the simplest words possible! If you are someone new to the concept of ERP and want to discover how campus management systems can contribute to the growth of your institution, this article will surely be helpful for you.
LNM Institute of Information Technology, Jaipur
Founded in the year 2002, with a vision to groom students with high-quality education & impact their lives for betterment, LNM Institute of Information Technology is counted as one of the topmost institutes for providing technical education in India. Being well-equipped with facilities & located in one of the fastest-growing cities of India – Jaipur, LNMIIT has seen a history of bright students seeking admission from all over the world. As a matter of fact, it has been awarded "A" grade by the National Assessment & Accreditation Council (NAAC). However, in the due course of time, as the competition started to increase, the staff at LNMIIT needed an automation education ERP solution that would strategically engage & enhance the number of prospects and achieve successful conversions. Before we embark on their journey to adopt edTech in the classroom, let us understand the pain points first.
Here are the top 5 challenges for which educator & staff at LNMIIT was seeking a customized solution –
Admission: Nearly 6000 applications for admissions were received every year. Organizing, analyzing, and maintaining piles of paperwork & student documents for preparing merit list & conforming admission for the right candidate out of thousands of applications was a headache.
Reports: Issues such as data entry errors caused by manual input & time taken for preparing various departmental reports needed to be addressed.
Fee Collection: Managing & collecting the fee manually became hectic as the number of students in the institution increased drastically over the years.
Communication: It was essential for the faculty to stay in touch with students & their guardians for sharing college-related information. Communication gap became a major cause of concern.
Data Security: Keeping the student data safe & secure was the topmost priority to avoid improper fraudulent activities in the institution.
Being a passionate visionary with hunger of innovation & achieving the position of most sorted Education ERP vendor from the past 22 years, Mr. Sham Somani, the founder of MasterSoft, proposed their ERP products to Dr. S.S.Gokhale, the director of LNMIIT. To optimize resources & improve goals such as student retention, success ratio, and productivity of the organization, Dr. Gokhale met team MasterSoft & gave a green flag. As a result, the experienced engineers from went on-site & implemented the product to bring-in the real transformation.
The following modules implemented by Team MasterSoft are live evidence of how the campus management system proved a pillar of success for LNMIIT's development.
#Evidence 1: Online Admissions: The entire procedure of admission was shifted on a secured & safe online portal. Students were given logins via which they could easily upload their documents. Similarly, a login was created for staff members in the administration department via which they could organize, analyze, and manage the received data for successful admission of deserving students. Out of 6000+ applications, nearly 2500 were shortlisted & at the end 500 students were filtered & finalized for admission in the institute.
#Evidence 2: Institutional Reports: Errors during data entry were eliminated via streamlining the workflow. Distinct report processing, and generation & displaying the statistics in simple & easy-to-read format was achieved successfully. All sorts of reports for procedures such as payroll, online receipts, student academics, etc were generated & kept intact for smooth functioning.
#Evidence 3: Online Fee Collection: With the introduction of online fee collection & payment gateway, collecting & managing the student fees became hassle-free! Right from collecting application fee of nearly 6000 students to provisional fee of approximately 2500 students & final payment of selected students at the time of admission was done without any error. Students were also given e-receipts after successful transaction of payment.
#Evidence 4: Smooth Communication: Communication gap between stakeholders was eradicated with MasterSoft system. Right from sending institutional events related news to student's attendance & academics grade card, even the minute information was shared with parents with a few clicks via email & SMS.
#Evidence 5: 100% Data Security: The entire database of 2000+ students in the institution was maintained on a highly secured cloud server that follows the guidelines of "Meghraj Policy" by the Government of India promoting 100% data security.
Not just LNMIIT, more than 2000+ institutions across countries like India, the UK, the US, and UAE have benefited from the implementation of educational ERP by MasterSoft. We still don't ask you to blindly adopt our ERP system merely because it worked for others, we request you to allow us to present a demo & then decide by yourself. We won't charge you a single penny; the demo will be absolutely free! To get started, contact our team today on this number – (+91-712-2713714) or email us at – (sales@iitms.co.in)
Be a part of successful institutions and create a history in the field of education!