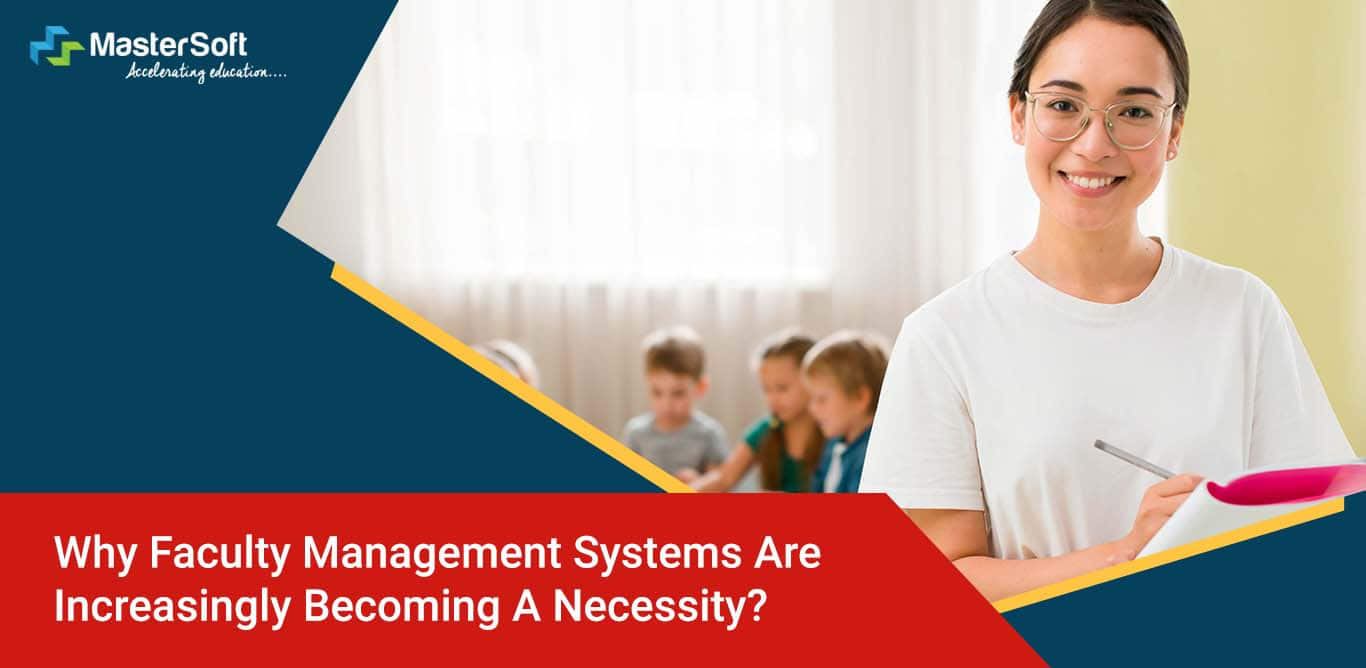 Enhance Faculty Management System in your Institute with MasterSoft
The growing adoption of latest technologies in the educational industry for managing various activities and processes of the institute are encouraging the institutes to upgrade themselves. The NEP 2020 is majorly focusing on increasing the number of students educating themselves every year. The rise in the number of students is giving rise to hiring more faculty members in the institute.
To manage the hiring and management of faculty's activities and processes, the faculty management system is the most suited solution for the institutes.
Why is faculty management important?
Teaching & learning are two sides of a coin. To improve student outcomes, the faculty should be efficient, creative, and be able to engage students positively and encouragingly. Faculty is certainly one of the prime stakeholders of the educational ecosystem which translates into a lot of important and confidential data which needs to be stored securely, systematically, and easily retrievable.
Adept, flexible, and reliable faculty management software not only stores all your faculty data securely and makes it readily available, but also manages every faculty-related operation accurately with ease, thereby saving your time and efforts.
Faculty Management System Helps You to Conduct Following Activities
1. Recruit New Faculty Online
With the increasing strength of the institution, the faculty will also increase. Recruiting the best faculty and maintaining transparency is in itself an onerous task and consumes a lot of time. The best way to recruit new staff is using an online faculty recruitment software (E-Recruits) that helps secure, easy, and speedy recruitment. Create an online vacancy on the software and define the requirements. Get an automatically generated merit list based on your predefined parameters. Recruit new staff paperlessly, transparently!
2. Compile Extensive Data Efficiently
Faculty data needs to be stored in a quickly retrievable, efficient, and orderly manner. But compiling such an extensive amount of data such as salary, PF, or any such loans, leaves, pension & gratuity, recruitment, service book, etc. requires a lot of time and effort, not to mention the piles of paperwork as DRR4well as hassles associated with it.
3. Generate Monthly Salary Effortlessly
Generation of monthly salary and distribution of the same consumes a lot of time, especially when various kinds of rules, regulations, and deductions are applied. With a faculty management system, you only have to define the aforementioned rules, deductions only once, and then each month the exact amount of salary will get generated automatically. Payslip can be generated on demand which saves time, resources, and a lot of paper. Also, salary can be credited directly to the faculty's account via any online payment gateway which ensures a safe & secure transaction.
4. Manage Faculty Attendance Easily
An adept faculty management system software, such as HRMS by MasterSoft can be integrated with biometric or RFID-based attendance devices which can then keep track of the 'in' and 'out' times of staff. This helps the administration in many ways, firstly it tracks the real-time attendance of every faculty. Secondly, the system automatically generates the respective salary by applying the specified rules such as leaves, half-days, late marks, etc. Thirdly, it maintains transparency and ensures that the data cannot be hampered. Lastly, it generates precise reports about the same in an instant.
5.Generate Various Mis Reports Accurately
One of the key uses of a faculty management system is that it can generate any kind of MIS report accurately and instantly. Various governing and/or accrediting bodies need MIS reports which may be in any format. Generating faculty-related reports manually may take days or even weeks and even then the accuracy, precision, and authenticity of the report can be questioned/challenged. Whereas a system-generated report can be obtained instantly and the data contained therein cannot be challenged as it is based on facts registered by the engine which is also error-free.
6. Maintain Confidential Data Securely
A lot of faculty data is confidential and needs to be saved from online security attacks. Storing all this information in a well-protected and heavily secured system is the best way to ensure its safety. Also, unlike excel sheets where data can be altered/manipulated by anyone having access to the workbook, data remains safe in an ERP as it provides role-based access. This means that only a certain amount of control is given to a certain person based on his role. Only the principal or higher-level management has access to the complete system. This ensures double security from both internal as well as external threats.
7. Take Smart Data-driven Decisions
A dashboard facility like the one inbuilt in HRMS by MasterSoft provides access to graphical and pictorial reports instead of tables of numbers! Quick access to this accurate data is very crucial in helping the management take data-driven, wise, and timely decisions. Data available on this dashboard can be viewed as per your need, for example, year-wise, day-wise, month-wise, gender-wise, campus-wise, subject-wise, etc faculty who are/were on leave. Hence a faculty management software that eases the whole process of managing the present, past (retired), and future (recruits) faculties are becoming a necessity of every modern institution.
How can MasterSoft help you in Faculty Management?
MasterSoft is a highly trusted ERP solution provider company with over 800 software implementations across the globe. We offer all aspects of educational solutions such as a learning management system, faculty management system, accreditation management software, and others. The faculty management system is technologically advanced and highly secure software for managing faculty's data, attendance, payroll, and hiring processes. The software is equipped with features and stores large amounts of data.