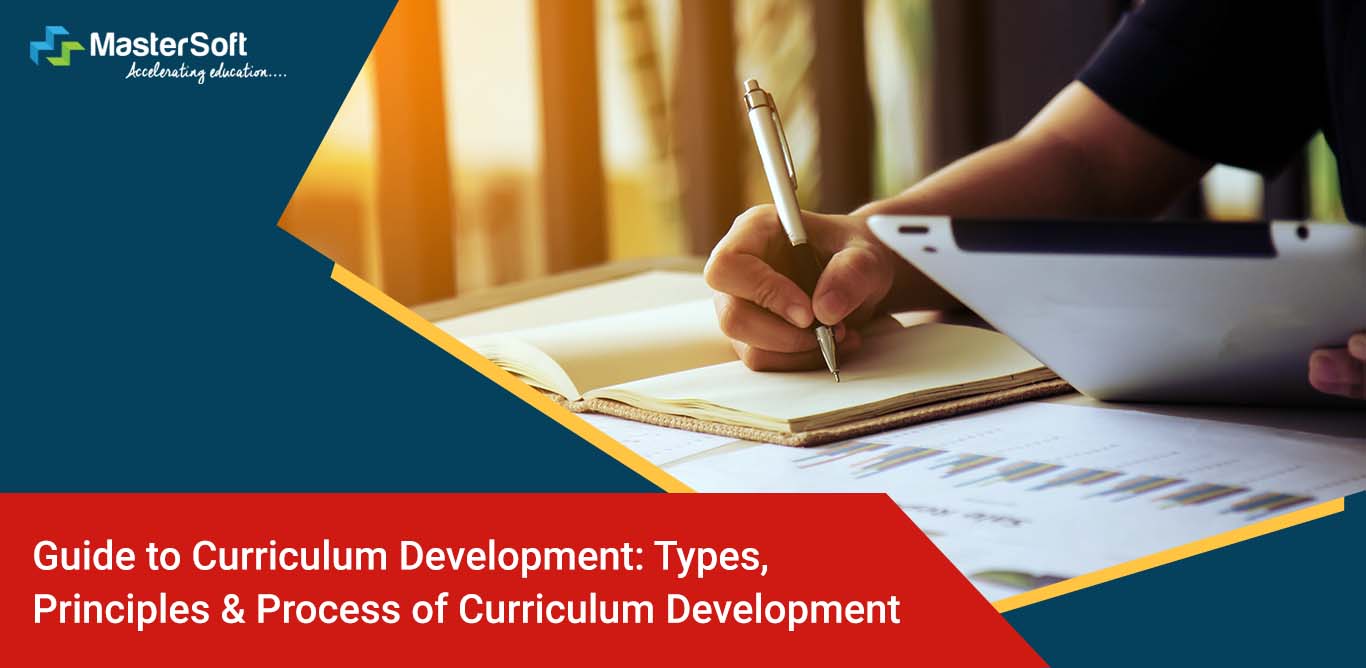 Curriculum development is a process through which an institute or the instructor designs or creates a plan for a course or program. Furthermore, it is not a stagnant approach and includes continuous improvement wherein, the content is reviewed, revised and updated according to the needs and demands.
What is Curriculum Development ?
Curriculum Development is the step-by-step process of designing and improving the course offered at schools, colleges and universities. Even though each institution will have its own process, the broad stages of the framework consist of analysis, design, implementation, and evaluation.
Curriculum refers to specific lessons and academic content taught in schools and educational institutes for a particular course or program. On the other hand, curriculum development is a process that aims to improve the curriculum by using various approaches.
Few of the commonly used techniques include need and task analysis, objective design, choosing appropriate teaching and learning methods, choosing assessment methods, and forming the curriculum committee and curriculum review committee.
Hence the entire process is divided into segments to ensure the development of an effective curriculum that would help to facilitate an enriching educational programme.
NCF 2020 (National Curriculum Framework - 2020) - A Complete Guide
Types of Curriculum Development Models:
Learner-centred design

Subject-centred design

Problem-centred design
1) Learner-centered design
The learner-centered design focuses on the understanding that each learner has different characteristics. The teachers or instructors are to give opportunities to the learners to take ownership of a project or assignment.
They require to create chances for independent learning with well-regulated liberty. This indicates that students take a more active role in the classroom, but it is to be done under the instructor's guidance.
There are four distinct attributes of learner-centered design, which includes:
Context- This refers to the assignments and tasks given in the classroom that should have real-world application. Consequently, the relevant context in student learning will help learners to connect with what they are learning.
Construction - Learners should relate their own experiences and prior learning with new learning.
Collaboration- Creating an environment and providing opportunities that encourage collaboration between classmates. Activities like group discussions and team assignments allows the learners to only form individuality but also expose to others' opinions.
Conversation- Exercises to improve learners' communication skills are mandatory, and hence instructors should employ them accordingly.
2) Subject-centered design
Subject-centered design is a traditional approach to curriculum that focuses on a particular
Subject matter or discipline rather than on the individual. Additionally, during the curriculum development process, this approach includes four subtypes of curriculum designs: subject-area design, discipline design, broad-field design, and correlation design.
3) Problem-centered design
Problem-centered design is an approach that focuses on developing problem-solving skills, thinking and communication skills. This is a student-centric strategy wherein the learners are given problematic situations and encouraged to solve them after careful observation.
Process Of Curriculum Development
The curriculum development process consists of the following six stages.
Stage 1: Assessing the educational needs
Stage 2: Formulating objectives and learning goals
Stage 3: Careful selection of learning experiences to accomplish these objectives
Stage 4: The selecting the rich and valuable content through which teachers can offer the learning experiences.
Stage 5: Organizing and integrating learning experiences with relevant content keeping in mind the teaching-learning process
Stage 6: Timely and accurate evaluation of all the above phases.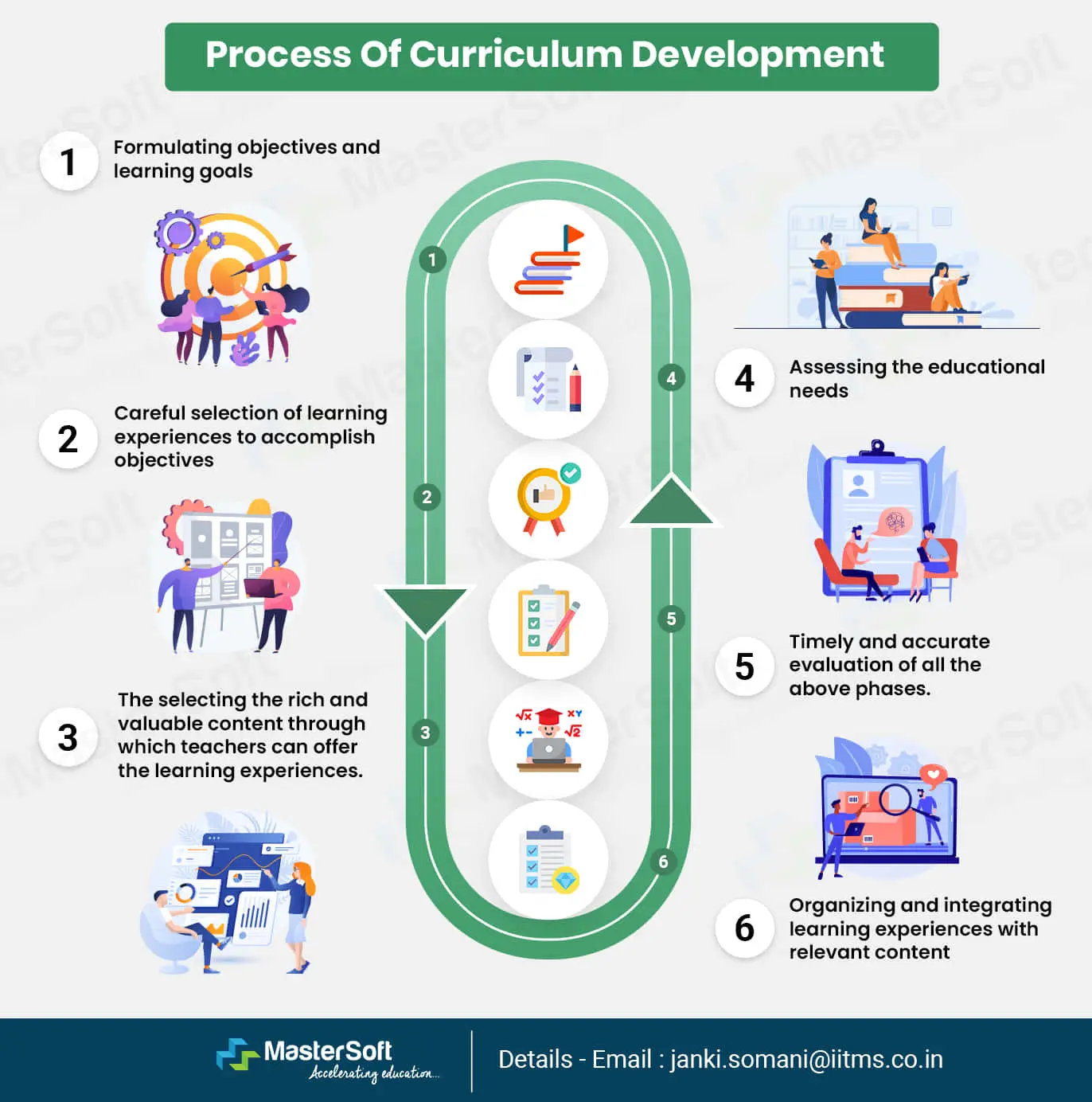 Principles of Curriculum Development
The principles of the curriculum are norms, values, moralities, and philosophies that will benefit teachers, students, and the whole education system. The curriculum and instructional strategy are essential components of imparting knowledge to students.
Totality Of Experiences
Child-Centeredness
Conservation And Creativity
Integration
Flexibility
Flexibility
Utility
Character Formation
Mental Discipline
Social Fulfillment
The following are a few of the basic principles of curriculum development :
1) Principle of Totality of Experiences
It is imperative to realize that curriculum does not merely indicate academic subjects traditionally taught in schools and colleges. It also includes the totality of experiences a student gains through several curricular, extra-curricular and co-curricular activities.
2) Principle of child-centeredness
Instead of sticking to the predetermined curriculum, instructors must consider the child's concerns, motives, and needs while developing the curriculum. In addition, while planning any curricular activities, educators must consider ways to enrich learners' interests.
3) Principle of conservation and creativity
While developing a curriculum, it is mandatory to include subjects and experiences that would help conserve cultural heritage. Furthermore, one of the most essential principles of curriculum development is that the curriculum cannot be static.
On the contrary, it should be subject to modification as per the requirement aligned with the changing global educational trends and students' needs.
4) Principle of integration
The curriculum should be planned in such a way that varied subjects could be added at different stages of education. Similarly, the existing subjects should be able to integrate with other subjects apart from enabling the students to correlate with the content.
5) Principle of flexibility
One of the ideal qualities that a curriculum should have is flexibility and dynamism, as this will be instrumental in serving the needs and concerns of individuals and society. Also, timely changes and appropriate modifications to the curriculum allows educators and learners alike to stay updated with academic goals.
6) Principle of utility
Curriculum construction should follow the principle of utility, according to which educators must include content that is useful to the individual and society. In addition, the curriculum must consist of rich and valuable content that would be useful later in life.
7) Principle of character formation
The goal of the curriculum is not just educating learners through bookish knowledge. It should also encourage the development of character and personality in students. Therefore, the curriculum must aid in students' character training throughout the academic years.
8) Principle of mental discipline
A significant task of the curriculum is to foster learners' various mental faculties or powers through cognitive training and practice.
9) Principle of social fulfillment
Education aims to provide the overall development of the students through comprehensive teaching styles and content. Moreover, the curriculum should also consider adding the element of social life so that learners could gain insight into becoming responsible citizens.
National Curriculum Framework (NCF 2005) - A Complete Guide
How to Create Effective Curriculum Designs?
NAAC expects institutes to include courses in the curriculum that focus on fostering skills in students that would prove to be beneficial for them in the future. It should also lean towards specific skill development and creating entrepreneurship capability.
On the other hand, the NBA emphasises a curriculum design balanced with having core concepts depending on particular subjects. For instance, Basic Sciences would include engineering sciences, humanities social sciences, program core, program electives, open electives, projects, internships/seminars, others.
According to the New Educational Policy 2020 , institutes must include credit courses that focus
on the main subjects and extra-curricular activities. Furthermore, weightage should be given to the courses intended for skill enhancement. Therefore, teachers and instructors would require to design their lesson deliveries and plan of action accordingly.
NEP has directed institutes to include MOOC courses to make education more accessible to students of diverse socio-economic backgrounds.
Massive Open Online Courses or MOOC aims to offer online courses to learners, wherein students would have the liberty to choose any course and program.
Furthermore, institutes and educators need to work collaboratively to devise pedagogies and mechanisms to ensure the high quality of the courses.
Learners from all over the country will get free access to these courses, and measures and steps are to be taken to ensure the integrity of assessments. Moreover, to make learning more accessible, programs will also be available in vernacular language, which means that students who are not comfortable in English can opt for courses in their regional languages.
Course lesson planning and Outcomes
One of the crucial tasks of the educators would be to establish clear, specific, and measurable statements. These statements ultimately would indicate the knowledge, skills, and attitude that the learner would demonstrate after the completion of a particular course.
Similarly, learning outcomes would be more student-centric, focusing on the learner's performance rather than the instructional technique. Also, teachers must communicate clearly throughout the learning process regarding the course.
Course delivery tools and methods
Instead of sticking to the traditional blackboard teaching, teachers should employ new and unique course delivery tools for an enriched learning experience. There are several methods of lesson delivery that a teacher can use during the online class.
First, they need to assess the needs of students, depending on which they can formulate a specific method and opt for relevant tools. A few of the best examples of course delivery tools include inquiry-based learning, flipped classroom, personalised education, etc.
Various assessment mechanisms for effective evaluation
Assessments are an integral part of the educational system, and with online learning becoming the standardised medium, it is essential to opt for effective strategies.
Below are a few of the most valuable tools to evaluate student learning that educators should remember during curriculum development process.
As a part of formative assessments, teachers can employ a few of the most commonly used tools, such as MCQs, online quizzes, online polls, game activities, role-playing, open discussions, essay questions etc.
Furthermore, teachers can use these assessments types in sync with the learning objectives and assess how far the students have progressed.