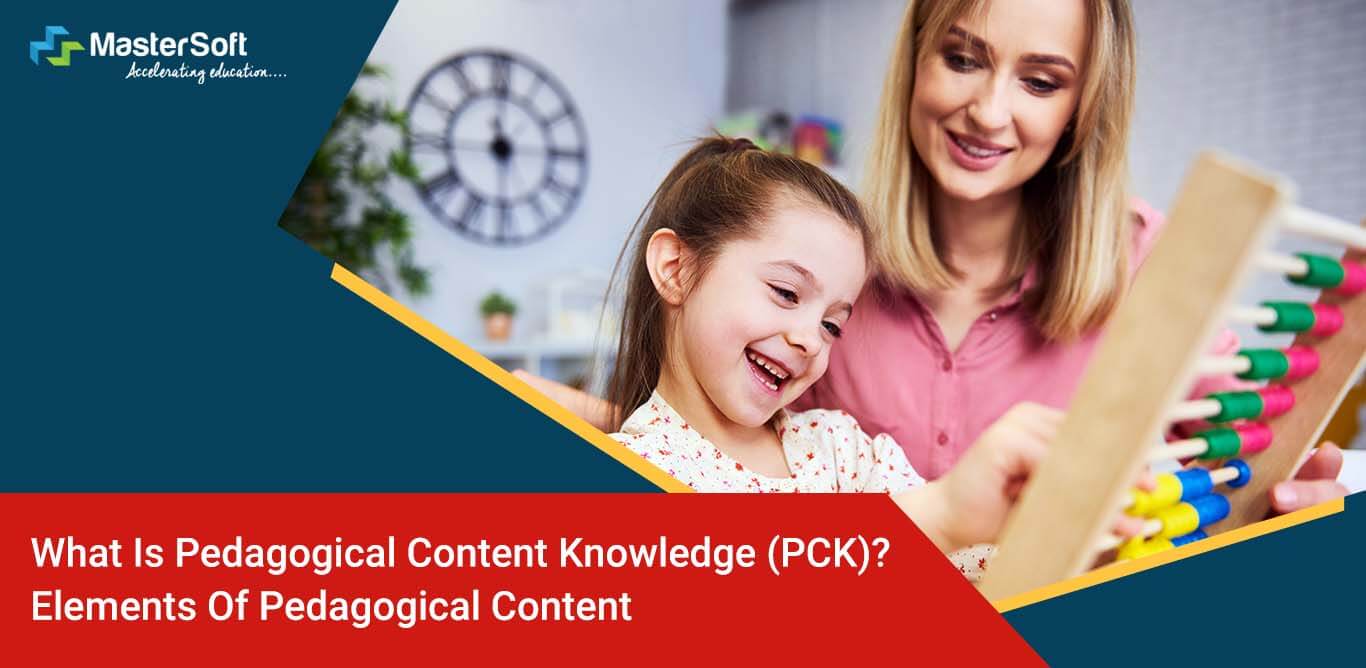 Teaching is a continuous process that entails uncertainties and challenges that might baffle novice and experienced teachers. Therefore, it would not be inaccurate to deduce that it is a demanding job because it requires the individual to invest time and effort to resolve students' issues. As the teachers accumulated wisdom with respect to their teaching practice: pedagogy, students, subject matter, and the curriculum contribute to their experience.
However, for anyone to become a teacher, they need to learn about the fundamental tenets of the profession. In addition, they need to multitask, wherein they have to attend to varied, unique and unpredictable learners. Similarly, they have to consider other factors, such as e environmental distractions, diagnosing students' learning difficulties and spotting their misconceptions, monitoring their progress, and making the necessary adjustments.
Many essential components go into preparing an individual for the profession, and one such critical aspect is the pedagogical content knowledge(PCK). Nonetheless, it is vital to dispel the misconception that teaching is a simple skill that just concentrates on curriculum delivery. Although it is hard to define the pre-requisites of good teaching, not one teaching method is superior to the other. However, efficient teacher education is significant, and PCK forms one of its crucial elements.
What Is Bloom's Taxonomy? What Are Its Applications & Importance?
What is pedagogical content knowledge?
Pedagogical content knowledge is the combining of pedagogy and subject content knowledge which Shulman re-emphasised in the 1980s. It is noteworthy to mention that Lee Shulman was a teacher education researcher who worked towards expanding and improving knowledge about teaching and teacher preparation. He posited that simply developing general pedagogical skills were insufficient; he believed that the key to distinguishing the knowledge base of teaching rested at the intersection of content and pedagogy.
Furthermore, he established pedagogical content knowledge as teachers' interpretations and transformations of subject-matter knowledge in the context of facilitating student learning. Therefore, he put forward several key elements of pedagogical content, which have been elaborated below:
Key Elements of Pedagogical Content Knowledge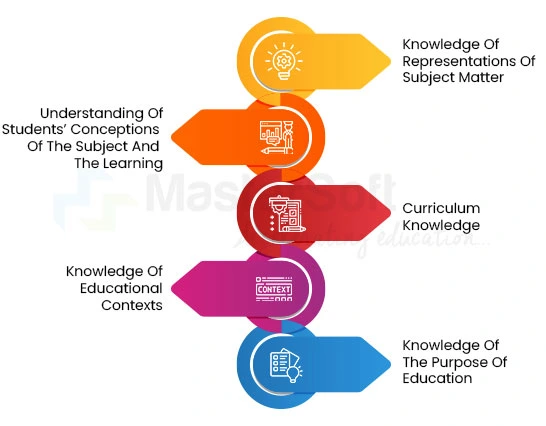 1. Knowledge of representations of subject matter
Teachers are not just responsible for disseminating knowledge about different subjects and matters; they need to keep track of the students' understanding levels. Furthermore, they need to be aware of why they need to teach specific ideas or core concepts, which is a part of the PCK.
To become more aware of this knowledge and to be able to think about it more clearly, teachers can find ways to keep track of this information, just as they ask students to do with the data collected in lab assignments. One way is to keep a personal notebook describing their teaching, even just once a week or so, for a few difficult concepts.
They must also strive to identify the real-world implications of the knowledge that they are imparting to the students. Hence, the subject matter which they learn and the teacher delivers needs to be well-researched.
2. Understanding of students' conceptions of the subject and the learning
Did the majority of the students in the class understand the topic? Why did a few of them fail to grasp the ultimate meaning behind the incident? What are the major obstacles that are preventing them from gaining a basic understanding of whatever has been taught?
These are some of the questions that teachers must address after concluding any subject; more often than not, teachers hurry to finish the topic and don't do any follow up afterwards. As a result, they lag behind due to a lack of clarity and inadequate knowledge; they should determine the understanding of students' conceptions of the subject and learning.
PCK illustrates how the subject matter of a particular discipline is transformed for communication with learners. It includes recognition of what makes specific topics difficult to learn, the conceptions students bring to the learning of these concepts, and teaching strategies tailored to this specific teaching situation.
At the same time, teachers need to identify the misconceptions about particular topics in a subject matter and proceed to clarify them. As inaccurate or incomplete knowledge has always led to uncertainty and confusion and does not add to the wholesome student learning experience.
3. Curriculum knowledge
The purpose of the curriculum is to facilitate effective student learning; it is much more than guiding them to learn specific chapters in maths, science or literature. Moreover, on a broad aspect, the curriculum reflects the national culture in which a school operates – different countries have different expectations of their students, even if teaching practices are similar.
But it can also reflect and define the culture at the school level as well, from the specific needs of the neighbourhoods they serve to the topics where you want to differentiate yourself. Also, a good curriculum helps to connect teachers from all grades and subject areas; they should have the curriculum knowledge so that they can work together with other teachers and discuss any potential changes.
Additionally, they must promote the importance of skill development along with teaching core subject matter and how to implement them in practical situations.
What Is Pedagogy? Importance Of Pedagogy In Teaching And Learning Process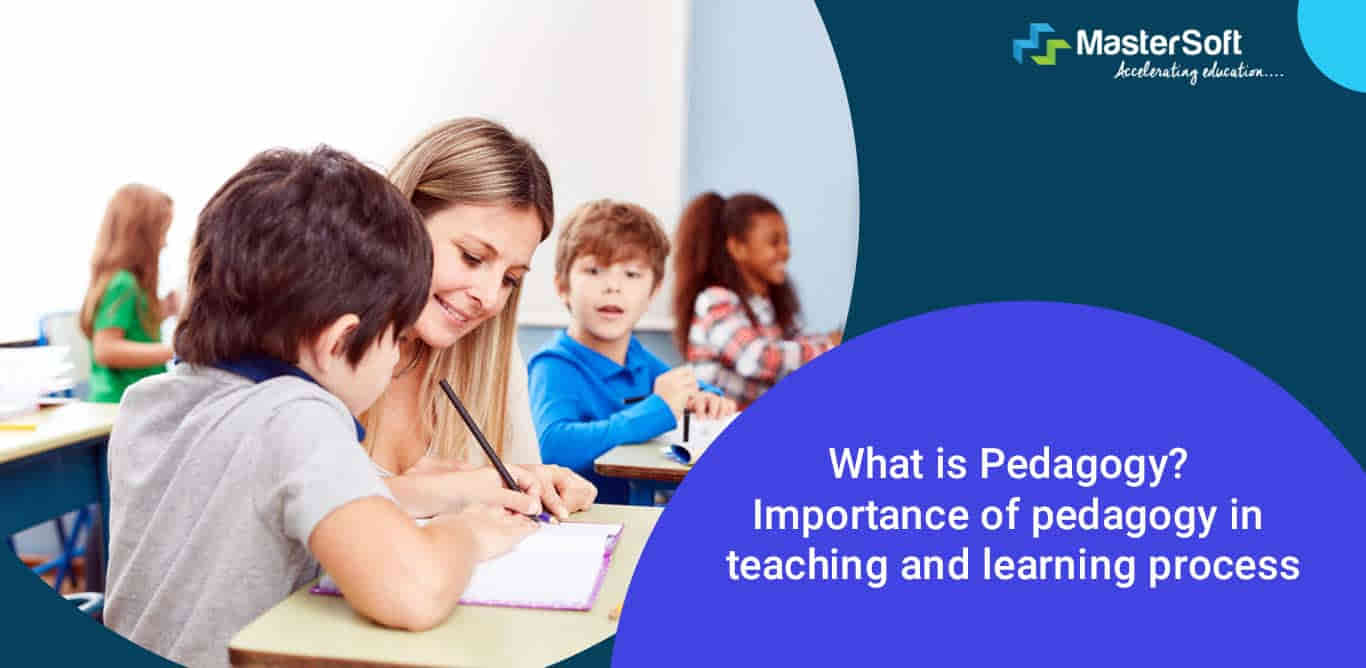 4. Knowledge of educational contexts
Teachers must have a clear idea about the educational contexts wherein they have to put emphasis on quality learning and teaching. Simultaneously, they must provide students with plenty of opportunities to achieve learning outcomes and develop the knowledge, skills and understandings that are essential to all areas of the curriculum.
To teach all students according to today's standards, teachers indeed need to understand subject matter deeply and flexibly so they can help students map their own ideas, relate one idea to another, and re-direct their thinking to create powerful learning. Teachers also need to see how ideas connect across fields and to everyday life. These are the building blocks of pedagogical knowledge.
Moreover, in the revised version of PCK in 1990, Grossman pointed out that teachers should ensure the appropriateness of the content and instructional strategies used in the teaching. Also, they must prepare an appropriately planned lesson which must be in sync with the educational context and students' characteristics, such as their prior knowledge and ability hence leading to meaningful and effective learning.
5. Knowledge of the purpose of education
Cochran et al. (1993) highlighted that Shulman's concept of PCK is stagnant and divided into various components; they remarked that a teacher's knowledge of teaching should be dynamic, developing and continuously growing. Therefore, the revised version that came to be known as pedagogical content knowing PCKg outlined a few vital aspects of teacher education. It emphasised:
Subject matter knowledge
Knowledge of pedagogy
Knowledge of students
Knowledge of environmental contexts
While focusing on the central aspects of pedagogical content, its uses, and how to learn them, it is also significant to determine the purpose of education. In addition, teachers must seek the reason why they want to pursue the profession; they must instil the discipline, methodologies and ethics of imparting value-based education.
Conclusion
Pedagogical content knowledge depends on a teacher's everyday work; it includes the theory that they learn during teacher preparation and the varied experiences that they gain during ongoing school activities. Moreover, it also comprises teachers' integrated knowledge representing teachers' accumulated wisdom with respect to their teaching practice: pedagogy, students, subject matter, and the curriculum.