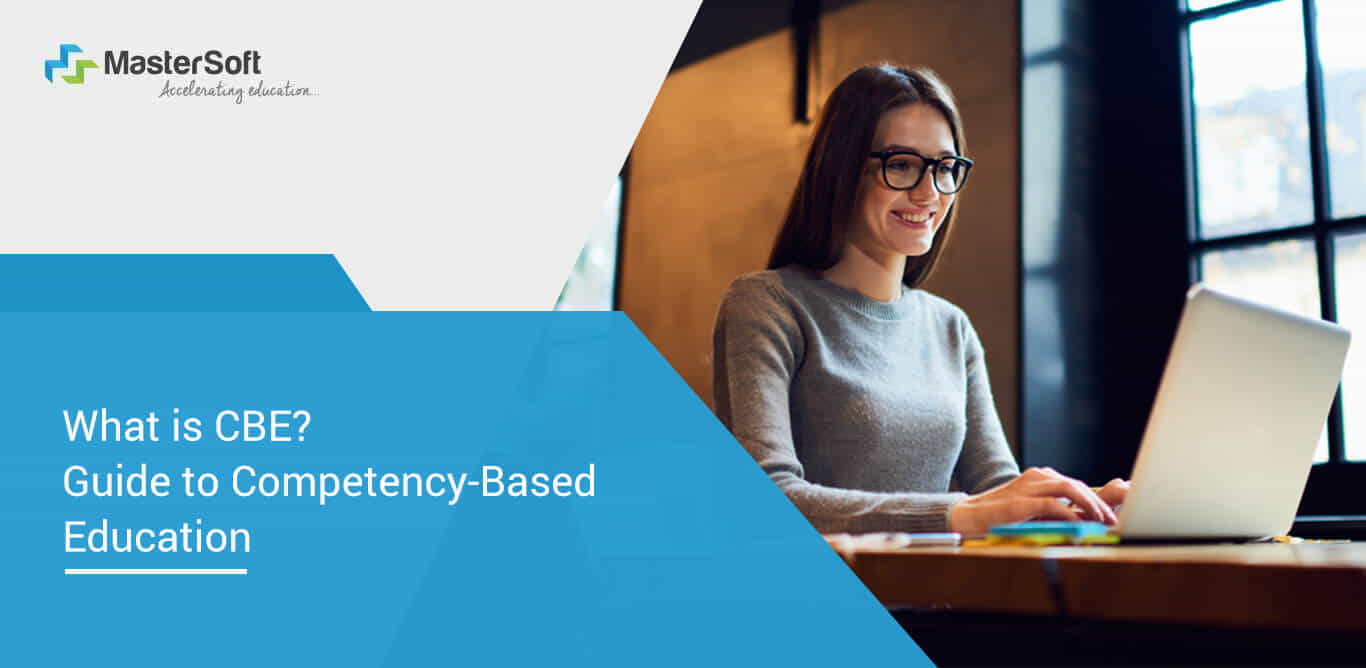 Updated On |
13

, December 2021
"The faculty and students share ownership of the learning outcomes; the students assume responsibility for their learning, and the faculty assumes responsibility for providing appropriate resources for that learning." ― Tina Goodyear
There's a famous adage –"Books are our best friends."
When it comes to the major goals of any educational institution, maximizing the – "Student Learning Outcomes" is on priority.
However, the outcomes are dependent on a lot of factors.
The primary factor is – the quality of education!
So, to enhance students' outcomes and help them to develop skills, it's mandatory for the institutions to continuously evaluate their teaching-learning strategies, modify the content, and deliver competency-based education!
As an educator, if you want complete information on what is CBE, this blog will serve you as a complete guide.
Let's first understand the concept of competency-based education and how competency-based education software can help you in achieving the best learning outcomes for your institution.
What is Competency-Based Education (CBE)?
Competency-based education is a teaching-learning approach that enables students to develop and grow based on their ability to learn or master a skill at their own pace irrespective of the environment. This method helps to improve students' learning outcomes and fulfill different learning abilities.
Competency-based Education (CBE) is an educational method that has an outcome‐based approach for better proficiency of students in learning using a demonstration of the skills, knowledge, values, and attitudes that help in real-life situations at the age and grade-appropriate levels.
This unique approach is outcome-based and enables educators to help students develop knowledge, values, and become lifelong learners even after the attainment of their degree.
Therefore, the definition of CBE in simple words would be an educational model that prioritizes the overall development of students.
What is the Need for Competency-Based Education (CBE)?
The traditional way of learning can't stand the needs of today's students.
The theoretical knowledge may help students understand any concept. But in the real world, they need to have a "go-getter" attitude; sharp mindset, and skills or competencies that can help them achieve their goals.
The industries demand brilliant students that can stand out in the crowd, be an asset for their organization, and deliver "nothing but the best".
In a nutshell, competency-based programs help in-
Prepare students for future
Meeting the needs & standards of various diverse organizations
Increase employability ratio
Key Features of Competency-Based Education (CBE)-
Ensures equity for all students irrespective of their educational backgrounds.
Offers different support to every student as required by them.
Progress of the student is purely measured on the skills and knowledge gained by them.
Students are encouraged to assess themselves and understand their progress and shortcomings to take accountability for the results.
What are the major aspects of Competency-Based Education (CBE)?

Curriculum Design
The syllabus should be designed in such a way that it focused more on outcomes such as skill development, hands-on experience, and applications that will help the students in future .

Teaching-Learning
The students can learn the syllabus and gain knowledge according to their ways and pace and the teacher should guide them through their journey

Assessment
The assessment is based on the skills developed by the students and their application in the real world rather than marks scored in the exams
Outcome-Based Education (OBE) V/S Competency-Based Education (CBE)
As CBE education surpasses the traditional method of teaching-learning and focuses on outcomes, its nature is quite similar to outcome-based education (OBE).
However, the main factors that depict the difference between OBE Vs Competency-Based Education (CBE) are –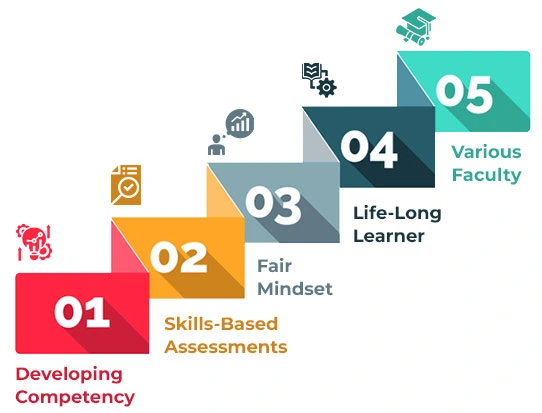 1. Developing Competency
The students are encouraged to develop logical thinking rather than mugging up the theoretical knowledge.
2. Skills-Based Assessments
The assessments are designed to measure the skills of students. It can be achieved with competency-based tools.
3. Fair Mindset
The students that learn by the CBE method are encouraged to have a fair mindset and perform their work with ethical means.
4. Life-Long Learner
A fair attitude & logical thinking helps students overcome any problem later in their life and not just restricted to a career.
5. Various Faculty
Various faculties like Healthcare, Nursing, etc can reap the benefits of CBE-based learning.
Let's now move on to the benefits of competency-based education to clearly understand why it is being considered as an excellent educational approach worldwide.
Why to Choose Competency-Based Education (CBE)?
For Students

Competency Based Education helps the students to focus on one subject and develop skills rather than just completing the syllabus. The student can take as much time required studying the subject and making sure of gaining expertise in the field.

For Institutes

CBE helps the institutes by enabling them to bring diversity in offering courses. The courses and syllabus are more aligned with the industry requirements hence increasing job placements and internship opportunities in the institute.

For Industry

The employers can search and find students with the exact skill sets as required in the company. This encourages good collaboration among the institutes and industries with an assurance of great talent being employed in the companies.
5 Benefits of Competency-based Education (CBE) for Student?

I have already explained some of the key benefits of CBE while comparing the OBE system with CBE. However, the benefits are numerous. The following list depicts the best benefits of competency-based education.
#1: Flexible Self-paced Learning
In traditional educational methods, students need to learn as per their schedule & timetable set by the teachers.
This is not the case with the CBE!
The CBE education enables students to learn at their own pace & thus provides better flexibility of education. Being a teacher, you can define various competencies before the beginning of the session & then track students' progress throughout.
#2: Practical Experience
No theoretical knowledge!
CBE approach totally focuses on providing practical & logical solutions to students. It helps them understand real-world problems & then develop a mindset to solve them.
You can define various assessments & curriculum patterns to serve the purpose.
This is one of the best benefits of competency-based education!
LMS software integrated with e-learning facilities, e-content and interactive assessments can simplify your journey.
#3: Personalized Teaching-learning
As a teacher, you can track students' progress with the help of competency-based education software.
Right from the students' best areas to their weaknesses & skills progress; you can get an in-depth overview of everything on a single dashboard.
You can keep a tab on competencies and help students attain the next level with personalized training.
#4: Clear Communication with Mentors
Depending on the level of students' outcomes, you can assign them various mentors that can take care of different competencies.
For instance, you can assign a teacher that will take care of 40-50 students and mentor them throughout their learning journey. It will further help students to clearly communicate their difficulties and make progress.
#5: Global Edge to Careers
The competency-based education advocates the skills-upgrading that in return would help them gain a leading edge in their careers on a global platform.
Thus, the CBE helps in creating the best employability opportunities for your students.
The Characteristics Of Competency-Based Learning (CBL)
Key characteristics of competency-based learning include being outcome-based, learner-centric, and differentiated, which helps to visualize what CBL means to all the stakeholders. Also, these characteristics help the students in understanding CBL and will be easier to make it in practice. These are listed below as follows:
Learner-Centric
Competency-based learning mainly focuses on the student as an individual first. It offers various opportunities for each student to develop required skills at their own pace, collect evidence of their learning process, promote collaboration with other peers, and become lifelong learners. It further empowers students to:
Progress through learning processes without time barriers.
Understand different competencies students need to master in order to achieve their goals.
Partner in learning activities with communities of mentors and peers.
See and check what they have mastered, where they lack, what they still need to accomplish, and where they need to improve academically.
Explore multiple learning opportunities.
Reflect and introspect on their own learning achievements.
Create learning artifacts that represent their competencies.
Develop an online identity, giving the ability to manage competencies and portable evidence of learning from different sources.
Outcomes-Based
CBL typically starts with well-defined learning outcomes. The structure for CBL comes from creating, managing, and aligning sets of competencies to learning resources, rubrics, and assessments, with analytics to track performance. Focusing on outcomes primarily empowers academicians and faculty members to:
Rearrange curricular design to start with learning outcomes instead of time structures.
Develop strong sets of learning competencies and outcomes.
Foster authentic test assessment which includes demonstrated mastery of competencies.
Build high-quality assessments, shareable resources, and rubrics developed to support learning outcomes.
Support transparent learning outcome analysis at each level of the institute.
Strategically identify risk in the student's progress toward learning achievements and offer appropriate interventions.
Achieve both short-term and long-term academic performance improvements focused on outcomes rather than inputs.
Differentiated
Differentiation generally refers to CBL practices that recognize and compromise to cater to the needs of individual students. It is multi-faceted and applies to learner support, communications, learning processes, and interventions.
Diagnostic/Prescriptive: Offering numerous learning content or test assessments to students based on what they have excelled.
Affiliation: Students receive varying course content or delivery based on their relationship to the curriculum in groups.
Adaptive: Content that is designed with learning substitutes and branching closely tied to the student's specific interactions with the content.
Choice: Students select from various learning materials and pathways on the basis of their own preferences and choices.
Personalized Notifications and Messages: Relevant, timely communications customized to student's needs and specific activities.
Suitable Interventions: Guidance, feedback, tasks, or activities are designed to guide learners progress towards their learning paths.
6 Major Principles of Competency Based Education
1. ryEquity Before Evething
One of the fundamental principles of competency based education is equity. Equity doesn't mean giving each learner the same content/attention as everyone else. Instead, it refers to giving each student what they require to reach the same end goal. Equity helps in removing any bias in learning.
Students are taught and guided based on their own strengths and weaknesses, thus giving them the same chance for success. The predictability of achievement based on social class, culture, language, or household income is totally removed. CBL further creates an inclusive culture where all students feel comfortable and respected.
2. Classes Emphasize Measurable Competencies Which Help Build Life Skills
Competencies should be well defined in advance and set as learning objectives for each learner. So, what are these competencies based on?
Instead of just testing for head knowledge, competencies emphasize the practical and real-time understanding of a student in a particular subject.
These competencies are generally based on:
The ability to apply knowledge to meaningful issues and challenges
Understanding crucial concepts
Proficiency in relevant skills
To measure the results, competencies must be defined in advance by school leadership. This requires teamwork. You can get input regarding the competencies from the whole faculty to develop new ideas on what skills are required to determine mastery.
3. Transparency Assists Learners to Take Ownership
The teaching-learning process demands an answer to one important question: What is the ultimate goal for each student in a particular class? The answer to this question should be known to everyone. The learning objectives that are set for the class and the institute must be clear to both parents and students.
In a competency-based education system, learners understand the following three things before starting the class:
How is mastery defined?
What are they required to learn?
How will they be assessed?
When each learner has clarity regarding the end goal, they will take more responsibility for their own education. For instance, a student understands that he/she needs to use his or her understanding of mathematics and apply it by completing the project. If the student understands the relation, he/she can then move ahead in the class, thereby taking more ownership over his education.
If he/she faces an issue or lacks the knowledge to finish the project, they will realize that they need help. Transparent goals and outcomes thus help learners take better responsibility for their learning paths, which, in turn, assists them in being better learners now and in the future.
4. Students Get the Necessary Support They Require Individually
Considering the above example, let's say the student needs help completing the project. This is where a teacher is required. Here, students should have a framework to understand how long they should work on a problem before asking for help and when in the class they can approach the faculty.
Here, the instructors work with students through their different weaknesses and help them access their strengths, each student is moved forward towards mastery on a unique path. The personalized and tailored learning experience provides each learner with an equal opportunity for better academic success.
5. Teachers Assess Students for Mastery and Growth
Assessments come in different types and shapes. Below are three types of assessments that are primarily useful for competency based education:
Authentic Assessments:

Getting students to use their knowledge and apply it to real-life situations is another great way to exhibit mastery. Also, learners get to learn skills that they will need in the future. Authentic assessments can include using English knowledge to write a resume or an application letter for getting a job, or using the understanding of math to estimate the overall spending for a vacation.

Formative Assessments:

These assessments guide teachers to determine where each student is in the learning process and adjust their teaching as necessary. Formative assessments further give teachers the ability to adjust in real-time by clearly identifying the key areas where students need to improve.

Digital Content Assessment:

Using technology in the classroom can simplify the assessment process. Many software packages include progress reporting and assessment, which guide teachers to see exactly where each student is in the learning process.
6. Students Move Forward When They Demonstrate Mastery
By considering data-based reporting and regular assessments, the faculty understands where each individual learner is in the learning path. When learners demonstrate a clear understanding of the concept, display how they have developed essential skills, and prove their ability to apply that understanding, it can be reasonable to deduce that they can move forward.
Competency Based Education Models
There are four models in competency based education that form the framework of a good education system. They work together and guide each other by designing clear guidelines for experience and culture, thus providing students with the best possible education.
Competency-Based Education Software for Hassle-free Journey
The journey of CBE education can be streamlined & simplified with the help of educational ERP software that could track & manage the students learning outcomes. As an educator, you must opt for software that effectively integrates the concept of CBE.
It will save your efforts & time to a great extent while ensuring the best educational practices.
Be it the task of generating precisely accurate students' performance reports or managing their records, CBE software is all you need!
Let's discuss them one by one:
Student Experience
The student learning experience is molded by how the learning structure is developed, which means including universal design and allowing for numerous paths to success. Also, teachers should give feedback, personalized direction, and guidance to each student.
Learners must be taught in a way that builds on their existing knowledge, and engage with the material in various ways, such as via dialogue, practice, and project-based learning. Eventually, test assessment must exhibit mastery of the topic, enabling all the learners to advance when they are completely competent.
Professional Practice
Instructors are supposed to have the right materials, including data and learning systems. This way, they can offer transparent feedback and improve the teaching quality. Teachers must also design the classroom in a way which allows to encourage relationships, inclusion, and develops mastery.
All school faculty have a share in developing relationships as well. In order to implement a solid competency based education system, instructors must build relationships with each other, with parents, and with students to effectively personalize the lessons. This model also focuses on constant improvement.
School Systems
The school systems (local, district, or state) have the responsibility to sustain and shape competency based education systems in the schools they work with.
When school systems get involved in determining the structure of their school's competency based education systems, this offers coherence and uniformity across the network. This assists teachers in having a transparent and clear definition of what mastery looks like, the type of assessments they should be using, and which competencies are essential, while still giving them flexibility at a local level.
School Culture
Tying all of these different models together, school culture forms the basis for the active use of a competency based education system. Each of the above models plays a key role in developing a school culture that accepts and uses the competency based learning system for the benefit of all students.
Competency Based Education Examples
Let us understand competency based education with the help of some examples:
For example,
One of the students was a huge fan of Pokemon and was having issues concentrating on the mathematics lecture and understanding the arithmetic principles required. When the teacher learned about the student's passion for the cartoon, he designed a special assignment for the student based on his own Pokemon cards. Here, the instructor got the student to work through the issues and show his command of critical math ideas by appealing to his interests.
A student understands that he/she needs to use his or her understanding of mathematics and apply it by completing the project of designing a small lawn. The student is required to use math to measure the size of the lawn and determine how many plants will fit.
A student understands that he needs to take his understanding of math and apply it by completing the project of designing a small garden. He needs to use his math skills to measure the size of the area and determine how many plants will fit.
Teachers can ask students to create a digital portfolio or submit a video essay that can be shared online. These kinds of tests give students the chance to show that they understand the subject, which is the cornerstone of competency-based learning. Then, the educator can adjust the next lesson accordingly, or plan one-on-one time with students who exhibited less understanding of the topic.
Educators can create spiral assessments by choosing certain topics to be covered that are then updated in-game for students. Then, they can go through the topic coverage report to check how much of each topic students have covered and at what point they are facing issues.
How can MasterSoft help you in Competency-Based Education?
MasterSoft is a highly trusted ERP solution company that offers education management and operations software for the institutes. It provides a learning management system to handle student data, track student performance, implement new teaching methods, and focus on better learning outcomes.
Do reach out to our team of ERP experts to know more about educational ERP software!
FAQs On Competency-Based Education

Competency-based education (CBE) is an educational approach for teaching, learning, and assessment which focuses on outcomes and skills gained by the students. It puts the main focus on the learner and engages them in learning activities.
Encourages personalized learning among students
Improves transparency and clarity among students
Encourages a culture of regular assessment
Students take responsibility for their learning
Self Awareness- Understanding one's own self and recognizing personal emotions
Self Management- Ability to manage behaviors and emotions
Social Awareness- Understanding other's feelings and perspectives
Relationship Skills- Being able to maintain and manage relationships
Responsible Decision Making- Being confident in taking personal and academic decisions