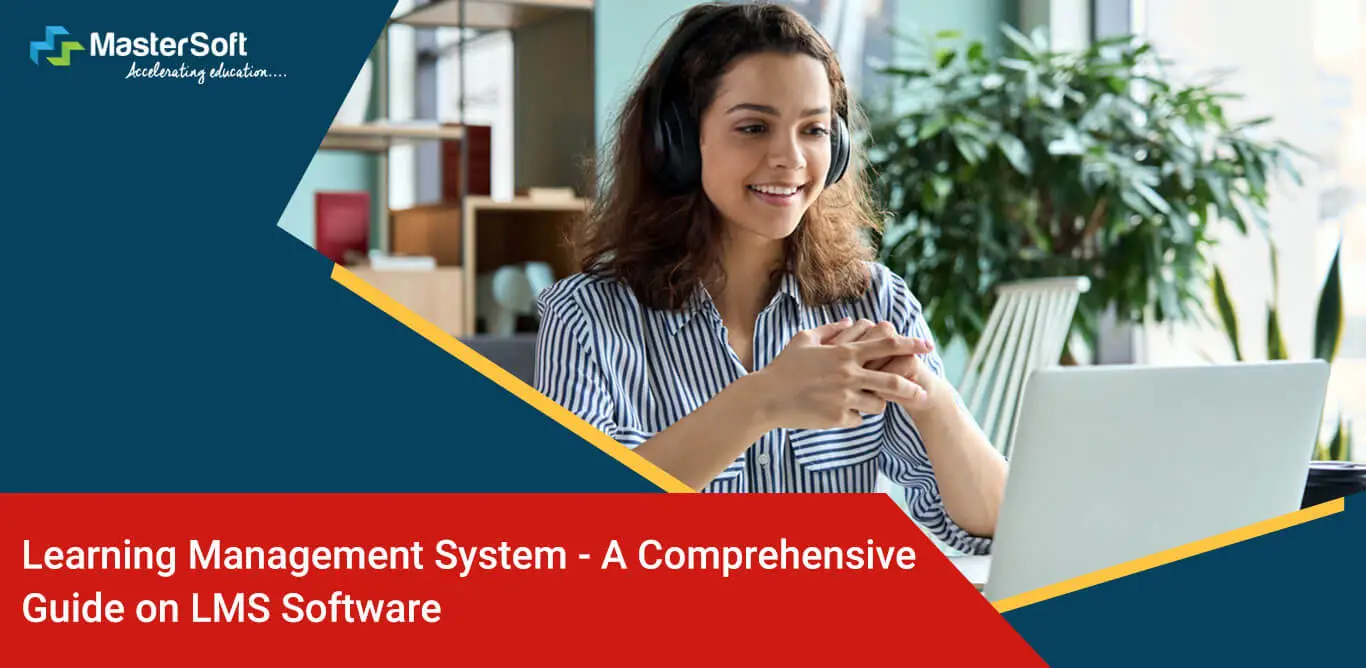 Online learning has become very popular recently. The eLearning market has grown by 900% since the turn of the century and is booming. Digital innovations have made it easier for people to learn new things by utilizing a variety of media. It is amazing to see how e-learning has developed over time and how it is still revolutionizing the educational system of today. Learning management systems (LMS) are a common tool for organizing and providing online education in the modern world due to the increased usage of technology.
What is an LMS?
The Learning Management System, or LMS, acts as the online instructors' savior. An LMS is a piece of software that makes it possible to distribute training courses and educational content. With this platform, educators can design and oversee courses, and students can access them and engage with them.
It is a SaaS (software as a service) tool that makes it simple to create courses, deliver content, manage students, and manage administration & paperwork. A variety of resources, including multimedia content, tests, discussion boards, and grading systems, are offered by an LMS to support e-learning. There are around 73.8 million LMS users globally. Currently, web-based learning management systems are used by around 87% of active users.
How Does an LMS Work?
An LMS consists of two main components: the front-end and the back-end. The front-end is the interface that learners use to access the course materials and interact with the LMS. The back-end is where the content and data are stored and managed.
The LMS workflow typically involves the following steps:
Design Course: Design and build an online course as per the current curriculum and the student's level of understanding.
Course Creation: Instructors create the course content, such as videos, slides, quizzes, and assessments.
Learner Registration: Learners register for the course and gain access to the LMS.
Content Delivery: Learners access the course materials and complete the assignments and assessments.
Feedback and Evaluation: Instructors provide feedback and evaluate the learners' performances.
Reporting: The LMS generates reports on learners' progress and performance.
Who Uses an LMS?
Both the school and business sectors employ cloud-based learning management systems globally. The software market is expected to expand at a CAGR of 24% in 2020 due to the software's exponential growth. Learning management systems are now used by the majority of higher education institutions as well as corporate organizations.
Administrators, Teachers, and Employers: This section includes those who manage the LMS software at their school, college, or enterprise. Teachers, professors, and employers must learn how to manage the software effectively and keep it up-to-date with the changing student's requirements. Also, this section of people creates training courses & quizzes, oversees course and content management, keeps in touch with third-party providers, and tracks students' and employees' academic performance and learning outcomes.
Students, Learners, Trainees, and Employees: This group consists of people who are interacting with the LMS and are on the receiving end. An educational institute's or a company's students and learners can benefit from the use of LMS for e-learning. As LMS software can assist in learning and adapt according to the learner's needs, it can also gather feedback from learners.
LMS users are not only restricted to academic institutions. An LMS can be used by anyone who wishes to offer an online course. The following people use learning management systems (LMS) for online training:
Independent tutors
Government organizations
Small-scale, medium-scale, and large-scale businesses
Non-profitable organizations
Start-ups
Healthcare organizations
Non-governmental organizations
What are the Different Kinds of LMS?

LMS is mainly categorized into:
Open-source LMS – This LMS consists of open-source code. You can easily access it and update the code to tailor it exactly to meet your needs. However, you will need an additional team of IT professionals to manage the customization, installation, and maintenance.
Cloud-based LMS – This mode is primarily developed by a third-party provider and provided on a subscription basis. This LMS platform is hosted in the cloud. Institutions and companies can start using them readily without the need to install anything on web servers or computers. This LMS type is easier to use as the provider is responsible for supporting the systems, including updates, installation, and server monitoring.
SaaS LMS – It is a cloud-based LMS that functions on SaaS. It is dependent on the internet rather than any computer device. As the SaaS LMS is hosted on the vendor's server, the institution does not have to install any software on their computers, laptops, or hard drives. Here, you may choose the LMS provider, get a free product demo & trial, and choose a pricing option as per your requirements.
Self-hosted LMS – This LMS is a web application. The LMS provider will assist you in downloading the web application from their website or provide you with software discs. A self-hosted LMS platform should be installed, managed, configured, and maintained all by the administrator or the institution.
Prominent Advantages of Using an LMS:
High Storage and Scalability : LMS software enables you to store a significant amount of data. It can be further scaled up to hold more data with increasing student registrations and course offerings, which makes it convenient for the faculty.
Better Student Retention : A comprehensive LMS system with an easy user interface and a simple navigation layout will considerably improve the overall user experience and thereby increase the retention rate.
24*7 Unlimited Access : The LMS software can offer its learners unlimited access to online learning material, which can be accessed at any time from anywhere. Also, students can access LMS platforms via smartphones, laptops, and tablets.
100% Data Encryption : Security and privacy are the utmost concerns of an LMS, and hence it offers end-to-end encryption with role-based login access. The LMS system protects against any misuse, unauthorized access, and loss of important data.
Smooth Tracking of Learner's : The LMS platform seamlessly tracks learner activity, such as how many times a particular student has logged in, which course has been studied, and who has completed the assignment or quiz. The tracking data is automatically collected and saved in one place for review.
Cost-Effective Portal : The software is exceptionally cheap and saves significant costs with the help of one-time course creation and easy modifications. It saves money by reducing resource costs, cutting down on classroom rent, transportation costs, and study material printouts.
Flexible & Customizable : LMS software enables multiple learning paths. It caters to the different learning requirements of the students based on their learning outcomes, objectives, roles, and skill acquisition. Instructors can even allow the learners to select their courses at their convenience, thus increasing flexibility.
Quick Updates and No Geographical Barrier : The LMS software enables you to make changes in real-time and update the old & outdated content within a few clicks. Also, online learning via an LMS is possible from anywhere, so students don't have to come to school and employees can learn from the comfort of their homes.
Supports Multimedia : Trainers have the freedom to use any teaching method and select the most suitable one as per the topic and learner requirements. LMS supports multiple multimedia formats, which include audio, video, pdf, bite-sized tutorials, etc., thereby helping learners improve their learning experience.
Promotes Social Learning : LMS offers various avenues for discussion, and collaboration and enables learners to acquire knowledge via distance & online learning tools. Connect learners to Facebook, Twitter, and LinkedIn to learn skills that they can add to their resumes.
Key Features of LMS:

Third-Party Tools Integration : The software should be able to integrate with third-party software to cater to additional requirements which are not present in the original platform.
Personalized Learning : The LMS can offer personalized content based on the student's learning capabilities. Also, it can develop adaptive quizzes and assessments that reflect the learner's performance and address different pain points.
Improved Communication : An all-in-one LMS should have multiple automatic notifications and communications features and alerts. The auto-generated notifications will offer quick feedback to all stakeholders and support oversight.
Integration with Other ERP Campus Software : The LMS must be able to smoothly integrate with other systems such as SIS, Attendance Management System, and more. It should enable the learning & development team to easily incorporate other integrations and save time and effort.
24x7 Technical Support : When LMS needs maintenance or has a bug, it needs a fast and responsive support team to cater to the request. Also, the team should help the users and administrators with the implementation and training processes.
Centralized Storage of Data : Centralization enables different departments to manage and share the data seamlessly, thereby boosting transparency. LMS supports better data access and supports consistency in training or learning.
Powerful Analytics & Reporting : LMS should be equipped with BI Reporting tools and analytics features to help generate more insights from data, help administrators identify student learning gaps, and further make data-driven decisions.
Important Things to Consider Before Implementing an LMS in your Organization:
Scalability
Cost
Integration Capabilities
Customizability
Post-Implementation Support
Training Support
Review from Existing Users
How to Choose the Right LMS for your Organization?
This is one of the most crucial aspects, and it's essential to follow the steps below before selecting an LMS for your organization.
Identify & Evaluate Your Training Needs: To identify your needs, you should thoroughly understand the users and their needs, integration capabilities, which aspect of the learning methods you want to enhance, and what must-have features you want in an LMS.
Cost: As per the required LMS features and capabilities, find out the budget the organization is willing to pay to implement the platform. Consider your budget wisely and choose an LMS plan accordingly.
Create the List of Vendors: Filter the list of ERP campus software vendors by comparing the cost, features, and training support. Also, read the customer reviews on the company website and other search engines to make an informed decision.
Product Trial: Ask for a free demo of LMS before purchasing it. The demo will help you understand the user interface, different features, and customization capabilities. This will give a clear idea about the software.
Training Support: Ask the vendors if they provide software installation, post-implementation support, and training support to the administrators and users. Then, make a final decision.
Why Choose MasterSoft?
MasterSoft's LMS is one-of-a-kind and has helped thousands of educational institutions simplify the teaching-learning process.
Here's why you should go with MasterSoft:
MasterSoft's LMS lets you create and upload content with ease, is compatible on multiple devices, and provides a user-friendly learning experience.
You can add interactive and engaging content in different formats, such as pdf, ppt, visual videos, etc.
The tracking feature offers rich data insights and deep analytics on learners' progress and academic performance.
It has an intuitive interface, which makes it convenient for students and teachers to navigate.
Instructors can easily create and manage courses, whereas students can readily access course materials and submit assignments.
MasterSoft's LMS is highly customizable, allowing schools and universities to tailor it to their specific needs.
Our LMS is highly scalable, making it suitable for institutions of all sizes. It can accommodate thousands of students and courses and can easily grow as an institution's needs grow.
MasterSoft provides excellent support to its customers, with a dedicated team of experts who are available to help with any issues or questions. This ensures that institutions can focus on delivering quality education without worrying about technical problems.
Conclusion,
Learning management systems are a helpful tool for managing and delivering e-learning. Also, as per NEP 2020, LMS has been identified as a critical tool for achieving the policy's goals of improving access to quality education, promoting technology-enabled learning, and offering personalized learning experiences to students. LMSs will play a crucial role in enabling educational institutions to deliver education via a range of modalities, such as blended, online, and traditional classroom-based learning.