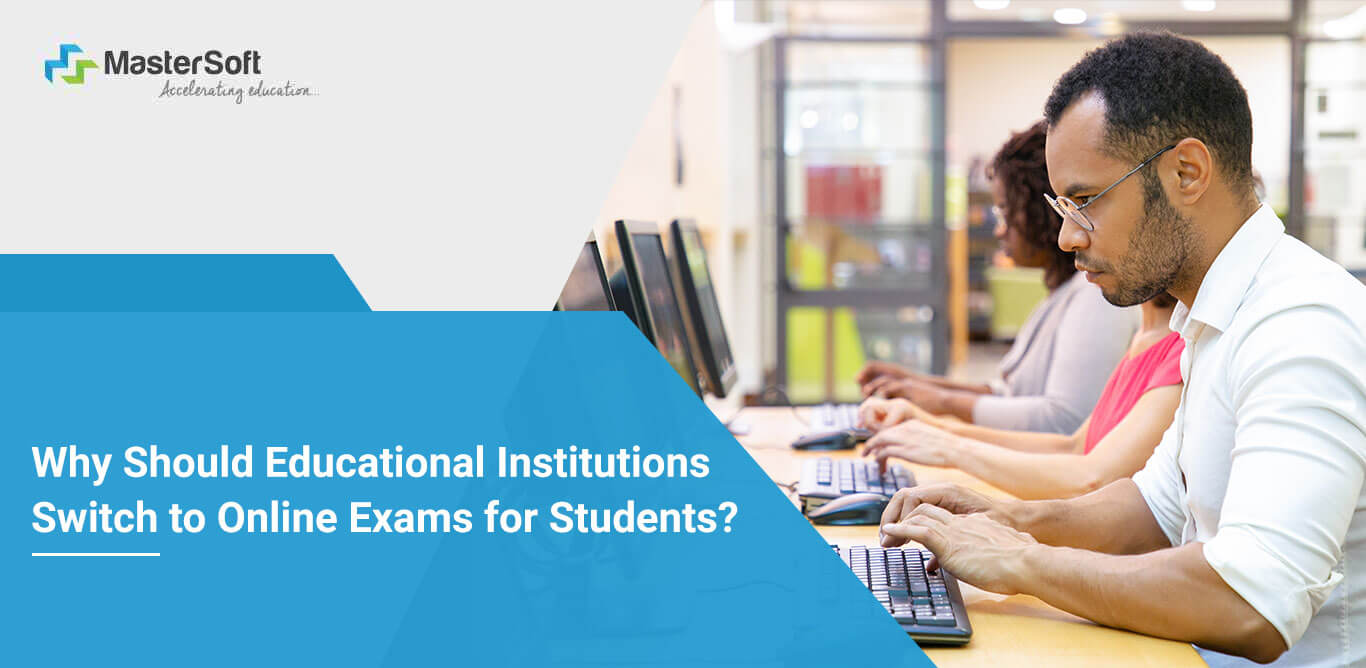 In the latter months of 2019, the COVID-19 outbreak created nationwide panic, which made the countries implement stringent regulations such as lockdowns, social distancing rules, and the shutdown of schools and offices.
The education system across the globe has witnessed a paradigm shift. Many universities closed down or were forced to shift towards online teaching. The unpredictability of the coronavirus has made it difficult for educational institutions to conduct offline classes.
With the question of whether online or offline teaching is better, another question has emerged; should institutes conduct online examinations? As making students sit together in a room wasn't considered safe, there was confusion among the faculty and dean about whether they had to shift to an online test platform. Also, in many universities, exams were eliminated for a few programs, which isn't an ideal solution.
Exams are a vital part of a student's academic journey that helps assess their learning outcomes and understanding of the subject. As teaching has become online, it has become obvious to use the same mode to conduct assessments, raising the need for online examination systems.
What is an Online Examination System?
An online examination system is software that deals with students' assessments using the internet and available web technologies. It focuses on objectifying the systematic evaluation of a student's performance and learning outcomes in individual subjects.
An advanced learning management system provides a platform to help schools administer more organized online exams for students. Whether the test is summative or formative, the target in online assessments is to digitize assessing the student's competency-based skills. It effectively boosts the conventional examination system.
In online exams, candidates are no longer required to assemble in a room and answer their test papers within a specified time. Furthermore, teachers are no longer required to retrieve individual answer sheets and check and reveal the results of post-exams in class. These exams definitely quicken this process through electronic assessments.
Why Should Institutes Consider The Online Mode of Examination?
Schools, colleges, and universities have experienced significant benefits after switching to the online mode of assessment. With the help of advanced technology, they can examine their students who stay far from their test center and make them perform tests without any geographical barrier.
With an Online Examination System, your institute can avail of the following benefits:
High Security
With cloud-based online examination software, the institute can achieve much-needed security and flexibility. Teachers can shuffle the questions in different orders after uploading them into the software. This further helps them to create different sets of questions for different students, despite having the same set of questions. Also, it significantly reduces the chances of cheating.
No Need for Exam Halls
With an online test platform, universities can now get rid of renting or having multiple exam halls. As candidates are attempting the exam from the comfort of their homes, there is no need for exam centers. Schools and colleges can mandate the usage of microphones and webcams for students in order to address the issue of stringent monitoring of students.
Lower Logistical Costs
The online examination mode considerably lowers the logistical costs. As the examination process is in the online format, it offers geographical flexibility and is helpful in conducting exams for several students located in different places. Also, the result processing is carried out online, which further reduces the cost of reaching the hall for both examiners and students.
Easy Creation of Question Papers
Manually creating and designing question papers can be time-consuming, which can be resolved by preparing question papers online. The chances of leakage of question papers are reduced significantly. Manually, teachers have to deal with a large number of logistical tasks, such as the manual selection of questions for each paper, printing the paper, and distributing the papers across exam centers.
Analysis and Ranking of Results
In an online test platform, result analysis, announcing them, and ranking of students is relatively easy. With online exam software, the faculty can do an in-depth analysis of tests, provide detailed analysis, find out the strengths and weaknesses of students, assess learning gaps, and rank them accordingly. It's error-free and helps in key decision-making processes.
Reduces Cost and Saves Time
The cost of the invigilator/examiner is reduced as the institute does not require additional examiners to monitor students during exams. The cost of the paper and printing ink is also reduced to almost half of that of the conventional paper-pen method. By automating the examination process, there will be no waste of time for students to come to the hall a few hours before the exam and they can save time on the commute.
Quick Generation of Results
In offline mode, teachers have to manually assess the answer sheets of each student, which takes a huge chunk of time. Plus, it's prone to human error and can be biased in some cases. Although, in online software, the evaluation is done by bots, and the MCQ and objective answers are already entered into the software prior to the exams. This helps in expediting the correction of tests, thereby generating results within a few minutes.
Improved Privacy & Security
Enhanced efficiency in the online examination system coupled with role-based login access to all the stakeholders ensures 100% privacy. Unlike in manual offline mode, in online mode, there is an unbiased fair assessment, which further ensures a better assessment process. It leaves no room for malicious practices such as exam outcomes and result manipulation.
Environmental-Friendly
With online examination software, the institutes follow an environmentally-friendly process of conducting exams. Going digital means following a paperless approach with no need for printed test papers and saving on printing inks. Also, it improved the productivity of the institute, thus resulting in a lower carbon footprint.
Easily Accessible to Both Teachers and Students
With an online platform, the software is readily available for students to take exams remotely. Electronic assessment using the latest technology for schools and colleges enables interactive access for students and faculty. Also, teachers have the option of importing and modifying questions and designing the question paper at their ease. Furthermore, the auto-grading system simplifies the faculty's burden.
Considering the aforementioned factors, it is fair to believe that online examinations are the need of the hour and can help in effectively standing out in a highly competitive educational sector. The institutes need to implement state-of-the-art software which streamlines the overall examination process.
MasterSoft's Online Assessment is integrated and easy-to-use software that manages the entire life cycle of an examination process, right from pre-exam activities to result processing activities, such as student information and registration, creating and uploading question banks, conducting exams, online proctoring, and invigilation and result processing. The system is highly advanced and is in line with the current industry requirements. It is further equipped with modern technology such as BI-powered reports of test results.
In this digital era, it's time to digitize the examination process by implementing an online examination system.