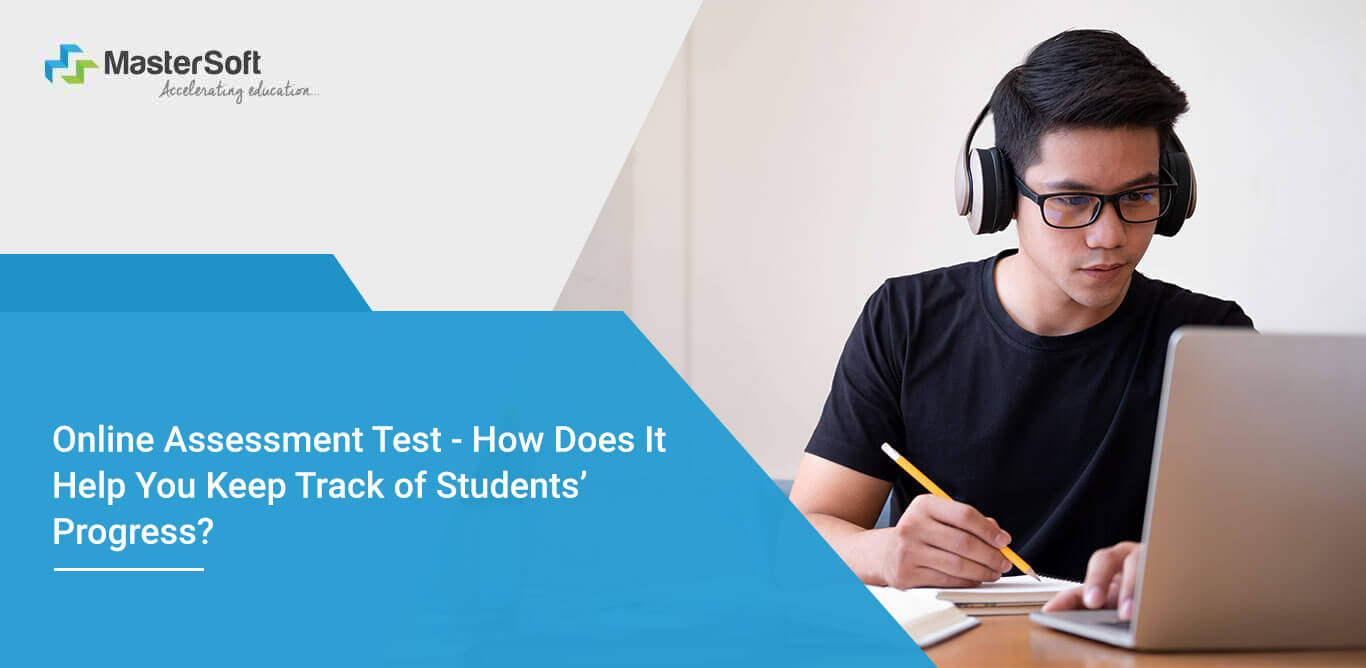 What is the role of assessments in a student's life? Is it just to evaluate their academic knowledge? For the longest time, the traditional educational system followed a one-dimensional approach wherein the institute analyzed students' overall potential attributes based on their grades. Thankfully the outlook changed with time, and teachers use class tests as a way to determine individual students' progress.
But imagine how time-consuming and exhausting it would be to conduct tests, check the answer sheets, and prepare detailed progress reports. Simultaneously, they must continue to teach effectively; it becomes overwhelming for them to execute multiple things at the same time. However, the evolution of education technology has come as a boon and helped establish an online examination system, enabling teachers and students to collaborate smoothly.
Let us take a look at how Online Assessment Test helps to track student's progress:

1. Variety of Assessment Patterns
Paper-based tests confine teachers to add similar kinds of questions repeatedly, including long questions, MCQs, and short essays. Also, the burden of checking the answer sheets within a deadline is an additional pressure they must handle. Besides, during the last two to three years, institutes were compelled to shift from the regular class environment. Instead, they facilitated online classes and online assessments, which became integral parts of academics.
Furthermore, they discovered that with the help of the appropriate software, teachers could prepare various patterns of assessments, which are as follows:
Summative Assessments
Summative assessments refer to the examinations that the teachers and the institute conduct at the end of the year or the term of learning. Besides, these assessments include half-yearly, mid-term, and end-of-the-term exams, unit tests, or chapter tests. Additionally, it includes projects, assignments, and creative portfolios.
Furthermore, teachers develop specifically designed quizzes, short essays, matching activities, and fill-in-the-blanks. Also, they ask students to write research papers, media reviews of films, TV shows or books, blogs, and pamphlets. Hence, when teachers create summative assessments by including various questions, it helps to analyze students' thinking skills and ability to express themselves concisely.
More importantly, it helps students to understand and keep track of their goals and prepare them to attain learning outcomes.
Formative Assessments
Teachers conduct formative assessments regularly in the class to determine student learning; multiple unique methods of the tests allow them to determine the understanding capabilities of different students. In contrast to summative, the formative is an impromptu test that helps teachers test students' mastery of skills.
Meanwhile, when the institute integrates a student information system, it helps the faculty to store respective performance reports seamlessly. As a result, it becomes easier for them to carry out the formative assessments and keep track of whether students are performing well or not.
Some of the formative assessments include drawing concept maps to demonstrate a topic or idea, developing podcasts on different social issues or entry and exit tickets.
2. Proctored Examinations
Institutes succeeded in eliminating any worries or concerns regarding the authenticity of online assessment tests by integrating proctoring software. However, the biggest reason for adopting security measures is to ensure that students do not take advantage of the remote examination system. For instance, the availability of audio and video features helps to capture the exam-giving candidate during the examination.
In addition, the live-streaming features record the students in real-time, whereas the browser control mechanism restricts browsing activities. As a result, students maintain the code of conduct and refrain from cheating or browsing alternative sites other than the exam portal. Hence, it is safe to say institutes can enhance that virtual examination environment and monitor student activities efficiently.
3. Organized Question Bank
The usual practice of preparing examination question papers entails teachers typing down questions by referring to previous years' question papers. However, searching for those could take time, especially if the admin has misplaced them. So, instead of relying on the old method, it is beneficial to store the questionnaire online.
Moreover, the question banks allow teachers to create various kinds of questions and have many multimedia options, including text editors, paper templates, etc. Therefore, if they need to carry out a simple class test, they could simply access the question bank and develop questions easily.
4. Online Assessment Rubrics
What is the point of examinations if they don't provide helpful insights to the faculty? One of the main reasons to conduct tests is to determine how far the students have progressed and the difficulties they have encountered. So, a rubric is an effective tool that helps to evaluate students' performance.
When teachers integrate rubrics with the online examination system, it helps them and the institutes to check the common problem areas. Consequently, it guides them to develop plans of action to solve the student's specific issues and encourages students to give honest feedback. Some of the common rubrics that teachers use include:
Analytic Rubrics
Developmental Rubrics
Holistic Rubrics
Checklists
5. Exam Notification
Gone are the days when students had to wait for teachers to declare the official dates of upcoming examinations. Also, they do not need to be mindful of checking the school or college notice boards for exam schedules. Fortunately, they can keep themselves updated by checking their notifications; the institute can send alerts and messages through various communication channels.
Additionally, they can use the communication feature of the exam software to send alerts to students; however, parents can check the exam schedules by accessing the respective student or parent portals.
6.Auto Marking
Teachers no longer need to spend extra time and effort to check the answer sheets; online examinations enable students to take the tests virtually. After that, they can log in and check individual answers quickly with the help of the online mark tool.
Besides, the auto-marking facility helps to increase the accuracy of checking the answers and enables them to generate the performance report faster. On the other hand, students can submit their assignments or projects online without having to prepare any physical documents.
7. Detailed Reports and Dashboards
Schools and institutes often face a common question: Could online assessments replace the traditional examination system? And the answer to that question is simple and succinct; institutes have increasingly used online tests to determine students' capabilities. Moreover, when they use a student tracking system with analytical tools, it helps them get accurate information and track their academic performance.
Also, when the teachers get the reports, they can check the analytical reports of students' progress and performance. In addition, they get graphs and detailed charts on the dashboard that help to get a proper insight into the learner's educational journey.
In Conclusion
The role of the online assessment system in today's ever-evolving educational space is significant for its modern and innovative examination structure. Moreover, it enables teachers to use different questions that ultimately help identify students' strengths and weaknesses and track their progress respectively.