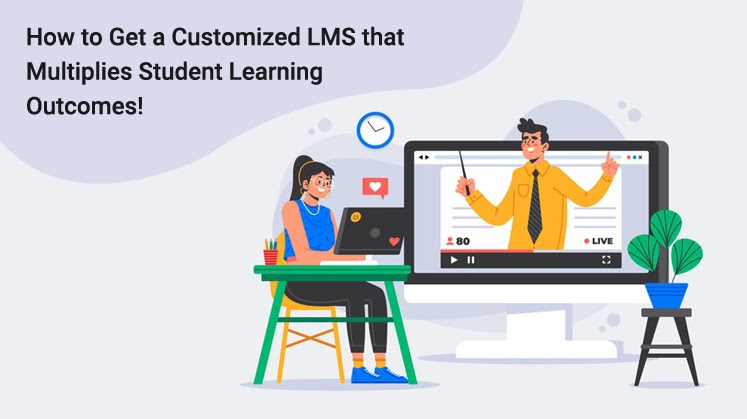 The statistics of the schools acknowledging & using e-learning tools are increasing every day.
However, despite a major uptick in the use of learning management systems (LMS) for conducting online classes, faculties are still struggling to acquire best student learning outcomes.
Why is it those students who love edTech and use it every now & then, find it hard to stay focused during online classes?
The direct answer is poor user-experience!
A difficult-to-use, tricky, poorly optimized school management system is the primary cause of boring class that just degrades the quality of online education.
To capture, retain, and maximize the attention of your students as they attend your class, you need to work on the customization of school management system modules.
Here's how you can do it...
1: Intriguing & Engaging Visuals
Visually, the online e-learning tool should be jam-packed with e-content like videos, images, games, etc that look creative & engaging.
The graphics can play a vital role in pulling the attention of kids for a larger span.
Therefore, you must ask the campus automation vendor to divert their energy in leveraging the visuals of the online teaching-learning platform.
To monitor student punctuality & whether the engagement ratio is higher, you can even integrate a student attendance system with your e-learning software!
2: Make e-Content Search Accessible & Easier
Web & mobile compatibility of the school management system is not always enough.
Every study material you provide to your students including question banks & assignments counts when it comes to tracking their performance.
If the e-content that you provide is not easily accessible, it can create confusion among the kids, making it tough for them to search for the relevant content.
It can be achieved with an easy navigation & search option!
There are two categories of kids-
Toppers & scholars who know exactly what they want

Students with average grades who need to browse a lot for understanding what's beneficial
A 'search bar' would be the best option for both!
3: Make Assessment Tests & Evaluation a Priority
The credibility of your online classes is highly dependent on student's performance.
The more skills they learn, the more your classes would be successful.
This is why online exams & assessment tests can have a huge impact on the final learning outcomes that you expect.
Even it can have a bigger impact on your brand's reputation.
Understand the basic math: If you have a staunch learning management system that can assess and evaluate the student progress within no time, and give you an opportunity to help them improve with instant feedback mechanism & internal communication tools, you'd gain nothing but the best!
So, consider investing in online assessment tools & make it a priority!
Need a blueprint of what your school management ERP system software should look like?