Attracting and enrolling students is essential for the success of any educational institution in today's competitive educational environment. With the rapid growth of the industry, you might see growth in a number of competitors as well.
Increasing enrolment in schools and universities has also grown difficult due to pandemic issues and families' increased control over where their children attend school. School administrators must compete with other institutions to improve their enrollment.
With so many options available to students, colleges must use strong tactics to differentiate themselves and boost enrollment.
Student Enquiry Management System Software For Hassle Free Student Enrollment
10 Practical Strategies to Improve Student Enrollment in Educational Institutions.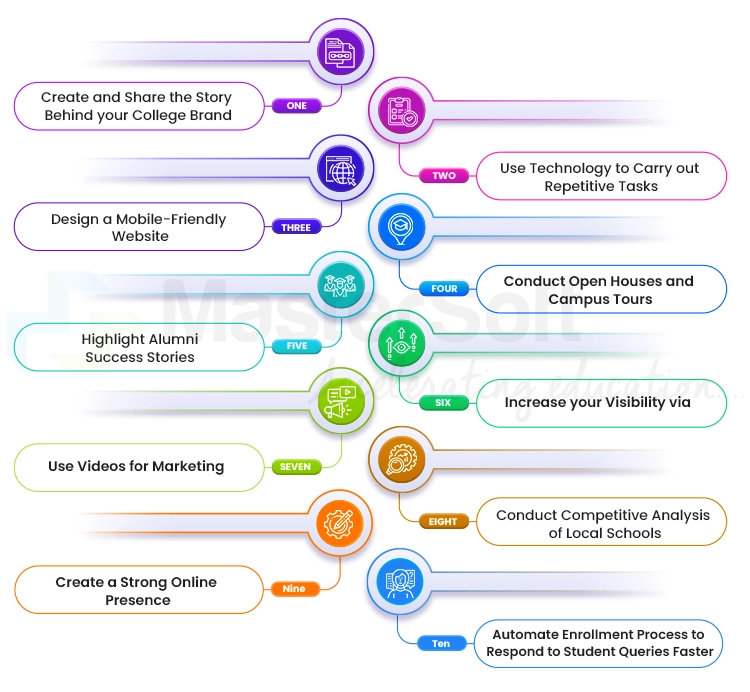 1. Create a Strong Online Presence
In the present age, where every industry is getting digitised, having a strong online presence is essential for institutions to attract potential students. Create an engaging and user-friendly website that highlights your institution's programs, unique selling points, and campus facilities.
Also, ensure that your school website is optimised for search engines to improve its visibility. Regularly update and modify the content and provide relevant information about admissions, programs, and campus life.
However, even the best school website won't improve student enrollments if potential applicants can't find it online. Hence, it's essential to register your institution on the Google Business Profile.
2. Automate Enrollment Process to Respond to Student Queries Faster
The generation of today seeks immediate resolutions to their questions. Faster responses to questions can improve the reputation of your university and boost enrollment numbers. Education marketers that don't adapt to this generation's communication preferences risk losing all contact with them.
As soon as applicants decide they prefer a particular school, it might be challenging for them to change their minds, so the earlier you establish an emotional connection, the more chance you have.
Also, automating your enrollment process improves response times to student queries. Use chatbots or student enrollment management systems and student management systems equipped with inquiry alerts to provide instant answers to common questions. Routine chores can be automated to free up personnel for more one-on-one interactions with pupils.
3. Create and Share the Story Behind your College Brand
Wouldn't you want to make a good first impression on a potential student when you introduce yourself? This is why you need to concentrate on the narrative you want to present to students who are considering selecting you as their educational partner.
The story should be emotional and have multiple characters. By sharing your college's story, you create an emotional connection with prospective students, highlighting the transformative experiences and opportunities available.
Share this story on your website, social media, and marketing materials. You can encourage students, faculty, and alumni to contribute to the narrative, fostering an inclusive and authentic community.
4. Use Technology to Carry out Repetitive Tasks
Utilise technology to simplify repetitive activities during the enrolment process. Automate tasks like data entry, form submission, and document management by using software solutions.
You can decrease human error, save time, and more effectively allocate resources by using technology. As a result, your personnel can concentrate on tasks that are more important and valuable, like counselling and one-on-one contacts with students.
Your enrollment process will be more productive and efficient overall if you invest in technology-driven ERP solutions like student enrollment management systems, student information systems, and lead management systems.
It also shows how dedicated your institution is to adopting modern techniques and maintaining its leadership position in educational advancement.
5. Design a Mobile-Friendly Website
The use of mobile devices is increasing, particularly among younger people. Imagine using your phone to access a poorly designed website where you must constantly zoom in and out. Anyone would simply stop using the website out of annoyance, disregarding any applications for inquiries.
Moreover, mobile use is widespread, not just among students. The same goes for parents and guardians. You are creating a bad user experience for your visitors if your website is not mobile-friendly .
Responsiveness in a website would enable them to submit an application from any device, at any time, without degrading the user experience. Your university will greatly benefit from having a mobile-responsive application procedure, which will also have a direct impact on your enrollment rates.
6. Conduct Open Houses and Campus Tours
Invite prospective students' families to tour the campus. Set up open houses and campus tours to provide visitors with a firsthand look at the campus's surroundings, amenities, and academic offerings.
Take a look at the details mentioned during the school tour. The details should line up with what those interested are searching for in a school. Your school should stand out from the competition through both its infrastructure and its message. Also, you should address any issues that the audience may have with the institution.
Through interactions with instructors, staff, and existing students at these events, potential applicants can develop a sense of community. For students who can't attend in person, consider providing virtual tours.
7. Highlight Alumni Success Stories
Showcase the achievements of your recent graduates to demonstrate the benefits of attending your university. Students would relate to other students' stories and experiences better.
You can find a fair mix of students who can talk about the opportunities and experiences your school provided, including current students, alumni, international students, students who studied abroad for a semester, and recent grads.
On your website, social media networks, and marketing materials, highlight former students' testimonials, case studies, and professional successes. This increases credibility and inspires potential students to think about their own accomplishments.
To bring together present and prospective students, think about conducting alumni panels or networking events.
National Education Policy 2020 - Make Your Institute Ready For NEP-2020
8. Increase Your Visibility Via SEO
Having a website with excellent content is only half the battle. If people can't find your school when they Google schools in your city, your SEO is not very good. This is crucial if you want to attract families who are not looking up your name.
When families use keywords to look up schools, search engines may categorise and display your website thanks to search engine optimisation (SEO). Search engines are the primary informational tool used by 67% of prospective students to learn more about potential colleges.
You must have good SEO for your website and all of its content if you want to boost the visibility of your institution online. Not just your homepage, but every single page needs to be created with the goal of ranking on search engines.
9. Use Videos for Marketing
People engage more with videos, and in general, they watch more video content than text-based content. You can start a YouTube channel of your own where you highlight the qualities and advantages of your institution.
Deliver some free educational videos to your audience that they can watch. These videos support the decision-making process and nurture your leads. Videos can be embedded into blogs, made into podcasts about related topics, or even used as the basis for informative articles and newsletters.
With video comprising 82% of all internet traffic, it's impossible to disregard video as a recruitment tool.
10. Conduct Competitive Analysis of Local Schools
Do you know what the enrollment trends are in your area? Who are your main competitors? A competitive analysis of other schools in your area could provide priceless insights, regardless of whether your institution is starting a new private school, taking over an existing one, or looking for ways to grow student enrolment.
You can learn what your community might be offering that is more appealing than your school by conducting a competitive analysis of it.
Schools must do everything in their power to attract new students, and these efforts must begin with knowledge of the local rivals, their strengths and weaknesses, and the marketing techniques they use to boost enrollment.
Summing Up,
Increasing student enrollment requires a well-rounded approach that combines effective online marketing, an automated ERP system in place, and a strong emphasis on student support. By implementing the aforementioned ten tips, educational institutions can enhance their visibility, establish strong relationships with prospective students, and ultimately boost enrollment numbers.
Furthermore, ongoing assessment and consistency of these strategies are key to achieving long-term success in student recruitment.