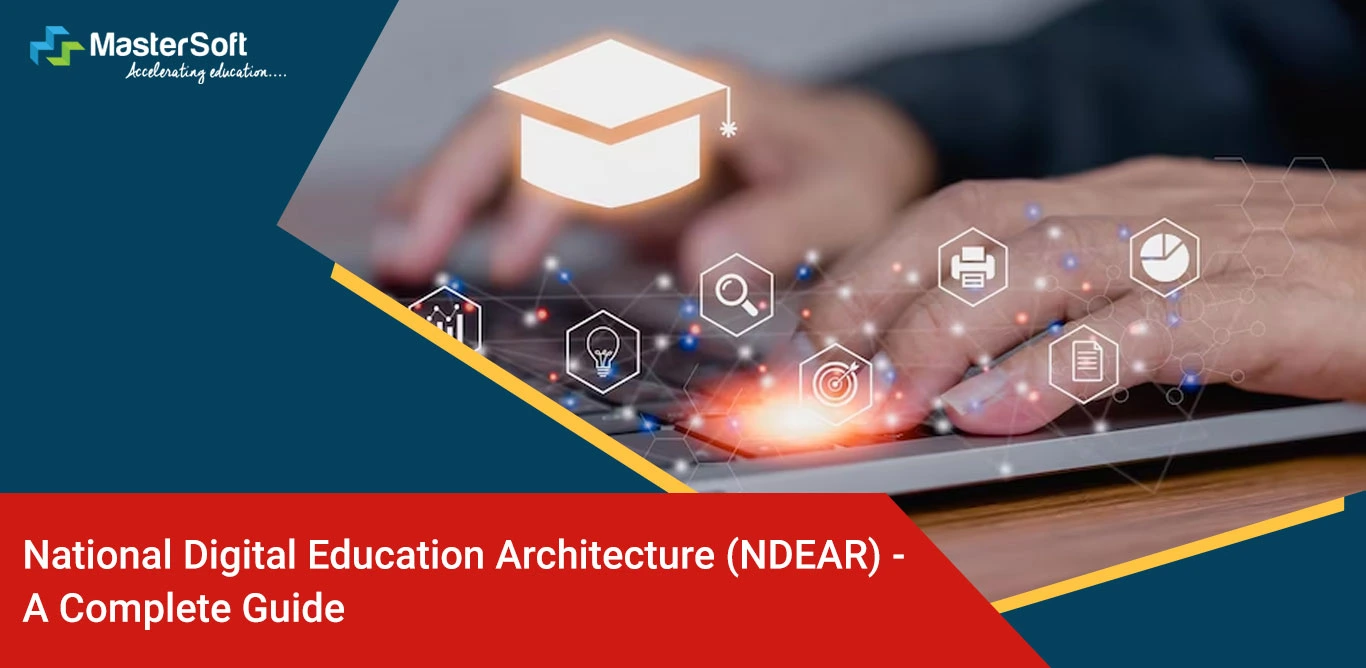 Education has grown to be a crucial part of our society in today's rapidly changing digital environment. Given our growing reliance on technology, it is crucial to make use of its potential to improve education's accessibility, quality, and diversity. The Indian government's National Digital Education Architecture (NDEAR) is an ambitious initiative that seeks to revolutionise the education industry by incorporating technology and digital technologies.
What is NDEAR?
The National Digital Education Architecture (NDEAR) is an architectural approach that attempts to make it easier to achieve the objectives outlined in the National Education Policy, 2020 (NEP 2020) by creating a uniform digital infrastructure throughout the educational ecosystem.
National Education Policy 2020 - Make Your Institute Ready For NEP-2020
The document basically asserts that under the NDEAR framework, the government will operate as an enabler by establishing a framework within which technology can be developed by society, the government, or market actors.
NDEAR adheres to the National Open Digital Ecosystem (NODE) policy, which intends to establish a "Digital Commons" through the use of open standards, open APIs, open software, open software licences, etc. This makes it possible for various platforms to engage with one another and for both public and private entities to develop solutions on top of this platform.
NDEAR and ECCE:
In India, the National Digital Education Architecture (NDEAR) and Early Childhood Care and Education (ECCE) are two interrelated projects that are utilising technology to transform how we teach and nurture young students.
The framework for NDEAR supports ECCE by offering a digital infrastructure that improves early childhood educators' access to high-quality instructional tools and resources. It provides a platform for developing and exchanging digital resources for teachers, interactive learning tools, and content that is age-appropriate for ECCE.
ECCE - Early Childhood Care And Education - A Complete Guide
NDEAR Vision:
The vision of the National Digital Education Architecture (NDEAR) is to create a digitally empowered education ecosystem in India that ensures equal access, high-quality education, and lifelong learning opportunities for all.
By leveraging the power of technology, NDEAR aims to bridge the digital divide, enhance collaboration among stakeholders, and provide a seamless and personalised learning experience that prepares learners for the challenges of the future.
Design and Architecture Principles: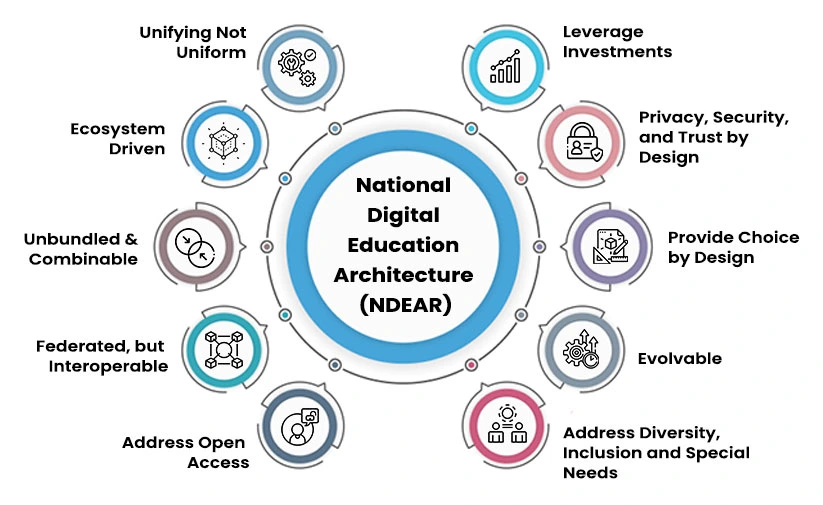 Unifying Not Uniform
NDEAR follows the principle of "unifying, not uniform" by embracing flexibility, customization, and interoperability. It allows educational institutions to tailor the platform to their specific needs, integrating existing systems and technologies. Personalization is prioritised, allowing learners to access personalised content and set their own learning goals.
Ecosystem Driven
NDEAR is designed with an ecosystem-driven approach, focusing on collaboration and integration. The platform follows open standards and provides APIs to enable interoperability with external systems. By fostering a cohesive ecosystem, NDEAR promotes collaboration, knowledge sharing, and a unified digital infrastructure for the education sector.
Unbundled and Combinable
NDEAR allows educational institutions and users to choose and combine specific components as per their needs. It offers modular features and services that can be selected and integrated individually or in combination. This flexibility allows for customization, scalability, and adaptability, ensuring that NDEAR can cater to diverse preferences within the education ecosystem.
Federated, but Interoperable
NDEAR adopts a federated but interoperable approach, enabling collaboration and data sharing among educational institutions while ensuring compatibility with external systems. This federated design fosters autonomy and local control while promoting interoperability for effective communication and resource utilisation across the education ecosystem.
Address Open Access
NDEAR is designed to address open access by promoting the availability and accessibility of educational resources and content. It embraces open standards and encourages the use of open educational resources (OERs). NDEAR facilitates the sharing and dissemination of knowledge, ensuring that educational materials are freely accessible to learners and educators.
Leverage Investments
NDEAR aims to avoid duplication of efforts and maximise the impact of investments made in the education sector. By leveraging investments, NDEAR enhances cost-effectiveness and sustainability in the education ecosystem, promoting the effective use of available resources for improved learning outcomes.
Privacy, Security, and Trust by Design
NDEAR ensures that robust privacy measures are in place to protect user data and sensitive information. Security protocols are implemented to safeguard against unauthorised access and breaches. Trust is fostered through transparent data handling practices and adherence to ethical standards.
Provide Choice by Design
Users have the freedom to choose and configure their preferred tools, content, and learning experiences within the platform. By providing choice, NDEAR empowers users to personalise their educational journey and promotes a learner-centric approach in the education ecosystem.
Evolvable
NDEAR allows for continuous improvement and adaptation. It can evolve to accommodate changing educational needs, advancements in technology, and emerging pedagogical practices. By being evolvable, NDEAR ensures that it remains relevant, up-to-date, and capable of meeting the dynamic demands of the education ecosystem.
Address Diversity, Inclusion and Special Needs
NDEAR offers features and tools that cater to diverse learning styles, languages, and abilities. It promotes content inclusivity, ensuring that educational resources are available in multiple formats and languages. It also supports assistive technologies and accommodations for learners with special needs, ensuring equal opportunities for all.
NDEAR Implementation
A project called National Digital Education Architecture aims to create a "single national digital infrastructure to enhance and accelerate the education ecosystem." NDEAR implementation is underway, focusing on a phased approach to ensure a smooth transition and effective integration into the education system.
Key steps include:
Establishing partnerships with educational institutions, content providers, and technology companies.
Conducting training programs for educators.
Pilot projects are being conducted in select regions to test and refine the platform's functionalities.
Continuous feedback collection and stakeholder engagement are needed to address any challenges and improve the user experience.
NDEAR projects encompass a range of initiatives aimed at transforming digital education in India. These NDEAR projects include:
Content Development and Curation:

Curating and developing high-quality digital educational content across subjects and learning levels to enrich the NDEAR platform.

Teacher Training Programs:

Conducting comprehensive training programs to equip educators with the skills and knowledge needed to effectively utilise NDEAR in their teaching practices.

Infrastructure Enhancement:

Investing in improving internet connectivity and technology infrastructure to ensure seamless access to NDEAR resources, even in remote areas.

Pilot Implementations:

Undertaking pilot projects in select regions to test and refine NDEAR functionalities, gather feedback, and address any challenges to ensure a successful implementation nationwide
NEP 2020- New Structural Changes In Curriculum And Pedagogy In Education
Use Cases of NDEAR:
By giving students access to a variety of study materials, including textbooks, videos, and animations, made digitally available in English and other regional languages, NDEAR has the potential to improve students' learning experiences.
By creating a digital learning passbook that allows academic credentials to be shared across institutions with just one click and without the need for paper documentation, it also expedites the admissions process for students.
Digital tools, like the Saral app, reduce the amount of time instructors must spend verifying, recording, and evaluating students' grades and learning progress.
Additionally, NDEAR gives educational institutions the ability to digitally preserve institutional records (such as information on enrollment, dropout rates, etc.), making it simpler to share necessary data with administrative bodies of the government.
Challenges of NDEAR:
Although NDEAR appears, in theory, to address certain critical issues afflicting the educational system, successful implementation is required to realise its full potential. This is complicated by low internet usage, patchy digital infrastructure in rural locations, and low levels of digital literacy among students. Additionally, because education is a state-regulated issue, there may be regional variations in how NDEAR is implemented.
Solutions for NDEAR:
Infrastructure Limitations:

Invest in improving internet connectivity and technology infrastructure, particularly in remote areas, to ensure smooth access to NDEAR

Digital Divide:

Implement initiatives to provide devices and internet connectivity to disadvantaged learners, bridging the gap and ensuring equal access to NDEAR resources.

Training and Capacity Building:

Conduct comprehensive training programs for educators and administrators, equipping them with the necessary skills to effectively use NDEAR and maximise its benefits.

Content Quality and Diversity:

Curate a diverse range of high-quality digital content across subjects, languages, and learning levels, ensuring that NDEAR offers relevant and inclusive resources for all learners.

Data Privacy and Security:

Implement robust data protection measures, including encryption, secure authentication, and compliance with privacy regulations, to ensure the privacy and security of user data within NDEAR.
National Digital Education Architecture (NDEAR) will provide the proposed benefits:
Access to diverse digital educational resources.
Collaboration and communication tools.
Analytics and assessment features.
Integration with existing systems.
Support for inclusive education.
Continuous professional development.
Enhanced data management and security.
Scalability and adaptability.
What is the Public Saying About This?
The public argues that India's widening digital divide, which will be difficult to bridge, is the main obstacle standing in the way of the NDEAR. Given the persistently low levels of digital literacy in India, the use of digital governance techniques in conjunction with subpar infrastructure may also result in the marginalisation of large segments of the
The NODE method, on which NDEAR is built, was challenged by Dvara Research for lacking transparency and accountability because private organisations that are not publicly accountable can now create delivery platforms for different services. Due to private actors' profit-driven behaviour, which may conflict with the government's social welfare goals and result in either expensive or low-quality infrastructure, this might have negative consequences.
Summing Up,
The National Digital Education Architecture (NDEAR) is a groundbreaking initiative that envisions a digitally empowered education ecosystem in India. By leveraging technology, NDEAR strives to make education accessible, inclusive, and of high quality. NDEAR facilitates a transformative learning experience for students and empowers educators with the necessary tools for effective teaching.
As NDEAR continues to be implemented and evolves, it holds the promise of shaping a future where quality education is accessible to all, nurturing lifelong learners, and fostering innovation in the education ecosystem.