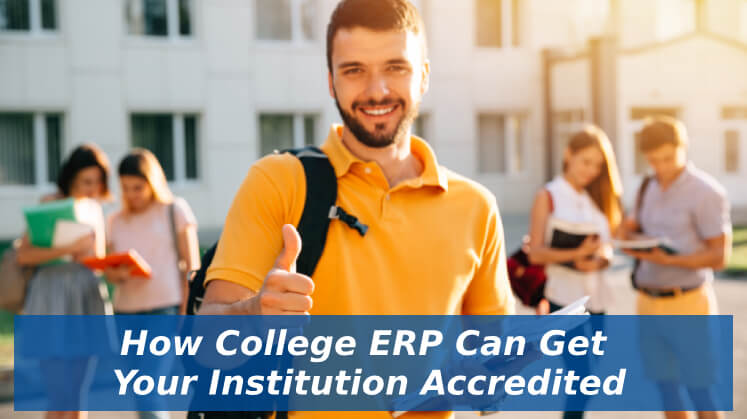 College A: Accredited Institution
College B: Non-accredited Institution
If you ask a group of individuals which college they want to study out of the two, the majority of them would prefer the College 'A'!
An educational institution's "Accreditation" status is most of the times considered as the prime criteria for a student to take admission. When an institution holds accreditation from a reputed agency such as NBA/NAAC, it reflects that the educational institute stands for adherence to the highest educational standard. Therefore, individuals prefer such institutions over non-accredited. However, every accreditation agency has its own checklist of parameters which the institution needs to follow in order to get successfully accredited.
Earlier, the accreditation bodies such as NAAC/NBA used to collect hard copies of reports related to administration, library, admission, etc. But now soft copies of all kinds of reports are required to be submitted by the college online. Institutions need to maintain a detailed record of data & institutional information of several past years and keep a tab on every ongoing-operation in the institution to prepare accurate evaluation reports. Certainly the accreditation processes are quality inspired, as these bodies give quality assurance the maximum weightage.
Managing heaps for institutional data for getting accredited requires tremendous efforts & time. Relying on manual documentation & resources might not be convenient and accurate. Digitalization is the ultimate requirement of today's time that we are living in. A College ERP System can help institutions streamline their work-processes & manage detailed data of entire institution by compiling the key information such as-
Academic Details
Students, Alumni & Faculty Information
Infrastructure & Learning Resources
Campus Extension Activities
Finance
Management & Governance
Feedback System
College is asked to provide all the required details without any errors alongside the documents of past few years that support the information to be true. In addition to the data, precise compliance reports related to administration, library, admission, etc also need to be submitted. Generating accurate reports manually within a limited time frame is a big hurdle that most of the colleges face. Also, reports that are generated by excel sheets cannot be completely trusted since it has no role based access. If access to an excel sheet is given to any person, they have full liberty to make as many changes as they want.
Here Are the Accomplishments of a Good education ERP that'll help your institution manage the data required for accreditation successfully-
Role-based logins are given to users
Institutional data & reports can be accessed instantly with login credentials
Multitude of filters are available to obtain the reports in the required format
Multiple-backup provision for data security is given
Reports can be generated quickly without any errors
Thus, a college ERP can help institutions save time, streamline processes, and smoothen operations along with generating compliance reports. All-in-all, an College ERP Software makes the journey to accreditation much easier by helping institutions manage their data. Therefore, a college seeking accreditation from agencies like NAAC/NBA must implement a comprehensive college ERP system to compile & manage the necessary data and ensure quality work.
For more information about college ERP software, get in touch with us!