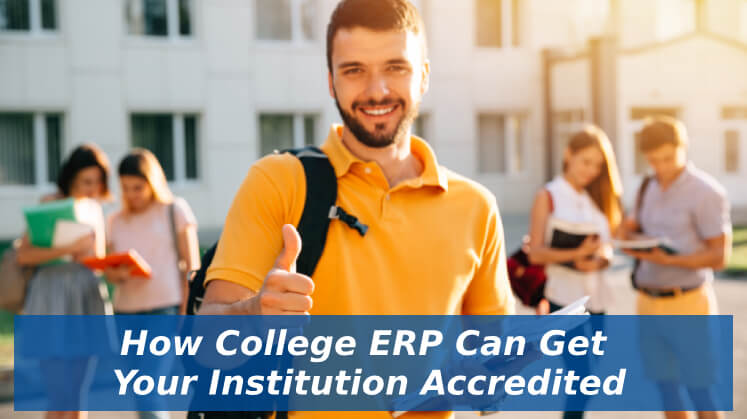 Digitalization is the ultimate requirement of the digital society we are living in and even educational sector is experiencing the change. Yes, nowadays college ERP is mandatory for institutions who want to get accredited by bodies such as NBA (engineering, medical, hotel management colleges) or NAAC (arts, commerce, science colleges).
It is clearly mentioned on the NAAC website that at least one of the following operations must be carried out through e-governance -
Student admission and support

Administration

Planning and development

Examination

Finance and accounts
If none of the above operations are automated then that college cannot apply for accreditation. Also the college is asked to provide the name of vendor along with contact details, the year of implementation, screenshots of user interface and the college is required to submit ERP documents while applying for NAAC ranking.
A college seeking NAAC accreditation must implement a competent enough college ERP software as preference is given to quality. The three most important things a college must possess in order to seek accreditation are:
Computerization of the office

An official college website
Earlier NAAC committee used to collect hard copies of reports related to administration, library, admission, etc. But now system generated soft copies of all kinds of reports are to be submitted by the college online. These reports also known as MIS reports, are generated in just a click by a competent ERP software. Moreover, all the key information must be updated on the website regularly by the colleges. Certainly NAAC and NBA accreditation process are quality inspired, as these bodies give quality assurance the maximum weightage.
Apart from the necessity of having an education ERP, the software itself is very useful in a number of ways for the college. It not just saves time, limits expenditure, streamlines processes, smoothens operations but also generates reports. These MIS reports can be accessed instantly on the system and there is a multitude of filters available to obtain the required report in the required format. These reports are accurate and true, hence NAAC and NBA accreditation committees ask for these instead of any other reports as it cannot be tampered with. Whereas, reports generated by excel sheets cannot be completely trusted since it has no role based access. If access of an excel sheet is given to any person, they have full liberty to make as many changes as they want. An ERP system has role based login and everything is predefined and automated. Hence the reports generated are genuine and trustworthy.
Read more - How To Improve NAAC Rating With Education ERP Software?
CCMS (Centralized Campus Management Software) by MasterSoft, is the most proficient college ERP. Almost 99% of colleges using CCMS are NAAC accredited colleges which supports the fact that our softwares are certainly potential enough to assist your college in getting accreditation.