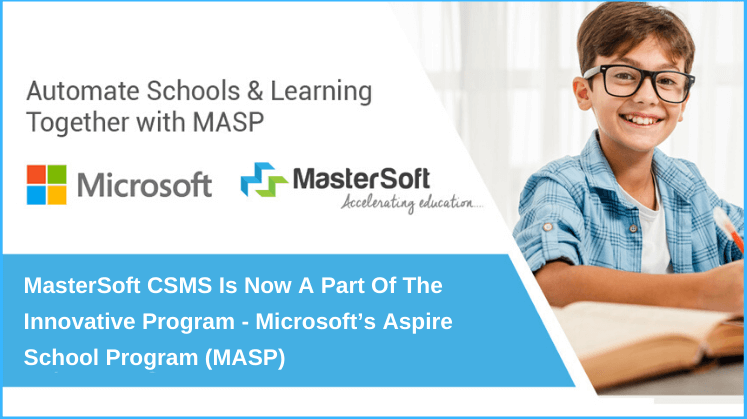 MasterSoft ERP Solutions on 15 January 2019, announced that their innovative ERP solution – Centralized School Management System (CSMS) is now a part of Microsoft's Aspire School Program (MASP) Suite. With technology playing a key role in empowering every aspect of teaching & learning, this collaboration of two giants in the education sector is sure to bring an amazing transformation in terms of enhancing the learning experiences of students as well as preparing a future-ready campus equipped with state-of-the-art education ERP automation tools.
MasterSoft CSMS is a tested & proven an end-to-end campus automation solution that automates all the lifecycles - Student, Faculty & Administration & helps educators in escalating the learning outcomes. Integrated with advanced analytics tools, it provides 360-degree insight into the interactions between different departments of school to the admin and helps them make smart decisions that would boost efficiency, productivity, and student success ratio.
MASP is a value-based program of Microsoft that empowers schools by leveraging cutting-edge technology & solutions such as CSMS modeled to digitize the campus with effective & enriched learning experiences.
Through the strategic "MasterSoft-Microsoft" alliance, the higher officials of both the companies are aiming at modernizing the schools with the power of gamification & AI tools that would ensure institutional success. They are providing an effective platform to school administrators that would maximize teacher-student engagement. Announcing the news of collaboration with one of the leading organizations Microsoft, Mr. Sham Somani, a great visionary and founder of MasterSoft said –
"From the past 22 years, MasterSoft Team is committed to developing best-in-class ERP solutions that create maximum value for the educational institutions. This collaboration will definitely prove a great step & help us to take our vision of serving educational institutions further. We look forward to a rewarding experience with Microsoft."
About MasterSoft
Established in the year 1997, MasterSoft is the largest & oldest education erp solution provider in India. Renowned for their support & services, team professionals at MasterSoft facilitate customized solutions for different sets of educational campuses including – Schools, Colleges, and Universities. Their mission is to shape the future of the educational industry by facilitating efficient ERP solutions & ensure best practices.