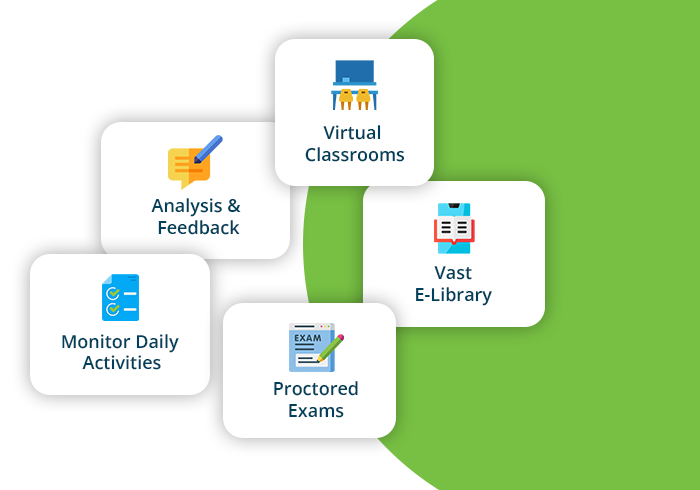 What Is Learning Management System (LMS)?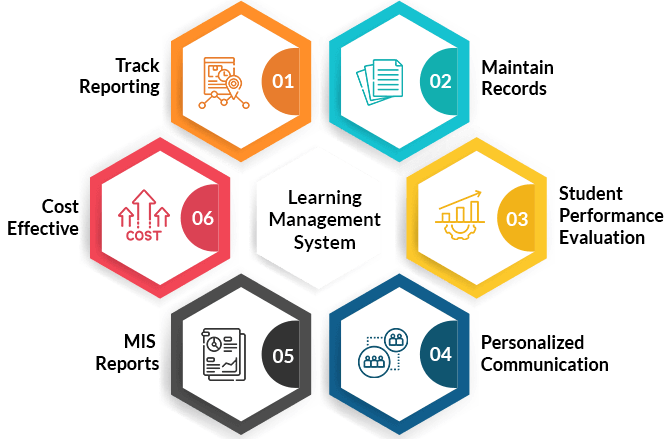 A learning management system is a software for educational institutions to track reporting, training programs, automation and delivery of educational courses, learning & development programs, maintain classroom activities records, create the best syllabus, teaching plans, and online assessments to maximize students' learning outcomes.
Learning has shifted from Life Long to Life Wide Learning. The 'new' educational landscape demands a 'new' version of teaching-learning methodologies where teachers can perform exam analysis and goal output analysis & plan appropriate teaching syllabus and help students learn at their own pace, communicate with them at any time, and plan their studies for achieving their goals.
However, leveraging edTech to make the digital shift & attain the best student outcomes is not a hassle-free process. During the transition, most of the educators find it difficult to structure the following crucial classroom teaching-learning practices:
Creating an effective syllabus & teaching-plan
Systematic record maintenance of students' activities
Grading & tracking student progress
Creating & conducting online tests & assessments
Providing relevant & advanced e-content
Strong teacher-student collaboration
Features Of Learning Management System (LMS)

1

Application for Mobile

The simple, intuitive, and easy-to-navigate LMS platform has a mobile based application that enables teachers & students to operate it with ease on mobile devices at any time.
2

Proctored Exams

The advanced proctoring-technology enriched LMS enables faculty to conduct safe & secure online examinations as well as mock tests to make students ready for the final exams beforehand.
3

Virtual Classrooms

The learning management software is integrated with virtual classroom along with multilingual language support to ensure the best teaching-learning practices & online collaboration.
4

Monitor Daily Activities

Built-in provisions such as daily teaching-plan creation, sharing syllabus, calendar, events & BI-powered analytics tools enable teachers to manage & keep a tab on daily activities.
5

Vast E-Library

Unlimited & relevant e-content such as e-books, journals, questionnaires in multiple formats – MCQs & Descriptive, etc encourage students to upgrade their level of knowledge.
6

Analysis & Feedback

The MasterSoft LMS provides auto-calculation of grades & allows faculty to analyze learning gaps & share their feedback to boost the student learning outcomes.
MasterSoft's Learning Management System (LMS)

MasterSoft's Learning Management System is a comprehensive online platform built to provide the best online teaching-learning experience by engaging students & boosting their learning outcomes.
It enables faculty to systematically maintain classroom activities records, create the learning-objective-oriented syllabus, teaching-plans, and online assessments, which would benefit students in terms of enhancing their skills & creating a learning-driven environment.
Furthermore, the Virtual Classroom integration allows students & teachers to stay on the same page and collaborate hassle-free at any given point in time.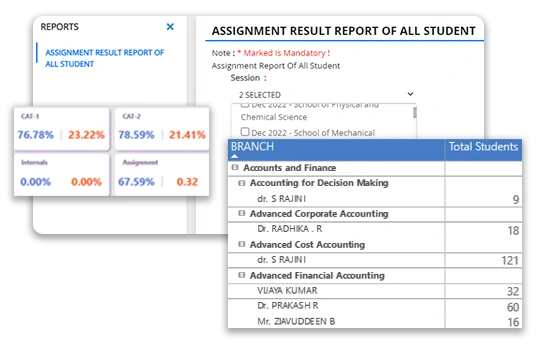 Bloom's Taxonomy Framework
MasterSoft's LMS software incorporates Bloom's Taxonomy framework that allows faculty to create online assessments based on the different learning checks, promoting personalised learning & mapping learning gap for teachers –
Thus, the learning management system focuses on enhancing skills along with the regular academic aptitude of students. in the long run, the students become skillful & develop an ability to contribute to society.
How does the Learning Management System Software Work?

The best approach to visualize a learning management system is to see it as a sizable website that those with a log-in can only access. You have the option of providing online or blended engagement with your students within this "restricted" website.

Admin Login
The admin log-in is intended for administrators. After logging in, it will give the user access to tools that will enable them to add and remove content and users and adjust settings in certain parts of the learning management system.
Teacher login
Teachers can establish courses, assign homework, and receive students' finished projects and test results using the teacher log-in.One of the main benefits of online learning is that it aids teachers in delivering course material and achieving desired results. Teachers can teach online courses, as well as hybrid, blended, and flipped classrooms, using LMS.

Student Login
The user will get details about their courses, unfinished work, and links to resources after logging in as a student. In most cases, it will include a mechanism for students to get in touch with the instructor or course director. Work can be submitted through the student log-in, and the instructor or course director will subsequently access it.
Types of Learning Management Systems

Some of the common types of learning management systems include
Self-Hosted
This type of LMS requires software to be downloaded and installed by the user. This system offers higher customization capability and better creative control. However, the users must maintain the system themselves and generally pay for updates.
Cloud-Based
Cloud-based LMSes are primarily hosted on the cloud and often follow a SaaS business model. The vendors of cloud-based LMS maintain the system and perform required upgrades or technical updates. These users can access the system at any time, from anywhere, by using their credentials.
Mobile Application
This kind of LMS typically supports mobile learning and is easily accessible wherever and whenever through mobile devices. This type of deployment enables users to engage and effectively track and monitor their online learning activities on the go.
Get In Touch With Us To Get The Best LMS Software For Your Campus!
Request Demo
Benefits Of Learning Management System

Simplified Learning
Learn From Anywhere And Anytime
Diverse Assessment Options
Enhances Student Study Cycle
Flexible Web-Based Environment
Centralized Management System
Customized Training Goals
Saving Time & Money
Tracks Employee's Progress
Reduces The Expense And Traing-Related Costs
Provides Precise Real-Time Performance Reports
Who Uses an LMS Software?

An LMS is widely used by a wide range of end-users, including schools, colleges, universities, and small, medium, and large businesses from all industries.The key users include teachers, educators, entrepreneurs, individual learners, and managers, among others.
Universities and Colleges:

These institutes deliver bite-sized online courses to offline students. They also use LMS to supplement on-campus resources or to expand their student base by targeting students outside of their current territories.

HR Departments:

The LMS in the HR division helps provide necessary training to managers and employees. The corporation generally uses LMS courses to upskill their careers and use them as a means to get promotion.

Professional Groups:

Different industries, such as engineering, financial services, and medicine, use LMS either for specialty training or to meet compliance training requirements for their license.

Entrepreneurs:

The LMS software provides businessmen with the tools to provide crash courses in various fields, such as writing, accounting, marketing, and related skill-based short-term courses.
Why Choose MasterSoft's Learning Management System Software?

MasterSoft is one of the highly trusted ERP companies offering robust solutions for all the academic and non-academic educational operations throughout the institute. We offer highly efficient and uniquely customized solutions as per the academic requirements of every institute.
These solutions include everything from learning management software to accreditation management systems.
The learning management system by MasterSoft is an AI-based software offering high security to student data and activities. The system offers robust infrastructure and an intuitive interface to the users for easy functioning of all operations.
The software is hosted on a cloud platform with data privacy and safe backup options.