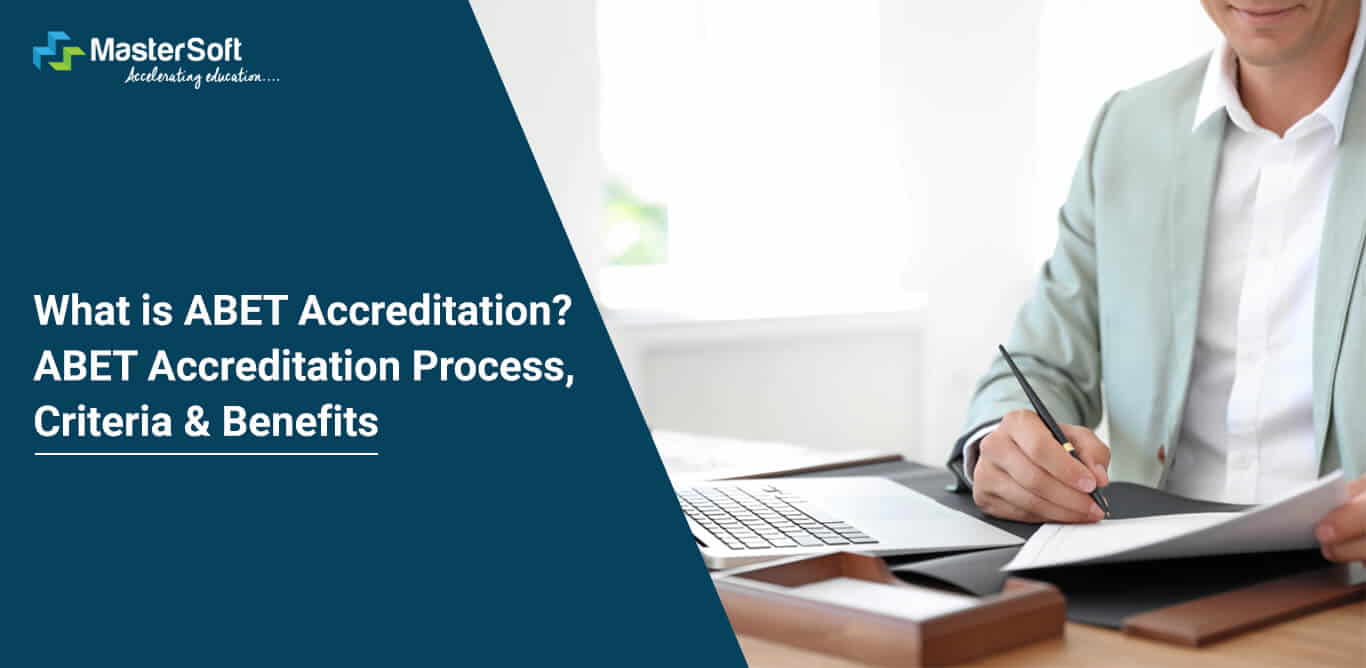 "Accreditation" – is just not a review process, it is a foolproof way for educators to offer quality education to students.
It helps them to meet & create new standards of education.
Thus, accreditation can be thought of as a mandate to ensure the best practices in an institution, keeping the goal of maximizing student learning outcomes.
As an educational institution's administrator, you might have got suggestions to apply for accreditation, right?
If you have been come across the term – "ABET Accreditation" and wondering
"What is ABET?"
"How can it be beneficial for your institution?"
"What benefits it has to offer?"
"What are the accreditation criteria?"
This blog will serve as a simple guide & answer all your queries related to ABET accreditation.
Let's begin with understanding what does ABET-accredited mean…
What is ABET Accreditation?
Just like any other accreditation, ABET is an accreditation that ensures that the educationalists fulfill all the requirements of providing quality education to students and encouraging them to be life-long learners. However, it provides accreditation to various programs, not to degrees, institutions, or any departments.
ABET accreditation focuses on creating graduates with skills & academic knowledge & values. As per the statistics, ABET has accredited various programs approximately 4300+ across 41 countries.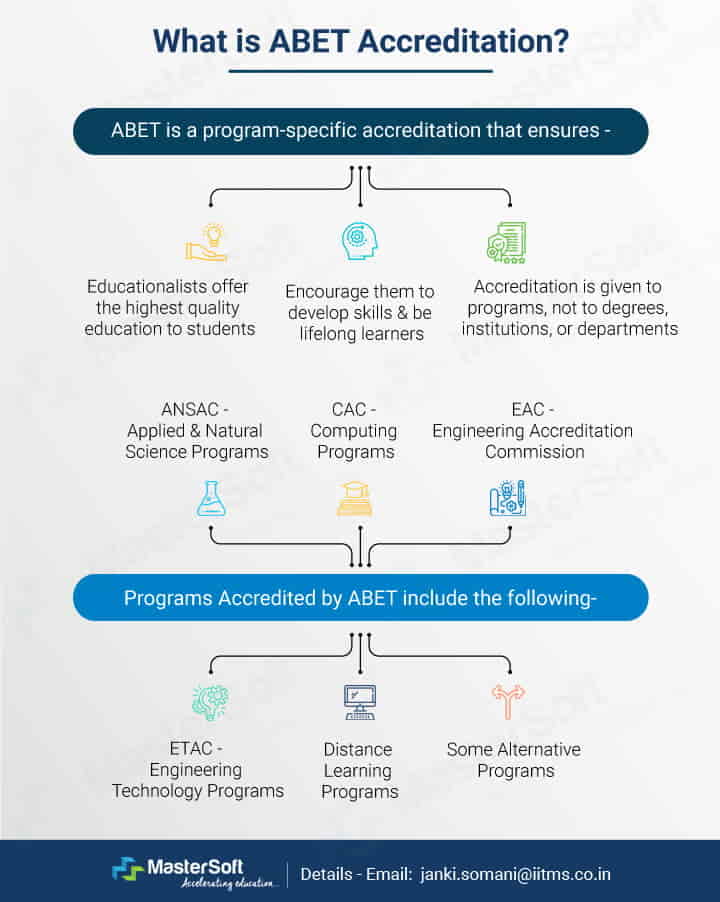 As a matter of fact, students who have successfully completed the ABET-accredited programs are given Professional Engineering License.
What are the Programs Accredited by ABET?
The ABET accreditation offers accreditation for the following programs.
ANSAC - Applied & Natural Science Programs
CAC - Computing Programs
EAC - Engineering Accreditation Commission
ETAC - Engineering Technology Programs
Distance Learning Programs
Some Alternative Programs
The ABET-accredited program must have -
Long Term Objectives- Educational objectives set for the long term based on the standards set by alumni batch students and the constituency requirements.
Measurable Goals - The student outcomes must be mapped throughout the graduation & need to be determined in advance. In simple words, the goals must be measurable.
Sustainable Process - The evaluation & assessment process must be sustainable.
How Can Programs Offered by Your Institution Attain ABET Accreditation Successfully?
Here is the ABET accreditation process that would help you understand how your programs can successfully attain ABET accreditation.
Time Frame
The ABET accreditation process takes around 18 months to get completed. However, the time frame enables a window for completing all the formalities & meeting the standards of education.
Checking the Eligibility of Program
You need to check the eligibility requirements of your program before you proceed. Your program may or may not fall under the ABET accreditation criteria.
Request Application
Once you are sure that the program is eligible, you can proceed with the accreditation process and make a request for the same. Submit the SSR reports for the next process.
ABET Review Process
The committee members will evaluate the SSR reports & conduct an on-site visit for the complete evaluation & final decision.
ABET Accreditation Criteria & Eligibility
Here is the step-by-step explanation of the ABET accreditation criteria and their eligibility.
1. Understand the Eligible Programs
Encircling my previous point, I would like to again explain that not every program is eligible for ABET accreditation. Nationally accredited institutions & regionally accredited educational institutions in the USA can apply for the accreditation process.
It strictly doesn't accredit any doctoral program or any certification.
2. Be Associated with a Degree-Granting Educational Organization
ABET accreditation accepts requests for evaluation from degree-granting educational institutions.
3.Minimum of One Graduate is a Must
Programs must have at least one graduate before they proceed with the ABET accreditation. Otherwise, they may have to face rejection afterward.
4.Requirements for Name of Program
The name of the program must clearly depict the objective & content of the program. It shouldn't be misleading. It should be apt and anyone must be able to understand its nature just by reading the title.
5.Included Programs
ANSAC - Applied & Natural Science Programs, CAC - Computing Programs, EAC - Engineering Accreditation Commission, ETAC - Engineering Technology Programs, Distance Learning Programs, and Alternative Programs.
6.Preliminary SSR Reports
Every program needs to submit SSR reports before requesting the final on-site visit peer review. These SSR reports must be highly accurate and free from any kinds of data error. Once the SSR reports are approved, the ABET committee members will reach out for further proceedings.
ABET Accreditation Process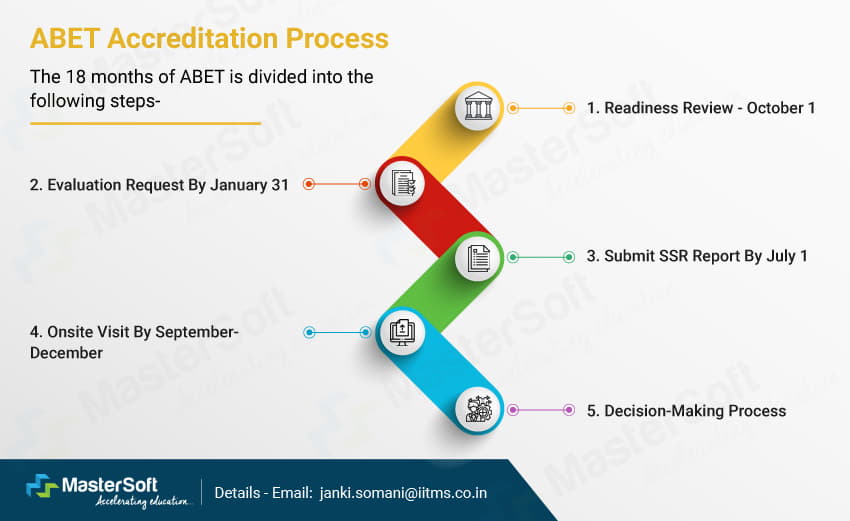 The 18 months of ABET is divided into the following steps-
Stage 1: Readiness Review - October 1
To complete the readiness review, institutions need to collect samples of assignments, syllabus, curriculum and get ready by October 1.
Stage 2: Evaluation Request by January 31
RFE needs to be submitted by January 31. A review team is assigned by the month of April and May depending on the review.
Stage 3: Submit SSR Report by July 1
The review of SSR begins by the month of July.
Stage 4: Onsite Visit by September-December
An onsite visit can be arranged between September-December. Institutions need to be well prepared with documents & faculty will need to face interviews of the panel.
Stage 5: Decision-Making Process
Any corrections in the documents are asked within 1 week
Formal communication about findings is done in 2-3 months after the onsite visit
Institutions need to clarify within 30 days regarding the shortcomings
ABET commission takes a decision in the month of July
The final statement regarding the decision is notified to institute by August 31
Best Benefits of ABET Accreditation Program for Students
Students who have graduated by learning ABET-accredited programs experience the following benefits.
#1: Global Standard of Education
Students who take ABET-accredited programs can easily meet the global standard of education.
#2: Loan Facility
Students who take ABET-accredited programs can easily apply for various types of student loans, scholarships & grants.
#3: Continuous Assessment
Peers can continuously evaluate students' performance throughout their learning journey. This in return will help in identifying, assessing & improving the learning gaps.
#4: Ensures Best Learning Outcomes
With continuous evaluation & assessment, students are bound to get the best learning outcomes.
#5: Career Opportunities
ABET-accredited programs offer the best employment & career opportunities to students. They can learn skills par excellence and lead a good life ahead.
Best Benefits of ABET Accreditation to Program & Institute
#1: International Recognition
ABET accreditation is internationally acclaimed for its quality. So the programs that fall under its category have more value across the globe.
#2: Promotes Best Practices
ABET undoubtedly promotes the best practices in the education field and can help educationalists to create a new ecosystem with the highest standards effortlessly.
#3: Learning Outcomes
The ABET accreditation focuses on "learning outcomes" and not just the "inputs of teaching methods" and thus ensures better institutional growth.
#4: Continuous Assessment
It allows teachers & educators to continuously assess & improve their processes to obtain the best ROI.
#5: Transfer Credits
Acceptability of transfer credits is the best aspect of ABET accreditation!
Cost of ABET Accreditation
To understand the fees structure for ABET accreditation, you can visit - https://www.abet.org/However, if you want to save the additional cost of ABET accreditation required to ensure the best practices, you must speak to the experts at MASTERSOFT.
The next section will help you understand the services of MasterSoft.
How MasterSoft Can Help Your Program Achieve ABET Accreditation?
MasterSoft educational ERP software is the most trusted automation software. And speaking of the ABET accreditation; MasterSoft ERP software can help you in generating accurate SSR reports by compiling the institutional data. It can also help you in mapping the course objectives as well as program objectives – CO-PO mapping!
Being the largest & oldest edTech provider in India, you can expect the best service & support from the team. And 99% client satisfaction rate is the ultimate reflection of the same.
Do get in touch with the ERP experts of MasterSoft for more details or schedule a demo! Our team will reach out to you and help you in understanding the benefits our software has to offer!
And the best part is the demo is absolutely FREE!
You can choose a convenient time and let us know. So, do connect with us and then make an informed decision by understanding the benefits of MasterSoft products.
Manage Accreditation-related Data & Enhance Quality Assurance Standards of Your Institution!
Choose MasterSoft's Accreditation Data Management Software!
Mobile: 08448010216
Email: janki.somani@iitms.co.in
FAQ's On Abet Accreditation

The Accreditation Board for Engineering and Technology (ABET) is a non-governmental body that sets accreditation guidelines and standards for post-secondary education programs in computers, applied and natural science, engineering and engineering technology.
You must choose online assessments over traditional assessments due to the following reasons. Online assessments are -
Make sure your institute is eligible for the program.
Be Associated With A Degree-Granting Educational Organization for ABET accreditation.
Programs must have minimum one year of Graduat.
Requirement for name of the program such that it should be clear and understandable.
Preliminary SSR reports should be submitted.
Peer review takes place.
It is global standard of education
It gives easy loan facilities to students
The students are continuously assessed
Offers better career and placement opportunities for students
The college gets international recognition