Workshop of ICT Enablement in Higher Education Aurangabad
A Digital Campus, for a Digital India
17 Dec 2019
MasterSoft conducted a workshop on "ICT Enablement in Higher Education for Betterment of Academic Delivery and Statutory Adherence" on 17th December 2019 in Aurangabad. Dr. Satish Deshpande, Joint Director, Higher Education, Aurangabad inaugurated the workshop by lighting the traditional lamp. Amongst other dignitaries present on this august occasion were Dr. H.G.Vidhate, Management Council Member, Dr. Babasaheb Ambedkar Marathwada University, Aurangabad and Dr. S.N.Thore, Principal, Deogiri College, Aurangabad. The new Joint Director, Higher Education, Aurangabad, Dr. Digambar Gaikwad, who had been held back due to previous engagements, also arrived during the workshop to grace the occasion.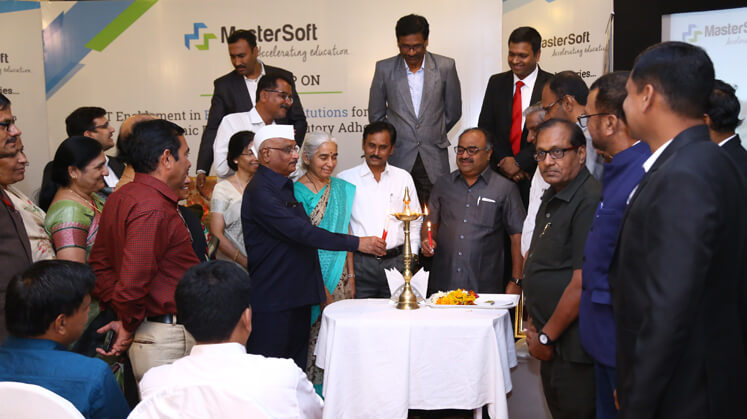 In his inaugural address, Dr. Satish Deshpande spoke knowledgeably of the current scenario in Aurangabad with regard to NAAC accreditation. He thanked MasterSoft for taking the initiative to conduct the workshop. He urged those present to brainstorm together on how they could improve quality and standards of higher education and make institutions eligible for NAAC and RUSA (Rashtriya Uchchattar Shiksha Abhiyan).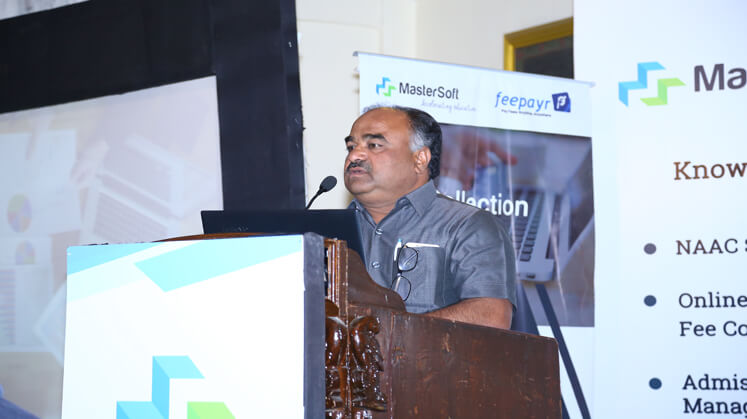 Dr. Vidhate, in his talk, spoke of the benefits of digitization, from going paperless to saving time, manpower and other resources.
Mr. Gurudev Somani, Director of MasterSoft, welcomed all participants warmly and expressed his delight at seeing such a large and enthusiastic gathering of principals from across Aurangabad. A total of 250 educationists from around 140 colleges were present for the workshop. He introduced MasterSoft as a company with a pan-India presence, known for helping institutions with autonomy. He said ICT enablement was the need of the hour. To the question "Why MasterSoft?", he said, "because it is a 'one-stop solution'. If you go in for MasterSoft, you don't have to go for 'islands of software' for different modules".
This was followed by the inauguration of the latest innovation by MasterSoft: The ADMS-Accreditation Data Management System Software. Mr. Balram Korde and Mr. Mustak Ahmed gave a demonstration of the ADMS software. They explained how the ADMS System allowed for automation of documentation work in desired formats for NAAC/NBA and other agencies.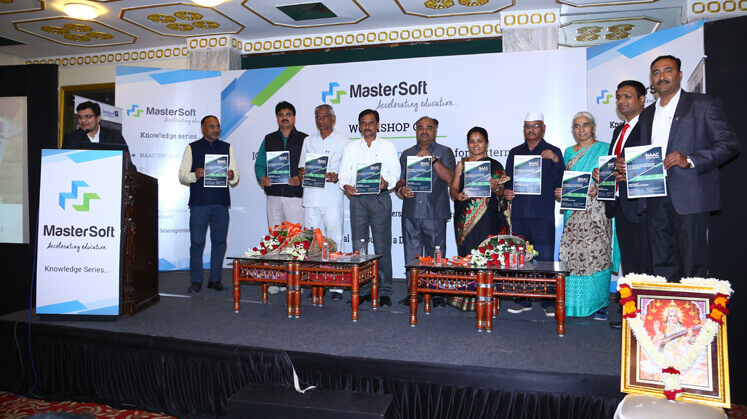 After the presentation, the MasterSoft team invited those present to share their doubts and concerns with the team. NAAC-related questions were asked by Principals present at the workshop. They were answered satisfactorily by the team members.
The workshop continued with Mr. Mustak Ahmed and Mr. Balram Korde presenting the cloud-based software for managing multiple campuses – the CCMS solution. The technical team gave an overview of modules such as student online registration facility online fee payment via MasterSoft's FeePayr, Business Intelligence-powered dashboards to aid decision-making, E-Learning, Mobile Apps such as MOPAC, Student Diary and the Alumni App, etc.
In an interactive session, all questions raised by the audience were answered meticulously by the technical and management team, to the satisfaction of all.
Mr. Sham Somani, Managing Director and Founder, MasterSoft gave a gracious vote of thanks via video conference.
Mementos were presented to the Chief Guest and other guests of honor and the participants were issued certificates.
All in all, the workshop appeared to resonate well with the academicians, many of whom wished to implement the solutions discussed at the workshop at their respective institutions.
Read more - ICT For Higher Education - Smart Move Towards Online Teaching And Learning