MasterSoft MD Mr. Sham Somani at 21st Annual Celebration
09 September 2017
MasterSoft has grown from 2 to 200 because of the day & night efforts of my colleagues and soon we will board upto 500.
Mr. Sham Somani is a born teacher. He is an innovator and a great visionary holding a rich experience as IT Academician & IT Professional. He founded Master Software Group in 2000. He understood the changing need & Demand of the educational campuses and put all his experience & knowledge in developing E-governance solution for educational institutions.
The full text of Mr. Sham Somani's speech follows,
"Freshers who are present here family members of MasterSoft Team who are here from the morning; my dear colleagues and peoples from the press. I welcome you all. I thank almighty God that two mentors were in the same plane and in landing. Lots of efforts were required and visibility was low so we had doubts whether Natrajan Sir and Sharad Sir can come in time but again I thank almighty God they are here.
A Glimpse of MasterSoft Beginning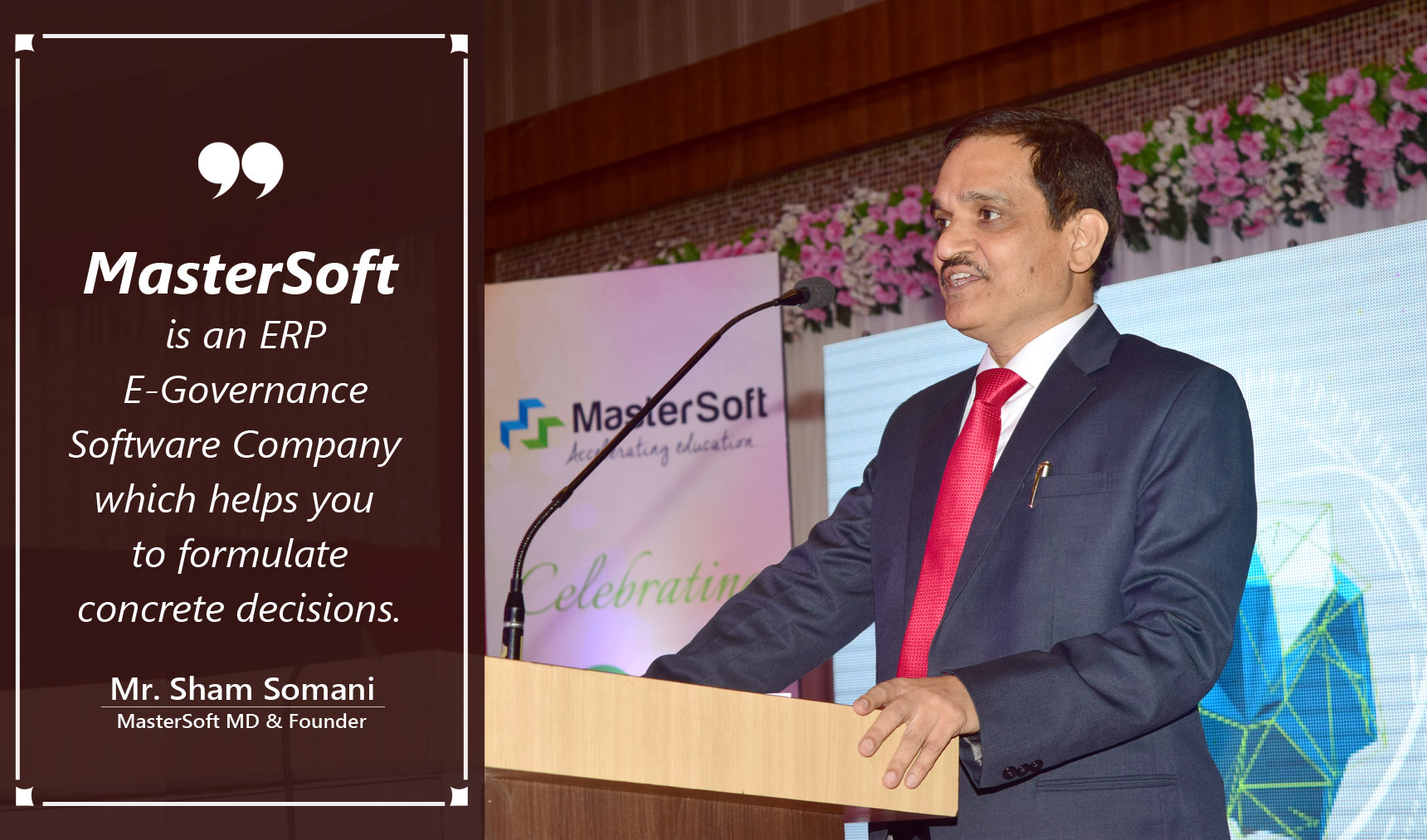 Friends let me introduce myself, I am Sham Somani. I worked at Nagpur University from 1988 to 2000 in various capacities. At last, I was head of the computer center. My spiritual master gave me blessings and I started this company in the year 2000. We had very humble beginning my two team-mates were there. They are Anand and Charu both of us are here today. We started with it in a small accommodation in Ramdaspeth. My friend Rajan Harkare's father late Shri Govinraoji Harkare had me almost at zero rent. He gave us space for several years. So family members of harkare sir are here I welcome them all.
When I left Nagpur University; I was a single vendor from the head of the computer center representing CNet, representing the academic council. All of sudden I became a street vendor. But many academicians helped me; they called me ok Somani you can develop the software for us college automation software and from that, we started getting the work so I welcome all the academicians.
MasterSoft's Foundation – An Ideal Mentor Board
I was a VNIT student, so getting a mentor like Dr. R. Natranjan who is ex-director of IIT Madras and who cheered the highest technical body of government of India AICTE (All India Council for Technical Education).  It's our luck that he agreed to be our mentor. Sir, we welcome u all. Because of your presence in our mentor board, our moral has boasted. I also welcome Dr. Sadanand Gokhale Sir. He is our continuous mentor. Any difficult situation, any challenging situation, he is there. Any difficulty in MIS (Management Information System); he has helped us. He has helped us in developing MIS though he is from the aeronautical background. His computer knowledge is also great. And Bina madam also helped us many times, I welcome you all.
Friends once in a marriage, I met Madhusudan Kela for one and half hour. Madhusudan Kela is called as a wizard of share market. He is the king of share market. From 500 Cr of reliance; he has made it some 1, 50,000 Cr for Anil Ambani Group. He was kind enough to become our mentor and he is guiding us to grow further. So I welcome him. Also, he could not attend the function because of his emergencies but I welcome him and he has sent the best wishes for us.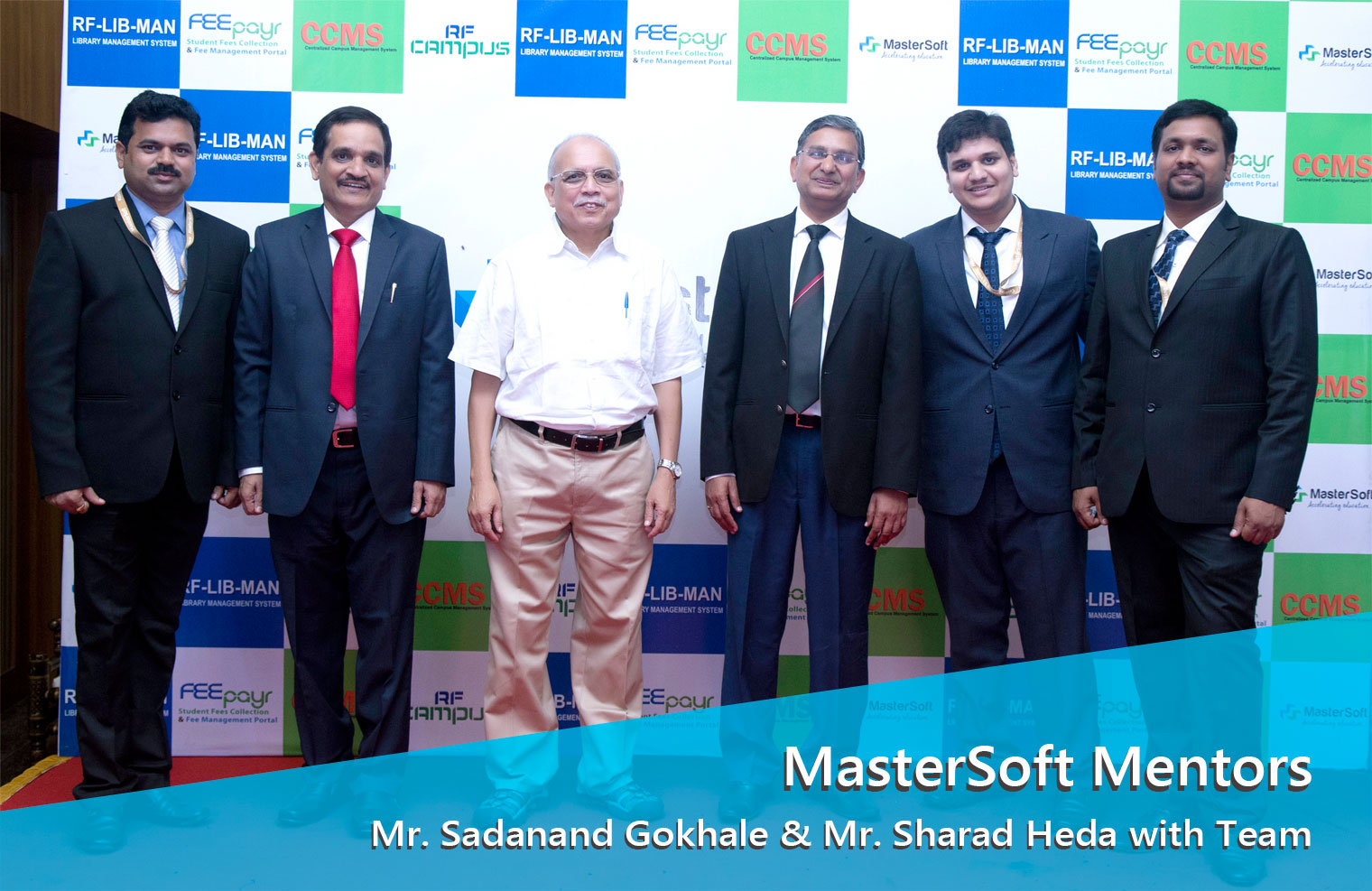 Friends let me introduce you to Sharad Heda Sir, a very very senior person in IT industry; a very well known person in IT industry. His time is very crucial, very important but he has given us continuous time. He has mentored me, Gurudev (MasterSoft Director) and complete team of MasterSoft. In his guidance, we have developed cloud. He has analyzed the complete education industry data in his management way and he has told that ok solution of your problem is; you go into private universities on a cloud module and that worked we got five autonomous universities private universities just because of his guidance. There was a time all his Saturdays and Sundays were booked by me. He has sacrificed a lot of his family time. So I welcome Sharad Sir and Mrs. Chaya Heda.
Mr. Sham Somani Appreciating MasterSoft Team for Their Hard Work & Support
I also welcome our partner Mr. Yohan Vasanth. He is the oldest young fellow in our partner network. Under the guidance of Sharad sir, we started partner network. Vasanth sir is having 40 yrs of IT sales experience and he has guided Gurudev, Gaurav and all of us and he is penetrating master software in south India.
When we have started this company friend; I had basically many colleagues but I would like to mention about Anand Shirke and Vijay Rokde, Anand is my CEO and Vijay is my COO. 17 yrs they have spend with me day and night. They have worked for a company. Anything you tell them they are yes sir; they will never tell that sir I have some family problems I cannot go for one month tour. Sometimes things are challenging but they have stood with me always and a lot of sacrifices they have made with their families. I welcome them.

I would like to mention about my colleague Balram Korde. He single handed just with his two colleagues Ashish and Mustak; he brought 1000 arts commerce science colleges. Balram one person with Ashish and Mustak brought 1000 clients without any management background on our own. He is so popular in Maharashtra that people call him for inaugurating the conferences of automation in the college management system or the college administration. Then one day I told boss at least give me one conference. This fellow gave me a Latur conference, remaining conferences he is managing.  Similarly, their is the great contribution of Amit Barapatre, all team Leaders - Chandrashekar, Ajay, Sanjay, Shrikant, Umesh, Sudhir and many more.
New Generation of Leadership - MasterSoft Youngsters
Now my family members; I am getting old so 5 yrs back I thought I will talk to my family members, youngsters Gurudev and Gaurav. Gaurav is my nephew and he was happy with Mumbai. He was in Aditya Birla Group in finance. So I told him to come back and our mentor Madhusudan Kela also helped me he also said that Gaurav what you are doing here; a job. Join your company go back to Nagpur and he agreed to my request. Now the Gurudev my son he wanted to become an IAS officer. He went to Delhi and joined the classes.  I tell boss do you want to grow the company or not. Then his aspirant IAS friends also suggested why you don't go back to your company. You are having a company and he also agreed. So now the company is in the youngster's hand. Two people are there who are having the management background and such a great mentor board is there with us. Under the guidance of mentor board and with the efforts of my all colleague we have grown from 2 to 200 and soon we will board upto 500.  We are requesting the land in the Mihan, hopefully, we will get it and then we will go for a team of 500 people.

I would also like to mention my colleague Mrs. Poonam Nathani; she is in Mumbai. Now penetrating in Mumbai where it is the business capital of India is challenging. Poonam worked very hard I also went many times with her and 40 most reputed colleges of Mumbai universities are our clients where admission is the dream for everyone.
Praising Employee Families For Their Contribution in MasterSoft Success
Friends when my team members 200 colleagues are working with me; there are a lot of sacrifices from the families of these 200 members happens. Either their son is working with me, or daughter or wife or husband. IT industry is always late night working. All of sudden they are required to went on tour. Their family members have sacrificed quite a lot, so I welcome them all. This company has become 200 only because of the day & night efforts of my colleagues, so I welcome them also.
Thank you very much and enjoy the evening."