"You are improving the quality of education", Mr. Sharad Heda
09 September 2017
I see four things which make me feel; the four C's as I would call it, the reason it makes sense ki let's work together at MasterSoft.
Mr. Sharad Heda, the chief of staff at Microland shared his valuable thoughts on MasterSoft growth and continuously changing customer requirement. Being a mentor he has always supported us. His constant guidance always gives us strength to face upcoming challenges.
The full text of Mr. Sharad Heda's speech follows,
"I must have really touched. Dr.Natrajan, Dr. Gokhale, the entire MasterSoft family, customers, partners, principals; a very very warm welcome. I must say, I am really really blessed to be a part of this exciting journey that MasterSoft is going through and I have been very closely associated specifically for last 5 years.
Let me tell you why?
You know when four-five years back; when me and Sham we met at Bangalore. I see the four things which make me feel the four C's as I would call it, the reason it makes sense ki let's work together at MasterSoft. What are the four C's because of which I see me being very very excited in working with the MasterSoft.
Mr. Sharad Heda talking about four C's:
First C is the cause, the cause of doing the business in the education sector. You are improving quality of education so that you are building tomorrow's India. Not to me, every business is here to make money. Commercial success is important for business but with that, if you can do something which improves overall well being of the society, it's quite a bit. So that's a 1st thing I said.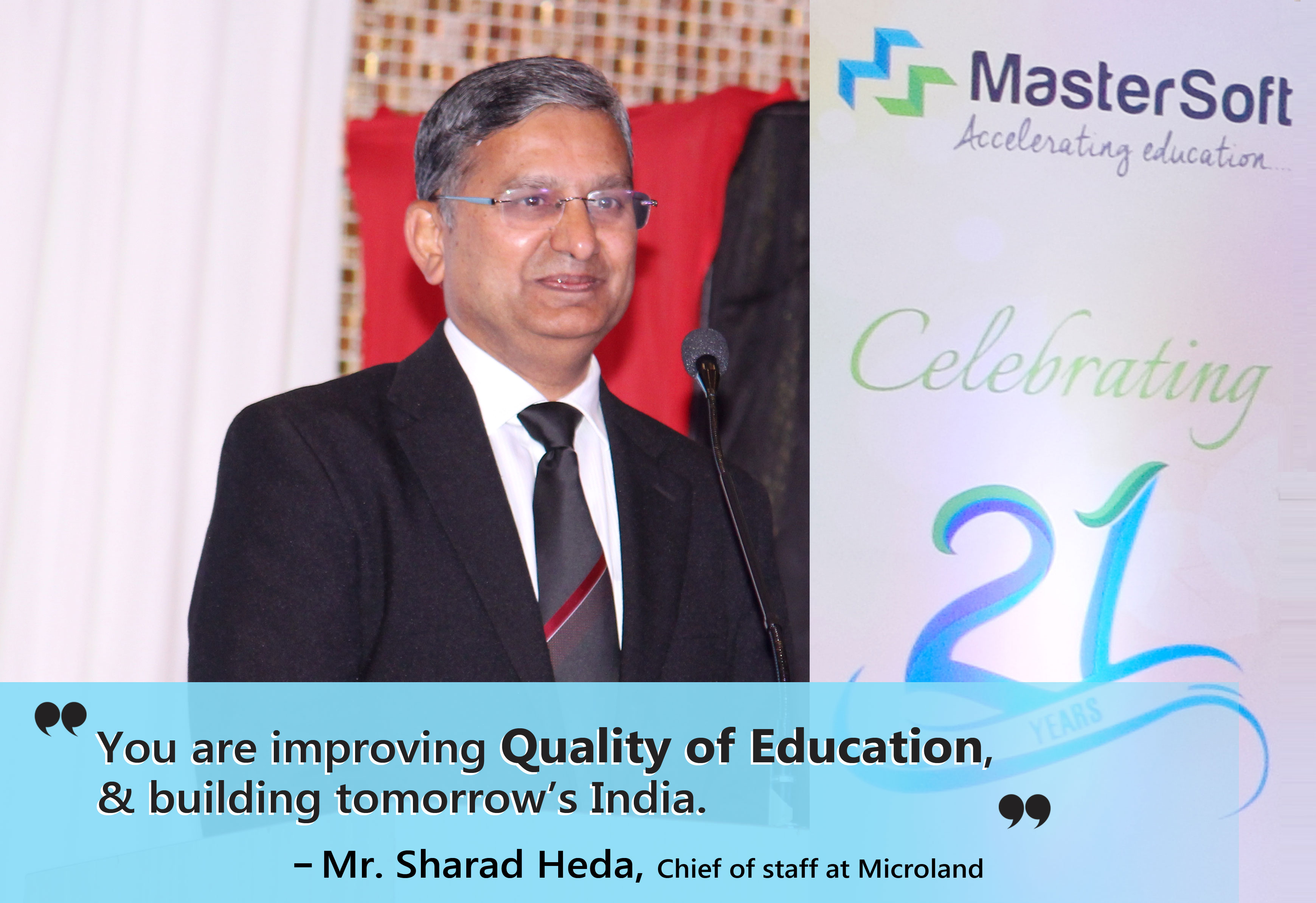 The 2nd C was a very committed team. Let's do something which we feel very good about it. The 3rd C was core values. You should be doing something where at night you feel you have done something in a manner where you feel good about it. The core values make in sure that you take care of your customers and your employees. Do it in a manner which means a lot. And the 4th C, in somewhere I must say I am also partial in that way is the Center. The center being the fact that, it is from Nagpur.
I have been born and brought up in Nagpur. I have done my studies in Nagpur till I finish my engineering which was in 1981. It's being Nagpur Nagpur and Nagpur only for me. So I wanted to do something which is a great business sort of Nagpur. Something which everyone should feels very proud of.  I think that suppose see I would love to be associated with. These were four reasons and we said let's work together.
Inspiring story of Arunima Sinha - first Indian amputee to climb Mount Everest
Let me talk the story just to sort explain what does, therefore, building success in an environment we were trying to build an IT company where  Nagpur is so far away from the actions where all the IT's happening in. In the time where we don't have a great money or necessary a great business background to help you which is what Sham didn't have, he didn't have lots of money or didn't have a great business background. So let me tell you a story just to explain the essence of his success and before I come to the next part how many of you have heard of Arunima Sinha.
Let me talk a little bit about this story and we will then connect with what's happening here. A girl from a small village in Northern India, sports person Arunima Sinha wanting to become a great sportsperson traveling to Lucknow-Kanpur to participate in a Sports competition. When she was going by train in the evening; she was attacked by gundas who wanted to steal everything that she had. She tried to fight with them. She tried to prevent them from taking stuff. They hold her both legs & hands and thrown her on a railway track. A train went to her legs. She was there whole night bleeding and still struggling to survive what she was going through. In the morning next day, some people discover a small girl this is what she is been going through. She was 18 or 19 yrs actually and she gets taken to the hospital. Doctors discovered that whole night she was bleeding out. Insects got attracted to that very high risk of major infection building in. So doctors decided, if she has to survive they have to cut her legs. There's no choice and they had to cut her legs. And here's she is in the hospital who wanted to become a great sportsperson a long jump person who has no leg from small village to decide what to do next in life. So does anyone know what did Arunima Sinha achieve in life? A first girl amputated legs to climb Everest. She climbed Everest within one and half years. So what does this means? You know if you want to do something good you can. If you have guts in you, you can.
In MasterSoft, I saw a little bit of Arunima Sinha.
I said, so what we are from Nagpur. So what we don't have everything going for us. Let's make it happen and in my mind that's what we are all trying to do as a family here. Sham's being very humble, he didn't really talk about what's in store; what's going to be happening in next year, 2 years, 3 years at MasterSoft. So I am actually taking an opportunity to talk about some of the thinking or some of the visions or some of the thoughts that are going on each of us making sure how this company goes from strength to strength.
MasterSoft is Now 21 years old
So before I talk about it, I think let's just do our step back in terms of saying where we are today at MasterSoft. You know 21 yrs; addicts we just became addicts. Just became somebody who's now manageabilate by. That's not 21 means and what does that means, there is lot more expectations from you. What you suppose to do now is a lot different then what you have done all this way. You know honestly the same things happen in the companies too. To run a company of 200 people, 500 people, 5000 people; thing is different. The way you look at processes, methods, your own way of managing your business because you want to scale because you want to become much larger because you want to do something which you have not done before. Those things need to start happening in. So one area that you would see and there is a lot which is happening in is to put MasterSoft ready for scale. Scale to a much higher level then where it already is.
The second is changing in line with what changing in the world. You know IT industry there are lots of changes going on in IT industry. If I have to give a sort of analogy, assume there is a dissection table people who have sort of studied biology of all being on the dissection table. I have seen what it means on the dissection table for the cockroaches & frogs. Assuming there is a vibrating detection table; it's not steady its vibrating and you have to dissect the snake which is also moving on table if you want to dissect a moving snake on a vibrating dissection table how do you do it? Believe me something like that is happening in IT industry now.
Let's say the customer is changing, moving. Customer demands are changing, expectations are changing. The way they want to use IT, the way they want to use ERP, the way they want to use education s/w, it's all changing. Use cloud, use mobile, use digital, use it a lot more than what you are being doing it. That's something which is happening on the customers end.
Are we ready to adapt rapidly changing technology?
On the other hand, the table is moving. The technologies you have are changing. The technology which we have used for building software; the way you are helping, analytics, automation, all of that are changing. What you are doing in MasterSoft right now is getting ready for doing a great dissection. The products will change, the solutions will change, the way we deal with the customers will change and all of that is already happening in as we put several as these things in place.
You can choose to say I am happy with 3% percent growth or if I want to go with 8% and 10%. You can choose to say MasterSoft will grow 20% a year or 100% a year; it's up to us. Because it's finally up to us to draw to our energies to figure out what are we need to do and make that happen. What is you would see happening again is desire, ambition, willingness to look at significantly higher growth. 50% 100% why can't we do that? After all we have done a lot, we have reached here and we know this is the only beginning.

You know the value creation in companies, product companies specifically; value creation for employees, value creation for entrepreneur, value creation for customers this scale exponentially grow because there is lot of upfront investment in product companies. Then you have to start monetizing it. All that starts happening as using scale and one can clearly seen the next round of scale is what MasterSoft is preparing for which will see. Therefore more value creation for every stake holder; be the customer, be the employees, be the owner, be everyone who is involved in it and trying to make it happen. So what we are all doing together is actually there for wanting to build out of Nagpur. An institution which we all will be proud off as an individual who has been involved in this journey helping, supporting, working, learning a lot.
You know it's very easy to do well when you are in Bangalore which is what I am based in. When you have company, when you have money to your support, when you have offices in US, Europe and all of that doing well is lot more easy. Try to create in Nagpur; it's not so easy. Therefore there is a lot of learning you go through as an individual to say what we can do better in this. What I am doing, what I want to do in Microland; I think I can do a little better because we are doing it in better way in MasterSoft. So there is lot of learning that I am going through personally as an individual in this entire journey.
Looking forward a lot to this 21 becoming 25, 25 becoming 50 and revenue, scale, customers happiness, employee happiness, family involvement all growing exponentially on the years to come and coming back again.
Coming again once again, thank you very much. Thanks everyone for this opportunity that you have given me. Thank you once again."