Accreditation Data Management System
Helps Institutions to get ready for various Accreditations by enabling them to update required information on day to day basis & generation compliance related reports. Useful to Universities, Autonomous & Affiliated Colleges.
Challenges Faced by Higher Ed Institutions During Accreditation Process
As per GOI norms, Higher Education Institutions are required to go for various statutory accreditation such as NAAC, NBA & are also required to submit accurate & detailed Institutional data to national ranking agencies like NIRF / AISHE of the last several years. During the process the higher ed institutions face the following challenges:
Repetitive Administrative Work
Organization of Reports in Various Formats
Maintaining Chronological Order & Date Formats
Data Privacy & Vulnerability
Maintaining Supporting Documents
Monitoring Entries of Information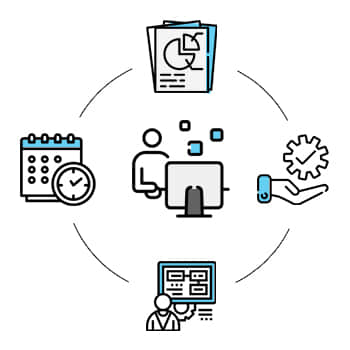 Accreditation Data Management System

MasterSoft's Cloud based Accreditation Data Management System offers a comprehensive System for assembling, managing & compiling data of all the activities of the Higher Educational Campuses & generate required reports in desired formats for accrediatation agencies. Institutions can submit the data accurately & quickly without errors to various agencies. MasterSoft provides Multiple logins so that Users can enter & Update relevant data In-House and upload necessary proofs in the system accurately. This Software is designed for any type of Institution such as State/ Central / deemed Universities - Autonomous colleges - Affiliated colleges – Engineering Colleges. It also provides many graphical tools to coordinators for easy & effective monitoring of the progress of Data entry work in the Software.
Accreditation Data Entry Points

The following data will be recorded in the Accreditation System under various major heads.
Academic details
Institutional & Affiliated College details including the - Program & Category wise student & staff sanctioned strength, Program & Courses such as CBCS / Elective courses, Result of final year students, Curriculum Design, Implementation & Enrichment.
Cloud adaptability
Information of each student such as - Name, Enrolment No., Course details, Caste Category, Gender, Medium, State, Country, Mobile no., Adhar no., Fees type & Scholarship (Govt./ Pvt.), Disability.
Faculty & Staff – Profile & Research
Basic details : Name, Designation, PAN & Adhar details, type, Date of joining & leaving, Email & mobile, previous experience, Caste Category, appointment type, Department, Promotions, Attach necessary documents
PH. D. & PH. D. supervised information
Grants for Research Projects
Awards Received – Government, International & Private
Membership in various Academic bodies of University / Board
Books / Research paper published
Workshops / conferences attended & paper presentation
Incentives received from Institute against Govt. / international recognition / awards
Infrastructure & Learning Resources
ICT enabled classrooms & equipments
Facilities for sports & cultural activities
Library automation & utilization
IT Infrastructure
Maintenance of Campus Infrastructure
Campus Extension Activities
Students
Value-added Certifications & programs
Capability enhancement & holistic programs
Special Programs for helping students
Student's grievances Readdressal
Competitive exams & career counseling
Faculty-Staff & Others
Awards & recognitions for extension activities
Collaboration/MOU with Industries
Sports and cultural activities
Training Programs for faculty & staff
Initiatives for local community
Finance
Grants from various Government/ Pvt. Bodies
Infrastructure improvement budget
Library books budget
Physical & academic facilities budget
Budget for R & D
Management & Governance
Vision and mission & core values
e-governance in Administration
Financial Assistance to Faculty for research & training
Financial Audits
teaching learning reforms
Feedback system
Feedback process of the Institution
Students & Teachers Feedback for improvement
Feedback by the student about Teaching
Continuous Internal Evaluation & Assessment
Improvements in Teaching-Learning
Alumni
Alumni database
Alumni Forums
Financial Contribution of Alumni / Association
Lectures delivered by Alumni
Alumni Association/Chapters meetings held
OBE – Outcome-Based Education
Define Vision, Mission & PEO
Defining & mapping PO, CO, PSO
Define Exam Assessment pattern & Scheme
Exam registration of students
Attainment Calculation & reports
Sign in for a live demonstration of the product
Benefits of Accreditation Data Management Software


Direct Data Fetching Integrated with MasterSoft ERP
Data covering all the life cycles - Student, faculty & Administration, available in MasterSoft ERP directly gets transferred to the Accreditation Data Management System.

Auto-generation of Reports in Desired Format
Generates highly accurate & ready to upload reports in desired format as per respective accreditation body requirements along with necessary Excel, PDFs & Links.

Data in Chronological Order & Date Format
Preserves & maintains legacy data & reports in chronological order or date-stamped with provision for back dated entries.

Role-Based Access for Data Privacy
Role-based access to stakeholders, with no direct access to the institutional data layer including the crucial legacy data of the institution to ensure complete privacy.

Maintenance of Supporting Documents
All the institutional data & supporting documents are stored on highly secured cloud servers with the provision of multiple data backups.

System Reports & Analytics
Provides actionable insights via analytics dashboard to gauge the assessment cycle & gives a heads up to coordinators regarding complete data entries & audit log.
Disclaimer
This publication, and the contents herein, introduces overall features of the Accreditation Data Management System developed and owned by the MasterSoft ERP Solutions Private Limited, however, the access to the same shall be limited to the features opted by its Users. It shall be understood that the System shall be modified from time to time by the MasterSoft ERP Solutions Private Limited as and when found necessary, and such modifications shall be made available, automatically and mandatorily, to the Users.
The Accreditation Data Management System allows the Institutes to assimilate Campus Data in one Central Database, and generates various Reports that may be helpful in the accreditation process. However, it does not calculate/estimate/speculate the accreditation or ranking scores, and it shall not be implied in any manner that we claim to improve the accreditation score or ranking of the Institutes.
MasterSoft ERP Solutions Private Limited is not associated with the NAAC, and no part of the contents published herein intend to imply the same. Any part of such contents, if found to be similar to or suggestive towards the material featured on the official Website of the NAAC, is to be treated as having been sourced from the said Website; and MasterSoft ERP Solutions Private Limited claims no ownership or interest over the said information.
We declare that every such information is published in consonance with the Copyright Policy of the NAAC as stipulated on its official Website, and that we have no intention to dilute the accuracy of or to derogate the said material. We also affirm that no part of the contents published herein infringe Copyright(s) of any third party(ies).
We urge all the readers of our publications to honour the esteem of NAAC, and the sacrosanct information published by it in public interest.
FAQs on Accreditation Data Management System

---
Workshop on Online Admission and Accreditation Data Management
09th Feb 2022 | Wednesday | 03:00 PM
REGISTER FOR WORKSHOP