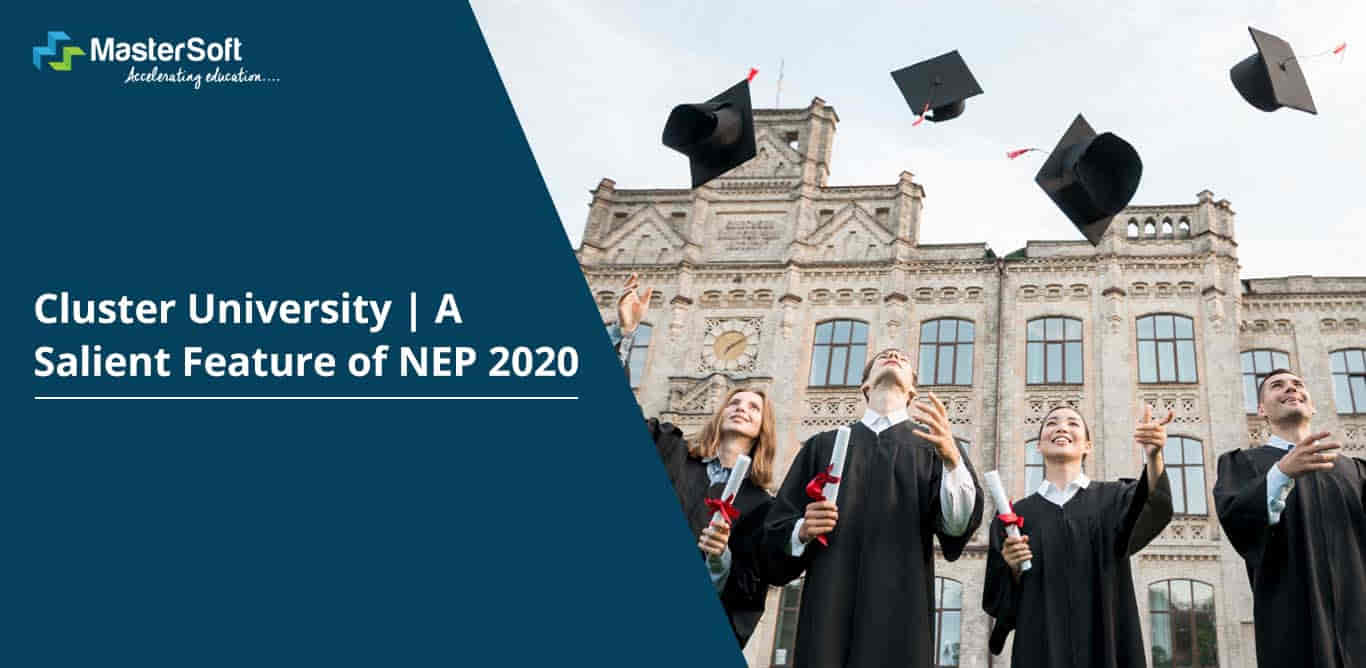 Updated On |
28

,September 2021
"I dream of a digital India where quality education reaches the most inaccessible corners driven by digital learning." Indian Prime Minister, Narendra Modi
With a vision to positively impact and take the growth curve of students to a new high, the Government of India has proposed National Education Policy 2020.
While so many efforts have been taken to promote quality education & innovation, for the first time, a new teaching-learning approach that empowers students with multidisciplinary education has been initiated.
I am talking about the concept of "Cluster University"!
You may be wondering - "What is cluster university?"
I'll try to simplify the cluster university meaning for you.
So, let's first understand its concept.
What is Cluster University?
Cluster university is a new concept that is dedicated to students who want to discover & learn new things regardless of the field/branch/discipline they're in. With the cluster university initiative, the Government officials are aiming to revamp the present condition of Higher education institutions (HEIs) to add more value to student learning.
Before we discuss its benefits, let's first understand how HEIs can transform into Cluster University…
#1: The Present Condition of HEIs
Currently, educational institutions follow the structure of single-stream education. Generally, what happens is that a student who has taken a major is allowed to study relevant subjects. He/she can't opt for subjects from other majors.
This may restrict students to widen their thinking & learning capability.
Sometimes out of a will to learn, sometimes to enhance knowledge, students may wish to adopt the "out-of-the-box" thinking.
And why not?
It's the ultimate of education after all!
#2: Cluster University for Future-Ready Campuses
With the introduction of Cluster University, the single-stream approach of teaching-learning will be ruled out. All the educational institutions including the ones that are offering professional degrees will be transformed into a rationalized architecture that is popularly being referred to as "multidisciplinary HEI clusters" or "knowledge hubs" by the year 2030.
The Cluster University will head 3,000 or more students and allow them to choose subjects and courses that interest them. The university will allow a vast number of institutions that may be focused on various areas- such as
Teaching-intensive University
Research intensive University
Autonomous Degree Colleges
Thus, students don't need to stress over anything during their learning journey and can explore their passion for innovation.
What are the Key Benefits of Cluster Universities?
I am jotting down a list that depicts the key benefits of cluster universities. Whether you are a student, teacher, or educator, you'd be able to reap these benefits once it gets implemented on a full scale. A university management system can be integrated to multiply productivity, efficiency, and final learning outcomes.
More Space for Student-Teacher Collaboration

With the HEIs getting merged to form a large unit, there would be more space for better student-teacher collaboration. Students that are genuinely interested in learning a particular course would come together helping faculties to achieve better student learning outcomes.

Inculcating Leadership Qualities in Students

Students would be more confident as they pursue their choice of subjects. They would get an open field to polish their skills and also develop new ones. Thus, the process would ultimately lead to the inculcation of leadership qualities in students.

Accelerate Institutional Networking

Since the Cluster University concept of the new education policy speaks of merging multidisciplinary HEIs, institutional networking would obviously go uphill.

Fewer Resources & More Expertise

3000 students would be able to learn under a single entity. It is bound to increase the outcomes with comparatively fewer resources.

Career & Placement Opportunities

As the students learn with more passion, the chances of getting placed in top-level companies become higher.
What are the Key Benefits of Cluster Universities?
MasterSoft believes that the concept of Cluster University is excellent to boost the student's strengths and empower them with a valuable careers. It can be considered as the one-size-fits-all educational approach to serve every student aiming to push their limits and "achieve the unachievable!"
To make the teaching-learning transition smooth, institutions can implement e-learning software offered by MasterSoft. The e-learning or learning management software enables students to -
Access vast e-content for better learning
Collaborate & communicate with faculty to clear doubts
Learn at their own pace
The ERP campus software works in synchronization with the NEP policy 2020. For more guidance on National Education Policy 2020, you can visit one of our previous blogs.
MasterSoft's Educational ERP System for Hassle-free Work Experience & Productive Environment in Your University
Automate Your Campus! Get the Best ROI!
Mobile: 08448010216
Email: janki.somani@iitms.co.in