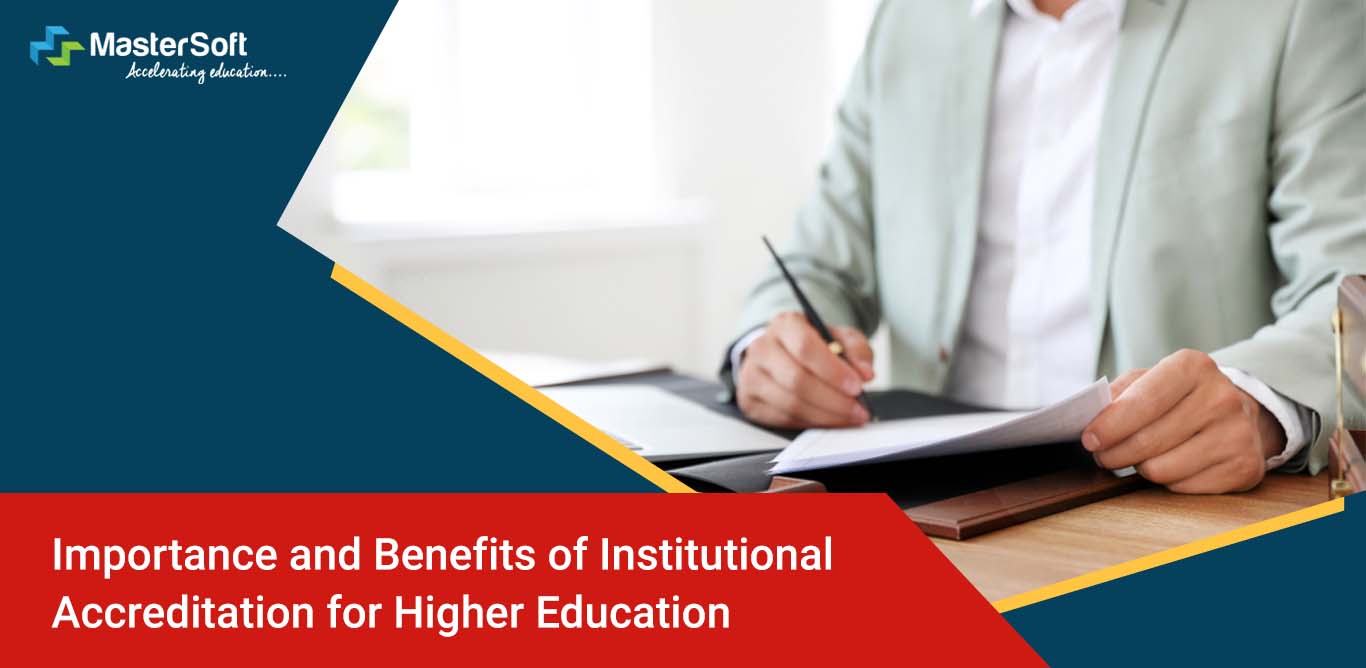 Updated On |
18

,November 2021
The fundamental goal of any educational institution is to provide quality education & state-of-the-art facilities to students & help them build new skills that would help in shaping their careers. And the first step towards ensuring that institutions are working in synchronization with the primary goal is getting "Accreditation" from reputed agencies like NBA/NAAC, and others. Accreditation helps in protecting the interests of all the stakeholders - students, faculty, parents, and educators by mapping & evaluating the overall institutional performance on the basis of the programs offered.
Let us understand step by step what accreditation actually means, why it is important, and what benefits it has to offer…
What is Accreditation?
Accreditation can be defined as a quality assurance process that helps educational institutions to attain their academic goals by meeting the guidelines & standards set by accreditation granting agencies such as National Assessment and Accreditation Council (NAAC)/National Board of Accreditation (NBA) etc. Educational institutions have to undergo an extensive process that requires them to successfully pass the quality checks in terms of managing accurate institutional data, designing courses, carrying out assessments to evaluate & enhance students' performance, provide top-class facilities, etc.
For instance, if an institution aims at getting NBA accreditation, then it must meet the operational standards & guidelines set by the NBA. NBA committee members will review the programs, crucial institutional information, data & compliance reports of the institution and, if they find them satisfactory enough to match their standards, they will grant accreditation!
Importance of Institutional Accreditation
Institutions have to go through a standard process to reach the end goal of getting accredited. Usually, the course accreditation process comprises the following steps:
Peer Review
Visit and Examination
Final Decision
For the peer review process, institutions need to compile institutional data from the past few years & prepare and submit error-free compliance reports. Satisfactory reports lead to the next step where the institution qualifies for accreditation committee visit. The committee checks whether the parameters mentioned in the reports are met by verifying the necessary proofs and documents & then a decision to provide accreditation or not is made. So, the accreditation process empowers higher educational institutions by helping them to analyze their loopholes, improve their academic structure, work on it, and gain trust amongst individuals. It provides institutions an opportunity to design their education and head in the direction of continuous improvement. Therefore, accreditation is extremely important.
Benefits of Institutional Accreditation for Higher Education
Accreditation can prominently help in achieving the following key parameters.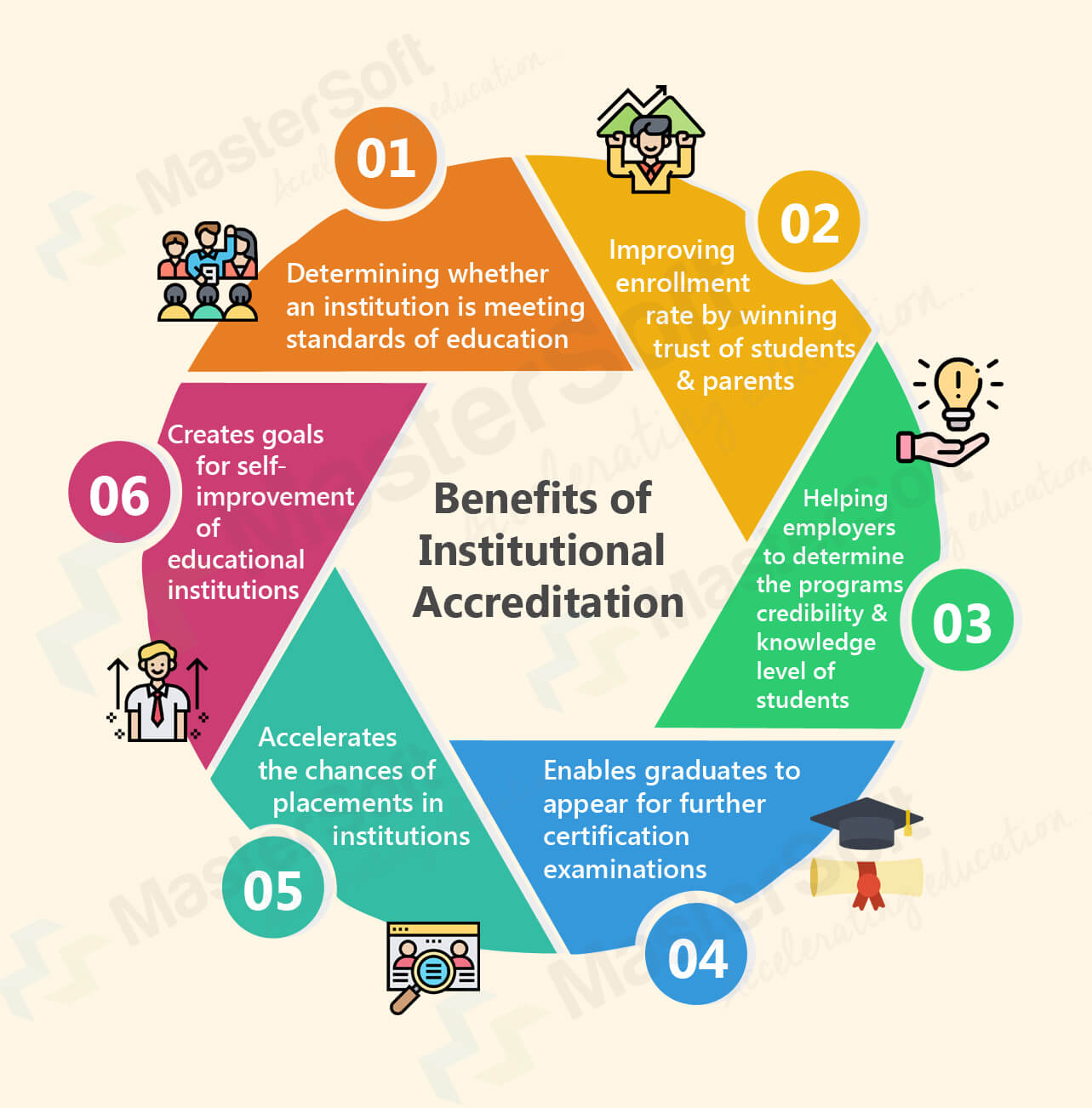 Determining whether an institution is meeting standards of education
Improving enrollment rate by winning trust of students & parents
Helping employers to determine the programs credibility & knowledge level of students
Enables graduates to appear for further certification examinations
Accelerates the chances of placements in institutions
Creates goals for self-improvement of educational institutions
Higher education accreditation management is not an easy process. It takes effort, time, and proper data management to pass the litmus test. And to be honest, it can multiply the workload of faculty members by 10 times and still the accuracy of reports will be a point of doubt due to manual data management.
"Quality is never an accident; it is always the result of intelligent effort", seems absolutely apt when we talk about ensuring quality. An accreditation data management system can be the best solution for institutions looking for an automation solution for management of data. It can help institutions enhance their quality of education by helping them compile & manage vast institutional data & prepare accurate reports to get ready for the accreditation from globally recognized agencies. With an ADMS, institutions can easily ensure best practices , John Ruskin
How can MasterSoft help Institutions with Accreditation Data Management?
MasterSoft ERP solutions offer one of the most trusted software for institutes to prepare themselves for Accreditations by enabling them to update the data required for accreditation on a regular basis. Further, it helps them in the generation of compliance related reports and proves to be extremely useful for Affiliated and Autonomous colleges and universities.
Benefits of an Accreditation Data Management System
Data security- It gives role-based access to the faculty members and stakeholders for ensuring data privacy and secure data backup provision.
Report Generation- It generates reports based on the required accreditation format with high accuracy.
System analysis- It gives complete insights of the process and gives a notification to the coordinators regarding the audit log.
Disclaimer
This publication, and the contents herein, introduces overall features of the Accreditation Data Management System developed and owned by the MasterSoft ERP Solutions Private Limited, however, the access to the same shall be limited to the features opted by its Users. It shall be understood that the System shall be modified from time to time by the MasterSoft ERP Solutions Private Limited as and when found necessary, and such modifications shall be made available, automatically and mandatorily, to the Users.
The Accreditation Data Management System allows the Institutes to assimilate Campus Data in one Central Database, and generates various Reports that may be helpful in the accreditation process. However, it does not calculate/estimate/speculate the accreditation or ranking scores, and it shall not be implied in any manner that we claim to improve the accreditation score or ranking of the Institutes.
MasterSoft ERP Solutions Private Limited is not associated with the NAAC, and no part of the contents published herein intend to imply the same. Any part of such contents, if found to be similar to or suggestive towards the material featured on the official Website of the NAAC, is to be treated as having been sourced from the said Website; and MasterSoft ERP Solutions Private Limited claims no ownership or interest over the said information.
We declare that every such information is published in consonance with the Copyright Policy of the NAAC as stipulated on its official Website, and that we have no intention to dilute the accuracy of or to derogate the said material. We also affirm that no part of the contents published herein infringe Copyright(s) of any third party(ies).
We urge all the readers of our publications to honour the esteem of NAAC, and the sacrosanct information published by it in public interest.
Read more