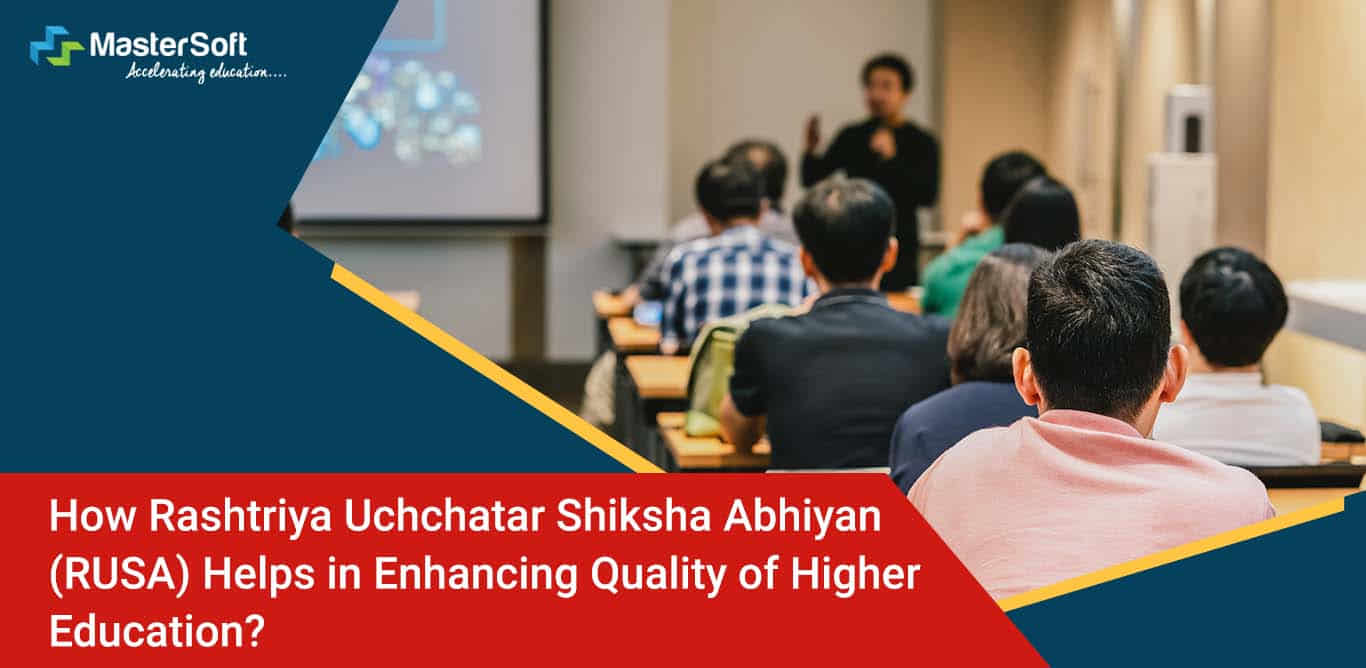 What is RUSA ?
The Rashtriya Uchchatar Shiksha Abhiyan (RUSA) is the federal government's initiative to develop the potential of India's vast network of state universities. The nation's future depends on equipping these institutions with all they need to improve student learning outcomes, development, and innovative thinking. RUSA, a federally funded program, recognizes that life's most essential skills are sometimes taught beyond the four walls of the classroom.
This initiative emphasizes that every institution can benefit lives via top-notch education, whether it is implementing higher education ERP , improving libraries (implementing library management systems) or laboratories, supporting independent colleges, or grouping them to integrate their potential and establish cluster universities.
What are the Objectives of RUSA?
The Indian government seeks to enhance the value of state colleges and universities, as well as to strengthen their current skills, for them to become demand-driven, vibrant, productive, and quality-conscious.
Here are the major objectives of the RUSA Project:
Enhance the overall performance of state institutions by guaranteeing compliance with established principles and regulations and implementing accreditation as a mandated quality assurance system.
Create a supportive administrative framework for organizing and supervising at the state level, promote autonomy in State Universities, and improve administration in organizations to welcome revolutionary changes in the state higher education system.
Ensure that improvements are implemented in the affiliation, academic, and examination systems.
Ensure appropriate availability of competent professors in all higher education institutions, as well as institutional capacity at all employment levels.
Make it possible for higher education institutions to commit themselves to technology and development by creating a conducive environment.
To meet enrollment objectives, increase the institutional base by increasing capacity to current institutions and introducing ones.
Address regional gaps in access to higher education by establishing universities in rural and underserved communities.
Promote equality in higher education by offering enough chances for higher education to SC/STs and other socially and educationally disadvantaged groups
Encourage the participation of women, minorities, and differently-abled people.
What is RUSA Funding?
RUSA provides state higher education institutes with strategic funding. This funding is norm-based and outcome-based. The fund is divided in the ratio of 90:10 for special category states, 60:40 for the general category states, and 100% for the Union Territories. Before reaching the eligible institutions, the funds need to be passed from the central ministry through state governments and union territories to the state higher education council. State Higher Education Plans describing each state's strategy for addressing the excellence in higher education and issues of equity, would be used to determine how much money each state would receive.
What are the Eligibility Criteria for RUSA Funding?
Here are the eligibility criteria to get RUSA funding –
The colleges of any discipline under the Section 2(f) of the UGC Act are eligible for the funds.
At least 10 years of active administration is required.
The colleges must have grade A of NAAC accreditation or a good NBA score.
The status of accreditation must be relevant at the time of registration.
The universities should comply with this eligibility condition for 5 years of the notification of these regulations.
Independent accreditation from a NAAC/NBA/UGC-approved accrediting body is required to be regarded as eligible.
How can MasterSoft Assist you in Strengthening Your Institution?
MasterSoft helps colleges and universities to automate all academic & non academic processes of an educational institute and ensures transparency across all departments. Being equipped with ICT Tools not only improve efficiency but are tremendously essential for futuristic organizations striving to adopt Autonomy, Choice Based Credit System, Outcome Based Education Practices, Interdisciplinary & Multidisciplinary Learning. MasterSoft helps streamline your regular activities and enables you to adopt newer policies with the support of a strong Tech Backbone.
MaterSoft's Accreditation Data Management System helps institutions record, manage and compile Year on Year Data thus, simplify and systematize your journey to accreditation. ADMS assists you in the following ways –
Data fetching from ERP software
Auto-generated 100% accurate compliance reports
Data management in chronological order
Mianatinence of supporting documents & evidence for accreditation
AI-powered analytics for better insights
What are the Components of RUSA?
RUSA proposes to establish new universities by upgrading current autonomous colleges and converting institutions into clusters. It would establish new concept degree colleges and specialized colleges, as well as support infrastructure for colleges and universities.
The system also includes faculty recruiting assistance, faculty enhancement initiatives, and leadership training for school administrators. The old core plan of Polytechnics has been merged under RUSA to improve skill development. RUSA also has a distinct element to hybridize vocational courses with higher education.
Aside from these, RUSA promotes reforming, reorganizing, and strengthening institutions in member governments. The following are the primary components of RUSA –
Upgrading existing colleges into universities
Merging colleges into cluster universities
Infrastructure grants to universities
New Model Colleges (General and Professional)
Upgrading existing degree colleges to model colleges
Infrastructure grants to colleges
Research, innovation, and quality improvement
Equity initiatives
Faculty Recruitment Support
Faculty improvements
Vocationalisation of Higher Education
Leadership Development of Educational Administrators
Institutional restructuring & reforms
Capacity building & preparation, data collection & planning
What are the Principles of RUSA?
1. Focus on Quality and Research
RUSA works to improve the quality of the state's higher education institutions. The goal is to provide everyone with equal access to high-quality higher education. States must guarantee that all of their universities embrace NAAC accreditation as the necessary quality assurance system, while also working to improve general educational excellence through improvements.
2. Norm-Based and Outcome-Dependent Funding
The financing under RUSA is norm-based, and future grants are outcome-dependent. The central financing is strategic and based on SHEPs, which serve as a baseline by which a state's and institutions' progress is assessed. Future financing is determined by prior accomplishments and the use of resources reported to the MHRD.
3. Incentivizing and Disincentivizing
RUSA both incentivizes and demotivates state acts. Non-performance or non-fulfillment of conditions and norms encourages lower funding for states and institutions. This is done to ensure that the program is not just demand-driven but also viable. States and institutions are urged to compete for the advantages of formulaic funding based on competition.
4. Apolitical Decision Making
Another core RUSA principle is that decisions are made in an unbiased, apolitical, and professional way, based on SHEPs and state performance on set metrics. The decision-making process and its outcome are honest and transparent, and the approaches are unbiased. States are required to develop and implement governance improvements with the same impartial, apolitical, and professional approach. To properly execute these changes, public university leadership roles should be selected on the following basis -
Autonomy
Revisiting the acts
Streamlining the recruitment process
Membership of governing bodies
Institutional leadership
5. Disclosure-Based Governance
Institutions must implement disclosure-based administration when it comes to their operations and results. RUSA envisions a more active role for all stakeholders, with institutions accountable not just to regulators but also to students, parents, and society. The first step in developing such a higher education system is to adopt a policy of full transparency and transparent administration.
6. Equity-Based Development
At both the governmental and institutional levels, equity-based development projects must be an integral element of any growth or growth prospects. Any expansion of higher education must provide equitable opportunity for women, underprivileged groups, and those with disabilities.
In addition, redevelopment must place a larger emphasis on rural and tribal communities. When determining quotas, the plan assessment process would consider this.
What are the Functions of RUSA?
Monitor flow of funds and information
Appraise State Higher Education Plans and engage with SHECs
Engage with MIS provider to plan, coordinate and manage MIS
Generate MIS reports as required
Provide all operational, technical, logistical, and managerial support to NMA, PAB, and National Project Directorate
Conduct evaluation studies
Appoint consultants for project monitoring, designing, technical inputs, and any other purpose and a period and on such conditions of engagements as deemed necessary
Appraisal of DPRs of the States and recommending to Central Government for release of funds on that basis
Monitoring and Evaluation of Fund Utilization by the States on achievement of physical and financial targets against timelines.
Connect with our Technical & Academic Experts to more !
The fastest, easiest, and most reliable educational ERP system to meet the needs of your institution.
Connect with our experts for a gap analysis.
Mobile: 08448010216
Email: janki.somani@iitms.co.in
Disclaimer
This publication, and the contents herein, introduces overall features of the Accreditation Data Management System developed and owned by the MasterSoft ERP Solutions Private Limited, however, the access to the same shall be limited to the features opted by its Users. It shall be understood that the System shall be modified from time to time by the MasterSoft ERP Solutions Private Limited as and when found necessary, and such modifications shall be made available, automatically and mandatorily, to the Users.
The Accreditation Data Management System allows the Institutes to assimilate Campus Data in one Central Database, and generates various Reports that may be helpful in the accreditation process. However, it does not calculate/estimate/speculate the accreditation or ranking scores, and it shall not be implied in any manner that we claim to improve the accreditation score or ranking of the Institutes.
MasterSoft ERP Solutions Private Limited is not associated with the NAAC, and no part of the contents published herein intend to imply the same. Any part of such contents, if found to be similar to or suggestive towards the material featured on the official Website of the NAAC, is to be treated as having been sourced from the said Website; and MasterSoft ERP Solutions Private Limited claims no ownership or interest over the said information.
We declare that every such information is published in consonance with the Copyright Policy of the NAAC as stipulated on its official Website, and that we have no intention to dilute the accuracy of or to derogate the said material. We also affirm that no part of the contents published herein infringe Copyright(s) of any third party(ies).
We urge all the readers of our publications to honour the esteem of NAAC, and the sacrosanct information published by it in public interest.
Read more