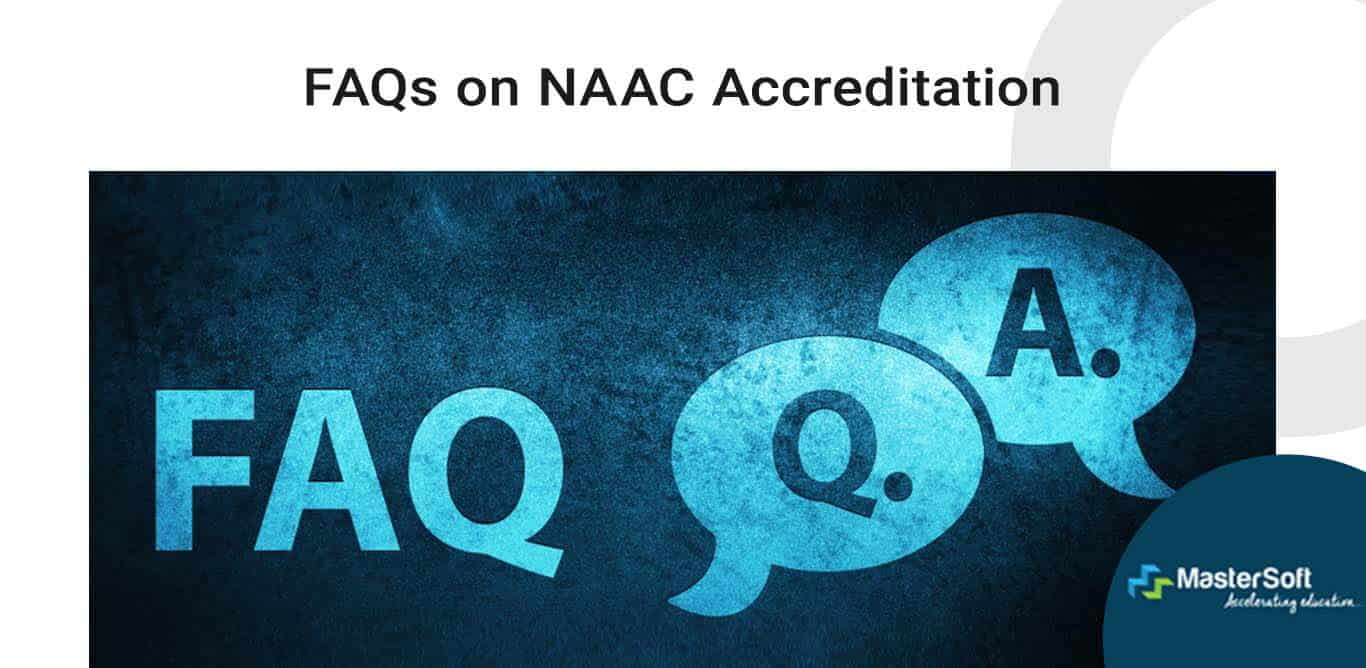 When it comes to the "NAAC Accreditation", educators & faculty, especially the ones who are new and trying to attain the NAAC certificate, have some most frequently asked questions (FAQs).
If you are probably one of the educators serious about NAAC accreditation, I am sure you might have searched a lot of content on the internet till now. And even after that you haven't got any satisfactory answers and probably that's why you landed here.
Well, we have good news for you!
MasterSoft, being one of the largest & oldest edTech companies in India brings to you the highly talented & eminent personality - Prof. Dr. A. S. Rao, Former Academic Consultant, NAAC. We had arranged a webinar on NAAC and received responses from thousands of educators. In this blog, you will get the excerpts from the webinar where - Dr. A. S. Rao addressed the most frequently asked questions on NAAC accreditation. We are sure that it will help you gain authentic information without any hassles.
Most Frequently Asked Questions on NAAC Accreditation
Q1: How can we improve the quality of teaching in education?
Ans: You need to stay focused and consistently evaluate the current teaching-learning methodologies & their results. You need to incorporate –
Strong pedagogy
Enriched, valuable & relevant content
Innovative practices-in-teaching
Continuous evaluation of teaching strategies
Scrutinizing students' performances
Try to develop a quality culture
Over a while, you will automatically see an improved quality of education.
Q2: What are the benchmarks for each metric under various NAAC criteria to achieve A+ and above NAAC score?
Ans: Well, that's a great question. It will help most of the educators & faculty to understand the best practices for achieving the highest score in NAAC. Here are my top 3 tips to achieve an A+ NAAC score –
Strive to achieve excellence in education
Compare yourself with the performance best colleges in your neighborhood
Have quality consciousness in every activity you do
Q3: What quality parameters to focus upon in this online mode of the teaching-learning process?
Ans: There are various quality parameters that you need to focus on while managing online teaching-learning processes. The most vital parameters include – Target group, suitability of course materials, duration, the attention span of students, internet access, technology support, use of quality e-content, and delivery.
Q4: What are the key areas to concentrate upon to show improvement in successive accreditation?
Ans: NAAC insists higher educational institutions (HEIs) show progressive improvement in quality from cycle-1 to cycle-2 and in subsequent cycles - annual quality assurance report has to be sent every year online. Institutions must also try to implement 10 recommendations suggested by NAAC peer team members during their visit to the college.
Q5: What is the eligibility criterion of higher education institutions to achieve NAAC?
Ans:The basic eligibility criterion is - 6 years of existence or two batches of graduates whichever is earlier as per UGC guidelines. For more details, you can check our complete guide to NAAC Accreditation.
Q6: How to manage a website for uploading NAAC data?
Ans: Here's how you can upload NAAC data easily-
A) Your data is more than 5 MB, upload the same on the college website and provide a link to NAAC.
B) If the institutional data is less than 5MB for each metric, you can directly upload it on the NAAC portal.
Q7: Can you explain what is IQAC & its role?
Ans: As this is one of the most asked queries, we have drafted a well-researched blog that can help you resolve everything related to IQAC. You must read our detailed blog on IQAC and its role on NAAC Accreditation for getting complete clarity.
Q8: Could you please explain regarding DVV process?
Ans: The QnM responses /evidence/supporting documents of HEIs are subjected to rigorous data verification and validation process at NAAC. Soon after the DVV process, an assessment is conducted for QnMs.
Q9: How to improve funding through consultancies in academic institutions?
Ans: Explore possibilities or the demand for your services. You have to use your expertise/experience and generate money out of consultancy!
Q10: How to prepare policy documents and benchmarking?
Ans: Benchmarking is relational i.e. look at quality standards adopted in best neighboring colleges. Faculty must focus on activities such as research ethics, code of conduct for teaching/non-teaching staff to prepare policy documents.
Q11: What is the role of the librarian in NAAC?
Ans: Library is a resource center for teachers/students/research scholars. Librarian plays a crucial role in helping teachers/students to find required information/data from various sources available in the library.
Q12: What are the criticalities in NAAC Accreditation?
Preparing self-study report based on manual, SOP, providing accurate data/relevant documents and submitting to NAAC online and following timelines.
Q13: How can we improve the student's placements in the campus?
Ans: This is a great question & can help improve placements in colleges. You can follow the given tips:
First & foremost, establish placement cell
Give wider publicity to students about available placement opportunities /job requirements
Do networking with companies/industries
Invite them for campus recruitment or request for off-campus recruitment
Collect package details, company requirements, job profile & pass valid information to students
Q14: What is the main expectation of the NAAC peer team?
Ans: The following list depicts the main expectations of the NAAC peer team.
Accurate data shared by the institutions
High performance of institutional faculty & learning outcomes
Efforts of the institution to achieve very high quality of work in all areas of operation
Q15: How to score good marks during the student satisfaction survey?
Ans: If you aim for all the students who respond to the survey to give a favorable response about teaching & learning practices, try to enhance the overall campus experience by providing the best facilities.
If you have more queries, do get in touch with us. We will try to address them in upcoming webinar sessions.