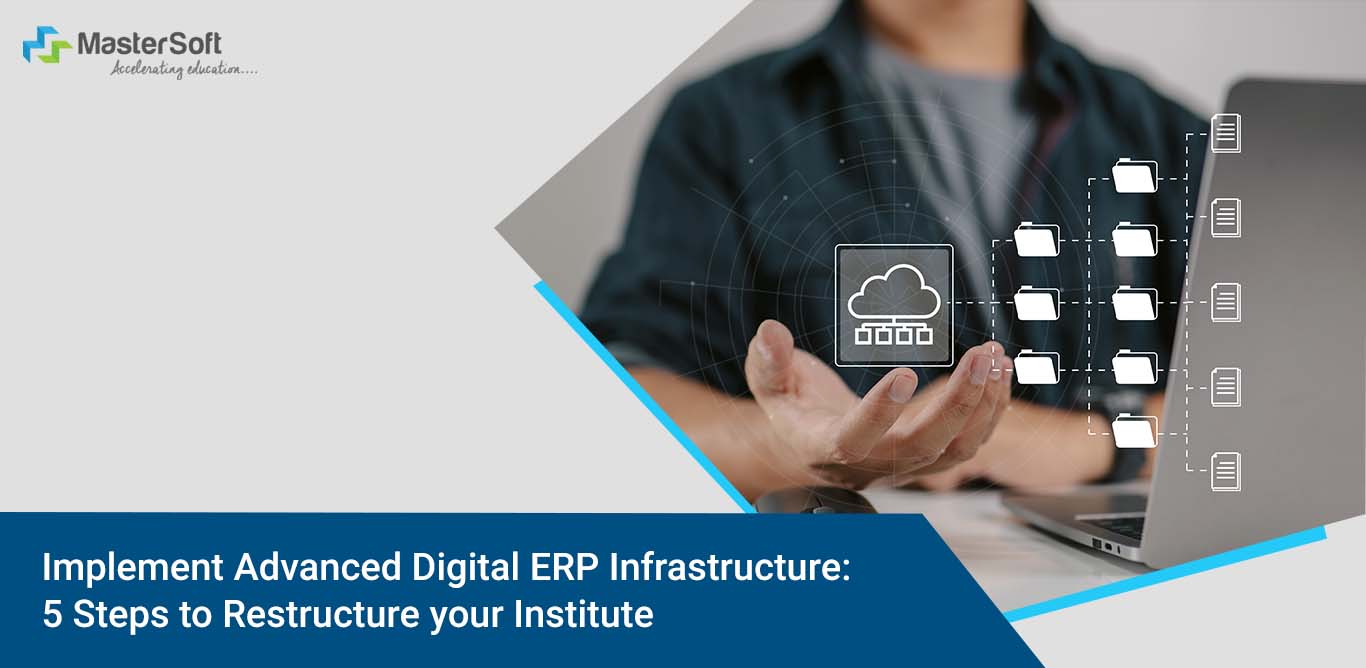 The education industry is highly dynamic in nature and has witnessed significant changes in the past few years. The COVID-19 outbreak was one such incident which completely revolutionized the education sector with schools and colleges closed in order to curb the spread of pandemic. The life of the students was considerably affected as they were unable to attend offline lectures. This created an impetus to remote teaching and learning. The digital transformation is likely to be considered as the norm in the post-pandemic world. Teachers are learning how to incorporate computers and mobile devices to teach and conduct tests. The outbreak of COVID-19 prompted the universities to implement digital solutions, such as a cloud-based ERP software which automates all the operations of a school.
Some of the key benefits of implementing ERP solutions are as follows:
Easy Centralization of Data
Universities and educational institutions are required to gather, store, and analyze a significant amount of data, which includes student information. Many colleges have already adopted a paperless approach by digitizing their data via excel sheets or similar tools. However, these tools are not as efficient and can result in duplication or missing data. With an ERP solution, one can bring much higher efficiencies across all the departments. Also, the data can be updated in real-time by students, teachers, and office staff and can be easily accessed from anywhere.
Simplification of Data Gathering
With an ERP software, one can provide students the convenience of submitting assignments and homework online without a lot of bottlenecks. Also, it can easily carry out tasks such as fee payment, student admission, course enrolments, and registrations faster and with more convenience. In addition to eliminating paperwork, the institute can significantly cut down mailing and human labor costs. Moreover, educational ERP software is equipped with online payment gateways which further makes an institution's accounting more sophisticated and streamlined.
Better Resource Management
An ERP software enables one to track inventory and resource usage and thus keeps a real-time overview on the finances. Creating reports has become easier as well as the transparency has improved. Also, modern ERP software can optimize the operations of a university with fewer human labor, thus significantly saving time and money. Here, the resource is effectively managed. The teachers can save their time in attendance and making notes, and can put more time in improving teaching-learning collaboration with students.
Managing an educational institute is a complex task which requires a large workforce and high costs. The right ERP solutions can effectively simplify and improve the day-to-day operations.
Below are the 5 steps to restructure your institute by adopting a suitable advanced ERP solution to cater to changing needs of education sector:
1. Brainstorming Sessions
Universities should first brainstorm before they begin the deployment of the most ideal educational ERP solution. As remote learning is taking a hold in many schools and colleges, there are many companies who have started offering smart ERP solutions. It is advisable to evaluate the challenges that the administration of the educational institutions face on a daily basis as the needs of every college are different. By understanding the objectives and solutions for the academic and non-academic operations, implementation of a suitable ERP system becomes easier. Also, student activities, data security, transparency, should be considered.
2. Selecting a Suitable ERP Vendor
As the needs of every school and college are different, it is essential to choose a specific ERP vendor who can evaluate the institute requirement and offer configurable software. The vendor must be selected carefully on the basis of cost, reliability, transparency, data security, software maintenance, etc. Also, an all-inclusive support to the management is another key factor which needs to be considered. It is ideal to check all the provisions of the ERP software. For instance, during the pandemic, the school authorities were required to go for an ERP solution which consists of online fee and admission management system.
3. Training of Staff
Digitizing the entire campus can be daunting when the school authorities are not well-versed with new technology and with the proper usage of the ERP software. The institute staff should aggressively invest in training their faculty and admin staff to ensure smooth and seamless ERP software deployment. Staff training with required technical skills effectively boosts productivity and efficiency which thereby enables in delivering better learning results. By providing required training, teachers can effectively use the software to their advantage and plan their activities to improve the overall teaching process.
4. Testing Requires Thorough Planning
An ERP software mandates Quality Assurance before going live. Thorough planning is essential for identifying and discarding the bugs which can result in disruptions. A cloud-based ERP software incorporates various configurations, which is vital for the staff to check the functionalities beforehand and not get the functionality fixed after the software has been implemented. The ERP and functionality testing further includes performance testing and integration to solve issues and bugs which can affect the user's activities.
5. Go Live and Focus on After-Implementation Support
If the institute employs a robust ERP software, it will require an affordable budget and extensive planning. It is ideal if the university has ensured that the software implementation takes place smoothly and fulfills all the objectives and requirements of the educational institution. A strong support is required from the project management team when the ERP software goes live and the users such as students, teachers, etc. start using it. The post implementation support is required to have a formal structure and should be pre-decided prior to accepting the solution. When a school or college decides to focus on system's upgradation in the coming few months or years, there is even a stronger need for post-implementation support.
With the upliftment of the pandemic, the schools and colleges are being reopened which are creating challenges for the universities to manage academic and administrative operations. In order to smoothen and simplify the day-to-day activities, educational institutes are looking for digitizing the campus operations. Here, an advanced digital ERP infrastructure comes into picture which helps in optimizing the remote learning process. The cloud-based ERP is enabling the educators to leverage the technology of virtual mode effortlessly and reshape the education sector. The paradigm shift towards online learning from traditional classroom learning enables schools and colleges to ramp up digitization by adopting advanced ERP solutions.
Looking for a cloud-based ERP solution that you can trust?
Check out MasterSoft's advanced ERP solution for high performance and functioning.
Email: janki.somani@iitms.co.in
India's most Trusted ICT Enablement Partner
2200+


Successful Implements
100+


Autonomous Institutions