The pursuit of autonomy has recently emerged as a fundamental objective for educational institutions worldwide. Autonomous institutions possess the freedom to shape their curriculum, define admission criteria, and manage their finances independently.
Nevertheless, achieving autonomy is a multifaceted journey that requires a seamless transition from traditional administrative processes to modern, efficient systems. Mastersoft, a pioneering Enterprise Resource Planning (ERP) company specialising in educational solutions, plays a pivotal role in this transformation.
With a comprehensive ERP system, a Learning Management System (LMS), a Student Information System (SIS), and an HR Management System (HRMS), Mastersoft has been a catalyst for educational institutions seeking to streamline administrative processes and attain autonomy.
Navigating The Path To Autonomy: A Step-By-Step Guide With MasterSoft
The Autonomous Journey: Transitioning to Excellence
Autonomy is not merely a goal; it's a journey towards institutional excellence. As institutions embrace the pursuit of autonomy, they must navigate a path filled with intricacies, regulations, and the need for seamless administration.
Mastersoft's vision for supporting autonomous institutions revolves around guiding them through this journey, simplifying complex processes, and ensuring long-term success.
Empowering Autonomy: Mastersoft's Long-Term Vision
Mastersoft's long-term vision is a testament to its commitment to helping autonomous institutions evolve in the ever-changing educational landscape.
Key Elements that Make Mastersoft's Vision Stand out in this Transformative Era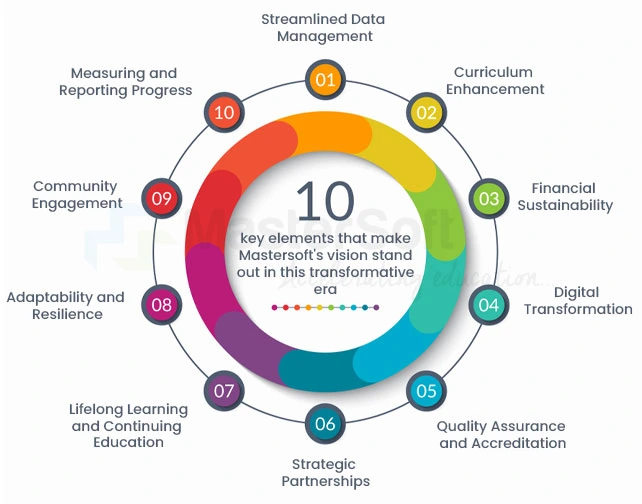 1. Streamlined Data Management
Data is the backbone of informed decision-making in autonomous institutions. Mastersoft's vision begins with streamlining data management, offering a comprehensive education ERP systems for collecting, processing, and leveraging data from various sources.
From student records to financial data and performance metrics, this data-driven approach allows institutions to monitor their progress, identify areas for improvement, and make evidence-based decisions.
2. Curriculum Enhancement
Flexibility and autonomy require a constant commitment to curriculum enhancement. Mastersoft's vision acknowledges this necessity and provides innovative tools and consulting services to assist institutions in redefining their academic programs.
These ERP system tools enable institutions to adapt to changing pedagogical trends, embrace technology, and create a dynamic learning environment that benefits both students and faculty.
3. Financial Sustainability
Maintaining financial sustainability is a crucial aspect of Mastersoft's vision. Autonomy often comes with financial responsibilities and challenges. Mastersoft offers robust financial management ERP systems to help institutions maintain transparency, allocate resources effectively, and optimise their budgets. This financial stability is vital for implementing long-term strategic plans.
4. Digital Transformation
The digital transformation of educational institutions is no longer optional but a necessity. Mastersoft's vision revolves around embracing technology as a means to achieve efficiency and innovation. They offer cutting-edge ERP systems for digitising administrative processes, improving communication, and enhancing the overall educational experience.
Mastersoft's tools, such as learning management systems, student portals, student information systems, HR management systems, and related administrative software, enable institutions to stay at the forefront of the digital age.
5. Quality Assurance and Accreditation
Maintaining high standards of quality and achieving accreditation are fundamental aspects of Mastersoft's vision. They assist institutions in developing quality assurance mechanisms to meet national and international standards.
Mastersoft also provides support in preparing for accreditation processes, making it easier for institutions to prove their commitment to excellence and attract students and funding.
6. Strategic Partnerships
Collaboration is key to success in the modern education landscape. Mastersoft's vision encourages institutions to form strategic partnerships with other educational organisations, businesses, and government bodies.
These partnerships can help institutions gain access to resources, expertise, and opportunities that they might not have on their own. Mastersoft facilitates the process of forming and maintaining these partnerships, fostering a dynamic and interconnected educational ecosystem.
7. Lifelong Learning and Continuing Education
The concept of lifelong learning has gained prominence in recent years, and it's a fundamental part of Mastersoft's long-term vision for autonomous institutions. They help institutions establish programs and platforms that cater to individuals seeking continuous learning and skill development.
By offering continuing education, institutions not only serve a broader demographic but also diversify their revenue streams, contributing to long-term sustainability.
8. Adaptability and Resilience
Autonomous institutions must be adaptable and resilient to navigate the uncertainties of the future. Mastersoft's vision promotes the development of an institutional culture that embraces change, anticipates challenges, and responds proactively.
Through training, consulting, and support, Mastersoft empowers institutions to develop the adaptability and resilience needed to thrive in an ever-changing educational landscape.
9. Community Engagement
Building strong relationships with the local and global community is another vital element of Mastersoft's vision. Engaging with the community fosters a sense of belonging and relevance, which is crucial for an institution's long-term success.
Mastersoft assists autonomous institutions in developing community outreach programs, fostering partnerships with local businesses, and creating initiatives that contribute to societal development.
10. Measuring and Reporting Progress
Mastersoft's long-term vision is grounded in the idea that progress needs to be measurable and reported. To achieve this, they offer advanced analytics and reporting tools that help institutions track their performance against established goals and benchmarks.
Regular reporting not only aids in accountability but also guides the institution towards making data-driven improvements.
Customising Your Education Management System For Specific Needs
MasterSoft offers various ERP systems to aid autonomous institutions in their day-to-day administrative operations, which include:
Learning Management System:
Mastersoft's Learning Management System (LMS) software fosters a dynamic and interactive digital learning environment, a crucial aspect for institutions on the path to autonomy.
The LMS Software streamlines the management and delivery of course content, assessments, and resources. This ensures students receive a high-quality education.
Moreover, the learning management system provides in-depth analytics on student performance, enabling data-driven decisions to enhance teaching and learning strategies-essential for institutions striving for autonomy.
Student Information System:
MasterSoft's Student Information System simplifies the admissions system with online forms, document verification, and fee collection, easing administrative bottlenecks.
The Student Information System centralises academic record management, including records, attendance tracking, and assessments—crucial for regulatory compliance on the path to autonomy.
It further offers effective communication among students, parents, and faculty by providing notifications, alerts, and auto-generated messaging systems.
The Student Information System empowers institutions with vital data, accelerating their journey towards autonomy.
HR Management System:
MasterSoft's HR Management System optimises recruitment, payroll, attendance, and performance evaluation. This ensures institutions can fine-tune their workforce a crucial dimension of autonomy.
The HR module within the HR Management System helps institutions adhere to labour laws and regulations. This is essential for minimising the risk of non-compliance, a critical element of the autonomy journey.
With the HR Management System, institutions gain data-driven insights, empowering them to navigate their autonomy journey efficiently.
Also, the HR Management System streamlines HR processes, leading to increased efficiency, a significant aspect of institutional autonomy.
Summing Up,
The success of autonomous institutions depends on their ability to adapt, innovate, and ensure quality and relevance. Mastersoft's long-term vision for supporting autonomous institutions encompasses a comprehensive range of ERP systems and tools aimed at fulfilling these objectives. It empowers autonomous institutions to thrive and lead in the dynamic world of education.
With their continued commitment to supporting the long-term goals of these institutions, Mastersoft is indeed a valuable partner in the journey towards educational excellence. It has further been instrumental in simplifying administrative processes for educational institutions and helping them achieve their coveted autonomy status.