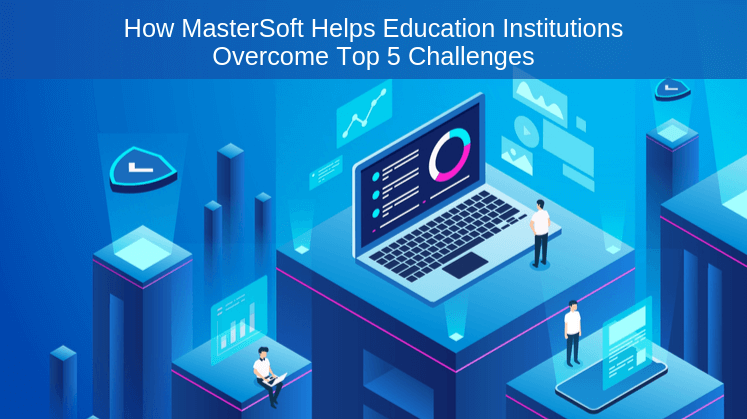 With more than 22 years of experience serving prestigious clients such as NITs, IIITs, and leading autonomous institutions, MasterSoft e-governance ERP has made a mark in the education sector as the best ERP solution provider. It has helped over 2000 institutes to overcome challenges that were responsible for degrading their performance. Being an educator, if you want to know, how MasterSoft ERP can help your institution reach greater heights and tackle the problems restricting the growth of your students, do read the article.
Here's how MasterSoft can help education institutions overcome the top 5 challenges they face…
Greater Productivity
First and foremost challenge that every educator is subjected to face is student data management. Maintaining heaps of papers covering a vast student data, with high precision is indeed a headache, especially when the number of students in an institute is growing with every year. It's not just mentally draining process but also consumes an enormous amount of time of teachers and staff members which they can utilize for teaching and doing other productive tasks.
If you observe closely, even if a teacher dedicates 2 hours (60*2 = 120 minutes) a day for some random paperwork, let's say student data entry, it will consume 120*365 days = 43,800 minutes or 1460 hours in a year!
Wasting precious time over the tasks rather than utilizing them for teaching is surely a bad decision. Understanding and acknowledging the value of time, MasterSoft has designed a campus management ERP system that automates the workflow and streamlines the in-house processes of educational institutions saving countless hours of teachers and boosts their productivity to a great extent!
High Student Success Ratio
For a student, achieving good results is not enough, but performing well and achieving good grades consistently is important. To be honest, student success is directly dependent on the learning environment. A positive learning environment broadens their horizons and helps them pass the academic litmus test. To your surprise, a teacher spends 30%-40% of their time in non-teaching activities such as marking attendance, data entry, preparing timetables, and assigning homework. It's next to impossible for a teacher to monitor the activities, and keep a tab on the track record of every student.
To overcome the hurdle, hardworking professionals at MasterSoft have integrated a smart analytics dashboard in the ERP package. The analytics dashboard is capable of generating accurate reports concerning students' grades, attendance, and extra-curricular activities with mere clicks. Teachers can scrutinize these reports and plan strategies to improve their teaching methodologies and ultimately, the performance of the students.
Better Parental Engagement
Many types of research on children psychology have proven that parental engagement plays a vital role when it comes to student progress. Knowing the fact, working parents still don't get much time to pay attention to children academics. It has been affecting the young minds negatively and has become a major cause of concern for top-notch educators.
To avoid such circumstances, MasterSoft Campus Automation System has introduced a mobile app for educators that help parents collaborate with teachers seamlessly from anywhere. Although busy parents can't visit the institution from time-to-time, they can share their concerns and track children's growth by having a one-to-one discussion with teachers regarding their attendance, grades, behavior, and overall performance.
100% Student Data Security
Next on our list is student data security! Losing out the sensitive student information is probably the worst nightmare of every educator. With MasterSoft Education ERP system embedded with cloud ERP, educators need not worry about data security at all. The Cloud-based ERP system operates on AZURE server, which is one of the leading names when it comes to data security. It collects & saves the data at a centralized location, and uses a layered encryption means of transmission preventing the possibility of hacking and data theft.
In addition to this, it has a role-based access facility that enables the admin to limit the access of information for the staff, teachers, and students. Thus, it completely eradicates the chances of data misuse and assures student data management with 100% security.
Boost Student Retention
Today, there's a plethora of educational institutes that provide top-class learning facilities to students. In such a competitive environment, it's natural for an educator to feel worried about their institution's effectiveness and reputation. Having said that, implementing different software for performing different tasks doesn't seem feasible and not every institute would have a high budget to afford them.
Having spoken to several institutions facing such issue, ERP experts at MasterSoft designed a cost-effective & customizable product with multiple features that allow institutes to work efficiently without having the need to implement different software. Well connected departments in educational institutes that are able to work faster, make smart decisions, and meet students' needs are bound to escalate student retention in the long run. This is exactly what the prestigious clients of MasterSoft Campus Management Software have experienced within a short span of time. The all-in-one package of MasterSoft ERP has proven to have an impeccable impact on student lifecycle and higher retention rate.
MasterSoft's Education Management System provides in-depth assistance to educational institutions for accomplishing their prime goals. Educators looking for a complete, economical, and easy-to-implement ERP solution for escalating student performance and productivity of the institute must give a thought to the product.
Get in touch with our team to schedule a FREE demo today!!