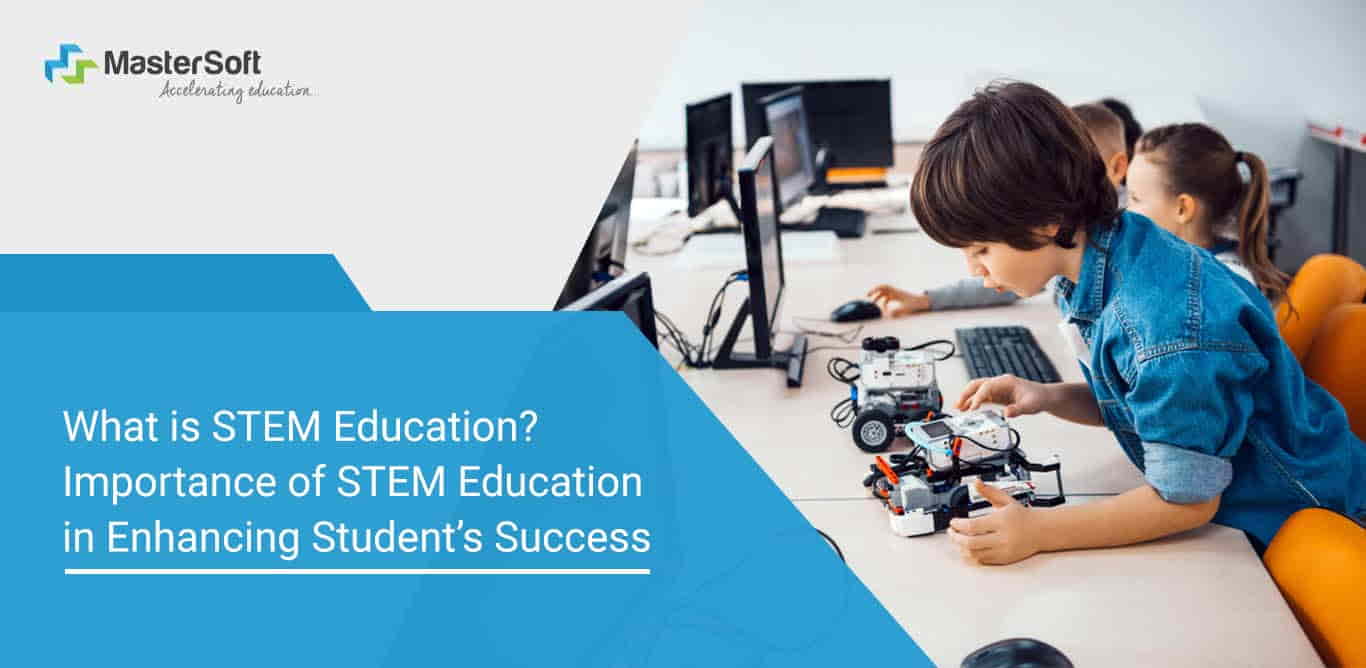 Quality education is undoubtedly one of the strongest pillars that contribute to an individual's growth & success.
But what are the factors that make education "worth pursuing"?
Seymour Papert once quoted -
"The role of the teacher is to create the conditions for invention rather than provide ready-made knowledge."
This is exactly what STEM education focuses on!
"STEM" stands for
Science
Technology
Engineering
Mathematics
All these subjects are taught in such a way that students learn to apply the concept in real-time situations. Thus, it promotes cross-disciplinary education & skill development and lays the ground for students' successful careers.
If you are new to the concept of STEM education and want to understand its importance to enhance students' success, this blog will be your easy guide.
Let's get started.
What Is Microlearning? Examples & Benefits Of Microlearning
What is STEM Education?
As I mentioned, "STEM" education follows a transversal education approach where Science, Technology, Engineering, and Mathematics – all these subjects/courses are taught to develop creativity, critical & logical thinking skills in a student.
The students learn to brainstorm & research the concepts of the classroom to find appropriate solutions in real situations. The most effective way to incorporate STEM is to introduce project-based learning (PBL) where students are asked to work practically on projects.
As an extension to STEM, Technical Vocational Education and Training (TVET) can also be implemented for skill development & creating self-employment opportunities for the learners.
Major Goals & Objectives of STEM Education
Now that you have understood the concept of STEM education, let me help you understand the major goals & objectives of STEM.
Goal #1: Utilization of Information & Insights
STEM aims at enabling students to utilize information & insights on the scientific field, technological area, engineering & mathematics. The concept allows students to explore a wide range of content & projects.
Goal #2: Implementation of the Best Practices
Students must be able to implement the best practices in all the disciplines of STEM. The long-term aim is to develop a stronger aptitude for these four disciplines.
Goal #3: Knowledge Acquisition & Creativity
The students should acquire knowledge in the four STEM areas and become capable of innovating new ideas.
To sum up the three major goals, I would like to quote an example here.
Example: Teachers may ask engineering students to prepare an "L-shaped" wooden tool in the lab. Here, the students may approach the teachers for references. Additionally, they may visit a carpenter to understand the process that goes around creating the tool such as –
Learning about various materials
Choosing the right material
Working on the project
Filing & angle cutting
Finishing the job
This way, students get an opportunity to explore their options by –
RESEARCHING + THINKING + APPLYING = CREATING
Importance of STEM Education
"Why only STEM?"
"Why not any other educational approach?"
"What is the importance of STEM education?"
Such questions are obvious when educators are on a verge of making decisions that could impact your institution. If you are an educator and confused about the same, I would like to showcase some facts & statistics to make your decision easier.
According to Tomorrow's Engineers programme,
"By the year 2024, nearly 2.5 million jobs related to Science, Engineering, Technology, and Research will be available!"
A big figure indeed!
Thus, what you teach your students today can directly impact their careers!
To reduce the gender gap and provide equal opportunities to girls in STEM professions, the internationally renowned organization "UNESCO" is also working towards the goal of implementing STEM education.
If you adopt the STEM education approach, there will be a greater possibility of your students developing skills & getting placed in reputed organizations contributing their mutual growth, irrespective of their gender.
What Is AICTE: Role Of All India Council For Technical Education (AICTE)
Benefits of STEM Education
The following are the top 5 benefits of STEM education.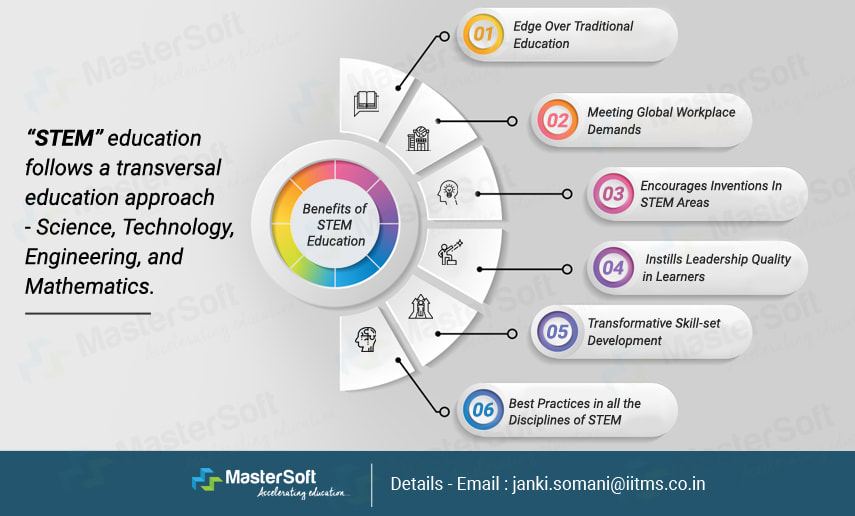 #1: Transformative Skill-set Development
The first & foremost benefit that STEM offers to students is transformative skill-set development. STEM education primarily improves the following skills of students.
| Creativity | |
| --- | --- |
| Logical thinking | |
| Analysis Power | |
| Critical thinking | |
| Teamwork | |
| Innovative mindset | |
#2: Meeting Global Workplace Demands
The acceptance of STEM education is not restricted to India.
It is globally accepted.
A student who has graduated with a STEM approach gets international recognition. He/she can apply for jobs globally since they are capable of meeting the workplace demands.
#3: Edge over Traditional Students
Since STEM focuses on 4 disciplines particularly – the students get an edge over others who have learned from traditional education setup. Most importantly, when a student with STEM applies for a job, chances are he/she will be hired at a relatively better package due to the acquired skill-set.
#4: Inventions in STEM Areas
STEM allows students to learn theoretically as well as practically. Both the aspects help students to reach the highest level of education roadmap i.e. "Invention". STEM enables students to develop an aptitude of a creator.
#5: Instills Leadership Quality
Over a period, students who have taken the STEM approach to become efficient enough to solve any problem. They take challenges as opportunities to grow – whether – professionally or personally.
Thus, it instills leadership quality in the learners.
Components of STEM Education
Problem-Based Learning

In this type of learning, the students collect data, analyze it, come up with scientific explanations and identify the problems to conduct research activities. Further, they develop a prototype to solve the problem and then come up with the best solution for it. This way, students apply mathematics and technology to real-life problems.

Rigorous Learning

Rigorous learning is a way of learning which is applied to the lessons in such a way that it encourages the students to question their assumptions and think deeply. It keeps them away from learning for memorization and recall of information during the exams.

Career, Technology, and Life Skills

This involves making the students skillful in the subjects that they are learning. It puts major emphasis on student learning through projects, internships, and hands-on experiences. It aims towards building critical thinking, collaboration, communication, and creativity among the students.

Personalization of Learning

Personalized learning involves a shift in the methods of instruction from teacher-led classrooms to more student-centered learning. In this, the student has the choice to learn at their pace, choose their subjects, and give exams accordingly.

School Community and Belonging

This type of learning involves students gaining knowledge about giving respect, accepting individuals as they are, and inclusion. It aims to give students the opportunities to share their feelings and experiences with other students and gain perspectives.

Connection to the Broader and External Community

This involves making the students ambitious and outward-looking. The students are given local environment and community organizations as learning resources. The students understand issues in their surroundings and try to solve them.
Improve your Institute's Management along with Teaching- Learning Methods with MasterSoft!
Why is STEM education necessary for the Indian education sector?
Enables better inquisitive mindsets among the students
Encourages critical thinking among them
Helps them to think logically
Enables the students to be better leaders and decision-makers in future
Students are taught skills and professionalism in the early stages of education
How MasterSoft Can Help Your Institution in Adopting STEM Education?
MasterSoft being the oldest & largest education ERP provider understands that STEM education India can –
Bring quality in education
Curb unemployment
Enhance competitiveness
Lead to significant development in the country
Therefore, we, at MasterSoft offer an advanced learning management system (LMS) that could help in enhancing the student skill-set with the integration of the following e-learning modules-
Engaging & interactive online classes provision
Online assessments & tests (MCQs & descriptive exams)
E-content provision for enhancing knowledge
Online communication & collaboration platform for better teamwork
Analytics dashboard for tracking students' progress
100% accurate MIS reports
Whether your institution caters to engineering, mathematics, science field, or another technological area - the learning management system by MasterSoft is equally effective and can be configured with respect to the requirements.
The education ERP solution can be furthermore integrated with other modules such as online admission system, online fees management system, timetable management system, and much more. It will help your faculty & staff to get rid of time-consuming work and streamline daily work processes.
And the result would be - faster work processes, better productivity, enhanced performance of the institution.
FAQs On STEM Education