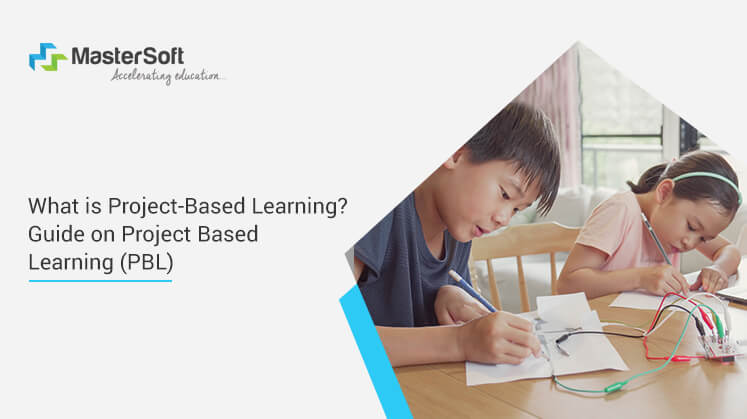 Bob Talbert once quoted -
"Teaching kids to count is fine, but teaching them what counts is best."
I believe it's exactly what needs to be implemented!
There are enough theories that claim to be the best in the market when it comes to the transformational teaching-learning process. However, in reality, all that is being taught in the educational institutions is – old & boring syllabus.
The syllabus speaks of just the theoretical aspects.
The only way to break the old chain is to introduce – "Project-based learning!"
I will explain to you the what, why, how's of project-based learning in detail. Just keep on reading the guide to understanding the entire benefits of project-based learning, along with its real-time examples.
Here's everything you would want to know about project-based learning –
What is Project-Based Learning (PBL)?
Project Based Learning (PBL) is a unique teaching methodology that enhances the overall development of students including their academic knowledge and skills like critical thinking, analytical skills, and much more.
Unlike the traditional teaching-learning process that believes in explaining the theory part of any subject, project-based learning focuses on imparting practical examples by enabling students to solve real-time problems.
Still, confused?
The next section will be helpful!
Examples of Project-Based Learning (PBL)
Let's dive into more details about PBL by understanding some of the examples that depict how it differs from the traditional classroom setting.
I am choosing some of the difficult subjects where students need projects to grasp the concepts well.
CASE #1: Learning Mathematics
Mathematics – this subject still gives me chills whenever I remind myself of the time when I used to get poor grades. Anyways, let's not get into that!
Coming back to my point, mathematics may seem tough to some students. So, instead of writing down formulae on the board and asking students to solve the problems, some other steps can be taken.
As a teacher, you may ask the students to observe a set of different tools like triangle, square, rectangle, and so on. You may ask them to note various angles and then understand how it works. The students need to understand how the formulae are made and then get into the solving part.
This practice will create a better engagement and help them learn mathematics effectively.
CASE #2: Learning Botany
Botany – the study of plants and trees may seem difficult to some students.
I mean, some students may find it boring!
However, to help students learn it well and actively study it to make a good score, you may ask them to visit the garden. Furthermore, ask them to observe various flowers, trees, and plants to understand their shape, properties, and medicinal values.
It would help them enjoy nature as well as clear their concepts!
CASE #3: Learning History
I am yet to find a student who enjoys learning history.
Well, exceptions are many but most students don't like the history subject.
To make it interesting, you may ask students to research freedom fighters and take them for a picnic in ancient historical places.
Similarly, you can arrange some projects for other subjects to create an interesting, effective, and engaging learning session.
Top Benefits of Project-based Learning (PBL)
Now that you have understood the concept and examples of project-based learning, it's time for you to learn the top benefits of project based learning.
1. Multiple Skills Development
The PBL offers numerous opportunities for students to learn & develop new skills that would help them clear their exams as well as make them career-ready.
As a teacher, you get the freedom to upload smart online assessments that would help them grow.
After all, life-long learning is the ultimate aim of education.
2. Student Engagement at its Best
As a teacher, you may be facing issues with student engagement, right?
Engaging students becomes easier with project based learning.
All you need is to implement educational ERP software that helps in implementing the project based learning model.
3. Better Teacher-Student Collaboration & Communication
As a faculty, you get students' support as they would love the way you teach!
This in return can maximize the teaching-learning collaboration & nurture your relationship with your students.
4. Feedback on the Projects
As a faculty, you may arrange a number of projects.
However, it's not necessary that the students would like the projects in terms of its complexity. Sometimes, your project may appear to be too tough.
Here, students can give you feedback about the projects. It makes a new pathway to implement better projects.
5. Immensely Satisfactory Journey
When students enjoy what they are learning, they would enjoy coming to the schools and be happy with every project they get their hands on. It will allow them to stay curious and get into the details of the concept.
Thus, making their learning journey as a student, immensely satisfactory!
Disadvantages of Project Based Learning (PBL)
Now, you might be wondering about the disadvantages of project-based learning. To your surprise, there aren't many in terms of providing "quality education" to students.
However, you may find it difficult to –
Implement project-based learning model
Finding an ERP that would simplify the process
Searching for a reliable technology partner
Uploading simple projects on the portal
Mapping student progress with respect to projects
The solution?
The only solution is to find an edTech provider that would simplify the implementation process and help you establish the project-based earning model.
Get in touch with my team of ERP professionals to get a genuine roadmap on the implementation of project-based learning and educational ERP software.
Let's transform the educational landscape with the best educational technology!