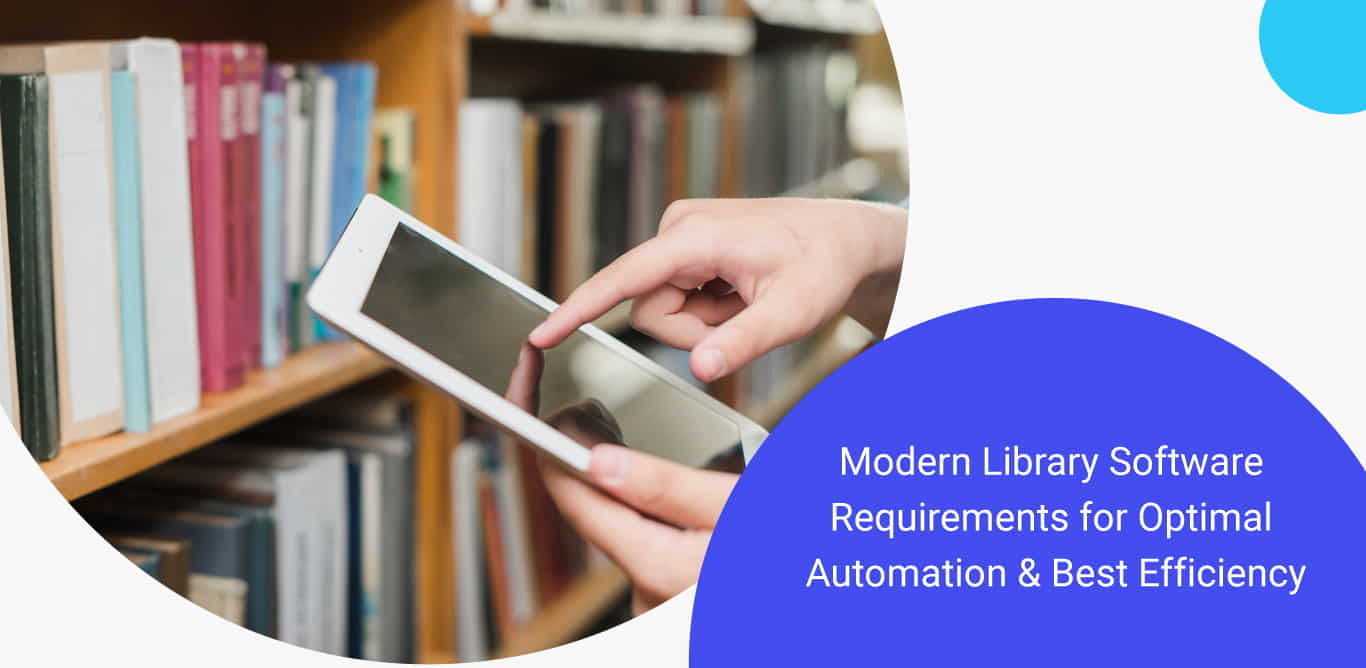 I would like to quote an interesting fact about books-
"There are approximately over 2 million books published every year across the globe!"
Can you believe it?
Well, even I didn't when I first heard it!
And just like food to our body, books are food for our mind and soul!
And the statistics just confirm the same. Be it a school, university, or college – books make a "library" worth-reading is an imperative part of educational institutions, right?
However, do you know that managing books & all sorts of educational documents and material in the library is a draining task?
Right from analyzing the book's requirements - academic & non-academic to selecting the vendor with the best quote to collecting books, adding serial numbers, accessioning, cataloguing, to issuing the books alongside keeping a tab on the due date – everything that goes on in a library - is so effort & time-consuming.
As an educator, you must be aware of the situation already.
This is why, in this blog, I have decided to help you out with modern library software requirements that offer optimal automation to ensure the best efficiency.
Here are the 6 things you need to focus on while choosing library automation software…
#1: User-friendly & Centralized Platform for Systematic Organization
Frankly speaking, library automation software doesn't have a user-friendly interface, there's no point in implementing such a system.
Even when it offers you the "best" features - The user-friendliness of a platform is that important!
Two major reasons –
As an institution, you are opting for a library management system to help your staff work efficiently
Organize & monitor all the library-related books & information systematically for smooth workflow
When you don't have a user-friendly & easy-to-use ERP, you won't be able to achieve these major goals. On the other hand, when these library requirements are met, you will see how much time and effort will reduce dramatically.
Beginning with the basics – the most common feature of library software – book acquisition will help you keep track of all vendors and help you select the best quote. Then, it will prove an efficient tool for proper optimization of workflow & organization of books & other material. Keeping a check on due dates, fines, and return/issue books would be on centralized library software.
#2: Cataloguing, OPAC & M-OPAC Provisions for Easy Search
Once you make sure that the library management software is simple-to-use, the next point of focus should be the cataloguing tool.
Library cataloguing software will serve you with provisions like creating & managing the records of thousands of books, adding serial numbers to books for easy search, and much more.
As a librarian, whenever you want to search for a particular book or a set of books, you just need to add serial numbers or keywords like – title, author's name, ISBN number, book's name, book volume number, and so on. Similarly, students can also go to the library portal and search for books. The software will directly show you the results within a few clicks.
No need to go and manually search the entire library!
In a nutshell, a library cataloguing tool is what you need to integrate for hassle-free data management. To maximize the utility of software, you can further embed an online public access catalog (OPAC). With OPAC management, the restriction of geographical location is eliminated. Anyone can search for books, journals, and e-resources from anywhere via the web!
If you want to go a step further, you can add-on "M-OPAC" - a mobile-based app for book search. It will help you and your students manage things with a smartphone!
It's that simple!
#3: Multi-lingual Support & Services
A library management system backed with multi-lingual support and services can prove to be a boon for library assistant staff members.
Sometimes what happens is – in the absence of a librarian, the assistant staff has to manage the book-related transactions. If they don't get the language correctly, they may make mistakes.
This is why multi-lingual library management software is essential.
It can act as a guide to help your staff manage the work at any point in time.
#4: Dashboard & Reports
Admit it or not, as a librarian, calculating fines, due dates, records of books, and making all sorts of calculations - is a headache. You may need to present your work to management or higher authority from time-to-time.
An inbuilt AI-powered dashboard that generates 100% accurate reports and shows a summary of daily ins-and-outs of the library is, therefore, a must-have!
Make sure your ERP campus vendor configures the dashboard system & report provision to make complex tasks easier.
#5: Easy Data Migration Process
Well, data migration is a difficult process when an institution switches to a new digital platform.
However, it can't be neglected.
As a librarian, if you are new to the world of using library software, your old data may be hampered as you make the digital shift. Okay, I will explain it to you with a simple example-
What happens when you move to a new house?
You have to pack the household items, right?
Also, you need to make sure that the important things don't get damaged while making the shift. The same thing you need to consider as you make the shift from manual work processes to e-space. Therefore, make sure that your library management system is reliable enough to make the data migration process easy and secure and there's a risk of losing out on the data!
#6: RFID Configuration to Cater Daily Requirements
As a librarian, if you face hassles in keeping a tab on students who visit the library on a daily basis, you may configure an RFID-based library management system. RFID software auto-tracks the students' attendance by scanning the RFID receiver or RFID tag when students visit the library.
All you need is to provide RFID cards to students and place an RFID scanner device at the gate of your library.
In this, way you will be able to cater to your daily requirements without the headache of counting students.
Key Takeaways of Library Automation Software
Library automation software is the need of the hour.
It can act as a bridge between librarians & students in terms of maintaining book records efficiently. To ensure you choose the best library management software – keep all the mentioned requirements in mind -
Easy-to-use interface
Full cataloguing & acquisition options
OPAC & M-OPAC
Dashboard & reports
Multilingual support
RFID configuration
Easy data migration process
Need more information on library management software?
Let's connect and discuss in detail!