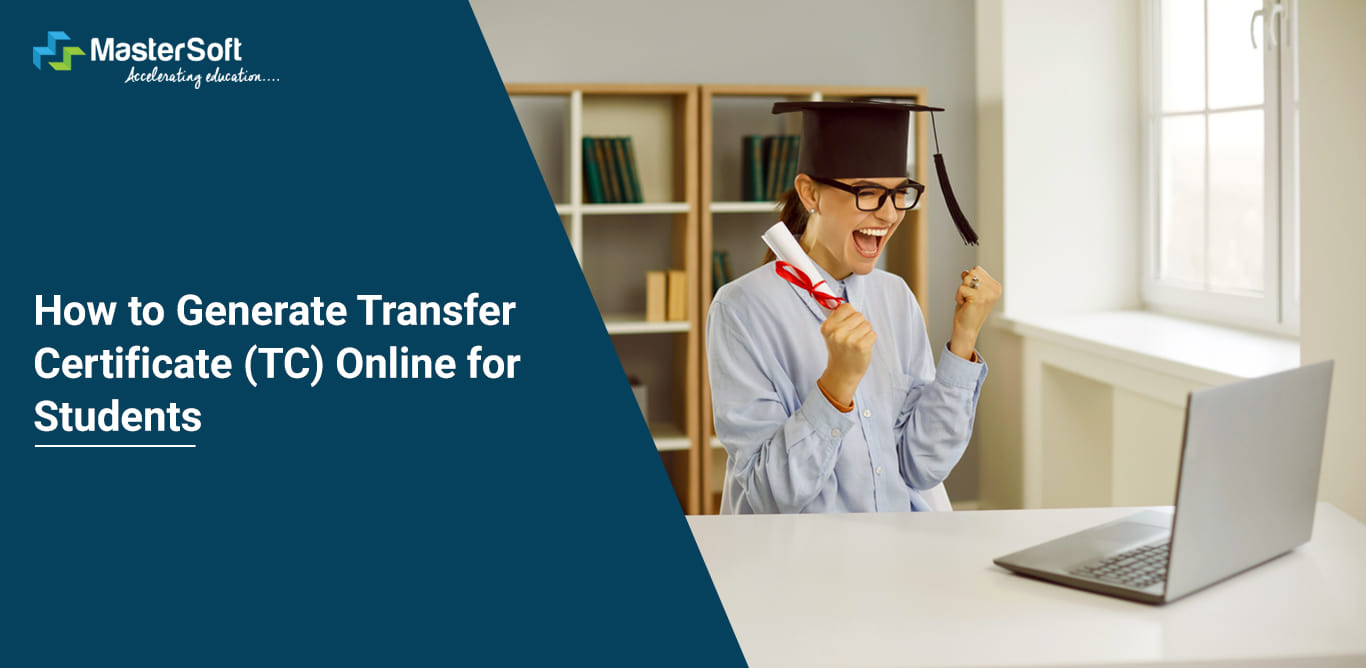 What is a Transfer Certificate?
A Transfer Certificate is a document issued to students upon request by schools and colleges following their departure from the university. It incorporates the student's details, such as his or her date of birth, when and which course the student considered in the institution, if the last class passed or failed, and other pertinent information about the pupil. In layman's terms, it's the link that permits students to transfer between institutions enabling a hassle-free admission process.
In short, a Transfer Certificate is a document that is issued by person in-charge of university or college to a student when he or she leaves the institute.
Online T.C. Certificate
Long has there been disagreement about the transfer certificate methods used by our schools, and it has frequently been a sore point of parents and children throughout the process of education, since moving from one school to the other is not a simple procedure. Even schools and administrators consider generating and maintaining transfer certificates to be a time-consuming process.
Students transfer schools for several different reasons, and one of the most significant certificates a student needs throughout his admission process is the transfer certificate. When a student applies for one, the current school simply generates the certificate. The responsibility of retrieving and keeping it falls on the parents and pupils.
The only thing the school has to keep track of is the student's leaving date and service charges. It is the student's or parent's responsibility to present the transfer certificate provided by the prior school while enrolling in a new school. Most of the time, this procedure is delayed due to non - availability, wrong forms, TCs that appear unprofessional, and so on.
Online Transfer Certificate Generator
When an institution gets digitized and begins to keep digital records of students in a school/college management system, it becomes a much quicker procedure for the school to issue and keep transfer certificates. It also makes it easy for students and parents to apply.
MasterSoft's School/College Management system integrated with the Online Transfer Certificate Generator makes it an easy process. The concept is simple, administrators wanted to shorten the time it took to issue TCs for students who were graduating or moving the school.
Administrators may now modify TCs to make the process easier and faster for students and parents. With MasterSoft's Online Transfer Certificate Generator, administrators get access to a diverse set of templates, designs, and formats.
Students do not enjoy spending much time waiting in queues to get their transfer certificates. Online T.C. Software helps to reduce time and eases the process of T.C. generation. Administrators can now modify TCs to make the process easier and faster for students and parents. With MasterSoft's Online Transfer Certificate Generator, administrators get access to a diverse set of templates, designs, and formats.
Schools and Administrators can now customize their Transfer Certificate templet multiple times. After saving this templet, the administrators can generate a student's T.C. in a matter of minutes. Online T.C. software greatly reduces the administrative workload and the extra time spent by the students and parents.
Another significant advantage for administrators is that the generated T.C.s can be stored and protected on a digital platform. So next time when a student comes asking for a duplicate T.C. just because they misplaced the original one, the admin can find it in a flash. Admin can simply search the student's profile in the Student Information System and generate the transfer certificate.
Online Transfer Certificate Application
Step 1 Log in to your MasterSoft Cloud ERP
Step 2 On your dashboard, click on the "student section"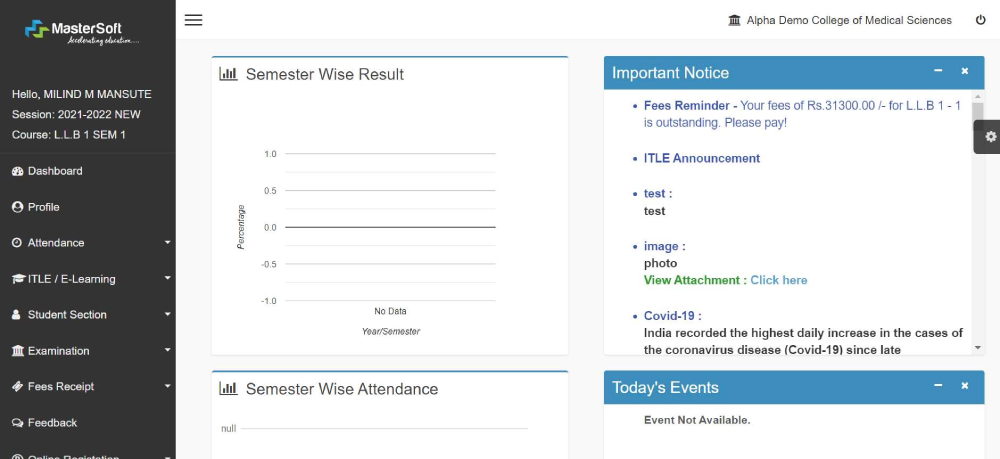 Step 3 In the student section, click on "apply for certificate"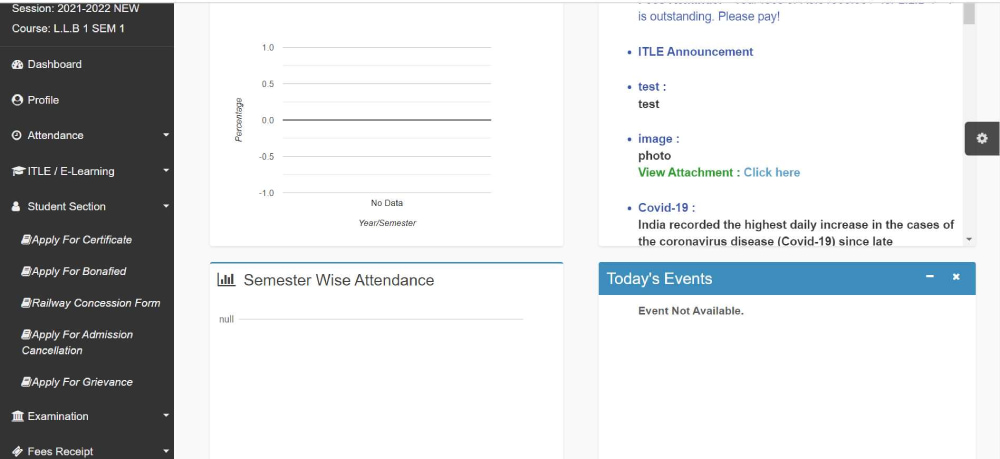 Step 4 Fill up all the necessary details. You can also see the list of certificates that you have applied for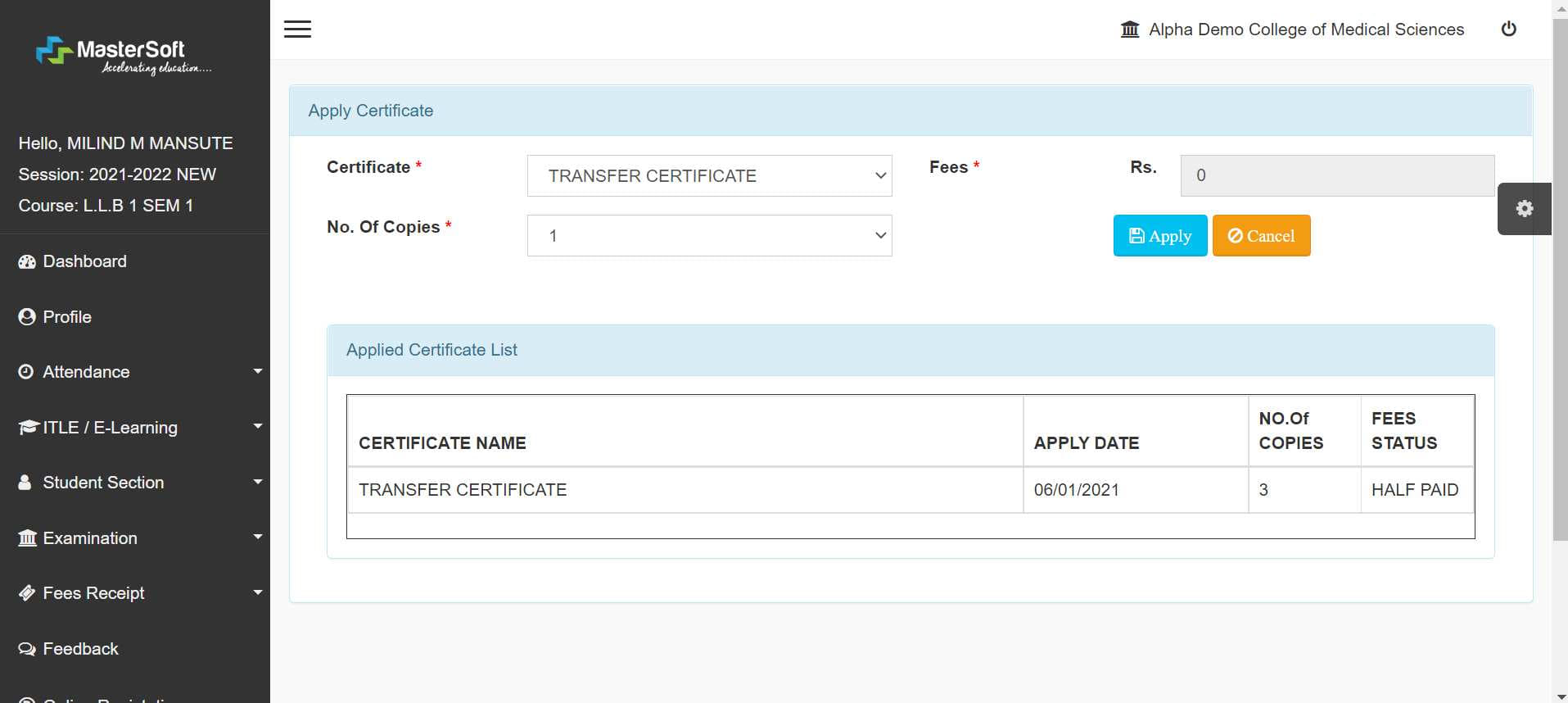 Step 5 Click on "Apply"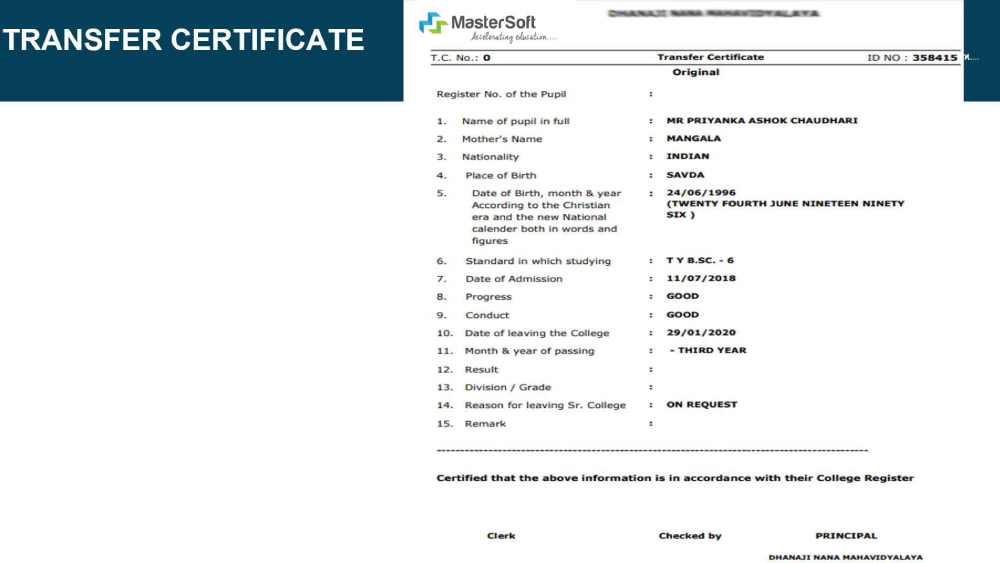 Once you apply for the transfer certificate generation, your digital application will be sent to the administration. After sanctioning the online transfer certificate application your T.C. will be generated.
How can MasterSoft's Online Transfer Certificate Generator Help?
MasterSoft's school/college management system is integrated with the online transfer certificate generator that uses the T.C. software for smooth processes. Admins get access to various templates and are free to design the transfer certificates.
Education ERP software has recently introduced one-click options for creating transfer certificates online. These tools allow schools and universities to quickly and easily produce valid certificates for students. Similarly, the cloud-based capability enables the archiving and storage of a duplicate of the generated for future reference.
MasterSoft's School/College Management System records manage monitor and analyze all the activities and processes related to students, teachers, and administration. It supports a multi-campus structure to enable Multi Academy Trust, Educational Societies to seamlessly manage all its schools located at multiple campuses across the world.