It's time for educational institutions to try to incorporate cloud, analytics, and mobility so that all students' information and activities are available at all times and from any location. The Student Information System has a solution for accelerating student success, whether the educational demands are supporting student enrollment, admissions, course registrations, learning resources, assignments, attendance, fees, or tracking learning progress.
Even though your institution might be using SIS System in some capacity, are you certain it's the best option for you? Well, don't worry because you have us! With the use of our specially created tools, we assist you in defining, analyzing, and measuring student achievement as well as in keeping them.
What Do We Provide?
Although the breadth and scope of SIS features vary, our education ERP typically covers the students' progression right from enrollment to retention and exam results.
The primary operational divisions of the institution, such as Admissions, Student Services, and the Registrar's Office, will be covered by our software including:
Admissions Procedure
Student Assistance
Department of Administration
Fee Management System
Admissions Procedure
It is crucial for your SIS System to assist you in achieving your goals given the increased pressure on enrollment levels, especially for small and mid-sized colleges that may be more dependent on tuition revenue than larger institutions. Your SIS system should assist you rather than adding to your workload.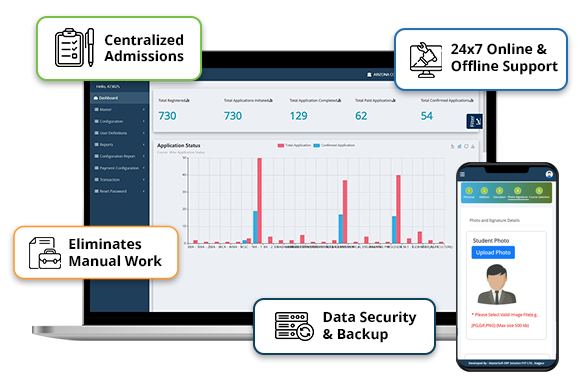 Our software helps you manage prospects and enables them to manage their development along the route, starting with the admissions funnel. For students, this entails asking questions and submitting applications online, cutting down on paperwork and team processing time. They may track the progress of their application and view missing requirements in real-time using a secure password-protected website, saving your admissions team from having to sift through a backlog of missing requirements letters.
Queries
You can have responsive, editable forms on your website that interested students can fill out without logging in. To make sure that the data in your system is accurate and clean, form submissions are subjected to an information validation and duplicate management check.
Applications
Students may submit their online applications through a secure site using a unique form or by uploading the standard application. To acquire a complete picture of a student, administrators can consult an applicant profile that pulls data from many sources, such as financial aid.
Enrollment
A thorough, organized database keeps students moving through the enrollment stage of the funnel, supporting your attempts to meet your expanding objectives.
Student Assistance
We assist your institution in creating a complete record of each student, which can contain financial holds, conduct records, and room assignments in addition to alternatives for online course registration. Based on changing authorization levels, a self-service interface enables essential stakeholders related to each student to view and amend that very information. Giving parents and kids convenient access at all times enhances communication and frees up your team to concentrate their time and effort on crucial duties.
Student Transcripts and Report Cards
Students may monitor their progress, and administrators can efficiently handle requests for official transcripts thanks to rapid access to updated academic performance records.
Records of Disciplinary Actions
To guarantee that problems are resolved and pupils are not falling through the cracks, notes regarding legal matters can be documented and can set off specific actions.
Forms and Waivers
By gathering and processing enrollment requirements online, with real-time feedback on missing materials, administrators can free themselves from needless paperwork.
Track past, present, and prospective housing and roommate assignments, make new ones s, and keep an eye on the number of residents in each hall.
Registration of Parked Cars
Having access to real-time data on allowed vehicles on campus increases public safety and eases the workload of facilities management.
Student/Parent portal
Through a secure, password-protected, FERPA-compliant web-based portal, parents and students can easily examine information whenever and wherever they are.
Department of Administration
An integrated SIS System is the perfect solution for this complicated administrative sector, which has several overlapping and interrelated components. Faculty can view rosters and schedules and communicate with their classes, while advisors can email their students and change permissions for self-registration. Students can easily view and select courses, and the registrar staff can cross-check for conflicts like holds, prerequisites, and full classes.
Academic Audits and Alerts
It is possible to add alerts based on specific criteria that will cause follow-up tasks to be completed to make sure that students are staying on course. Academic audits assist both students and their mentors in creating a strategy for completing all of the requirements.
Attendance Management
Faculty and administrators can monitor trends and identify at-risk kids early on by tracking attendance, performance, and participation via the attendance management system of SIS system.
Class Roster
By examining rosters, which include student profiles and images, faculty can more easily manage their courses. They can also email or text specific students or the entire class.
Course Registration
Students can choose their courses quickly and prevent registration conflicts by using an online portal.
Advising Portal For Faculty
When it comes to time management and retention, having a one-stop shop is quite beneficial for academics and advisors who serve several roles.
Grading
Teachers can enter grades into the system immediately.
Fee Management System
The financial hub of many higher education institutions is the general ledger, so having a fee management system that fits within that architecture is essential.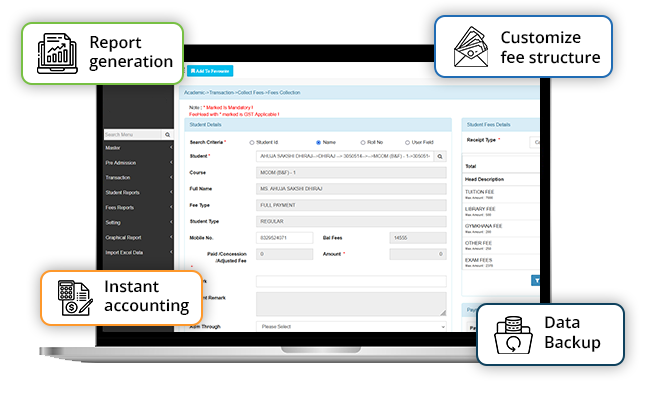 Accounts Payable/Receivable
Our system is reliable enough to handle the number of vendors and students you have while remaining adaptable enough to handle necessary exceptions.
Financial Assistance
Administrators can check pending and validated financial aid as well as payment data, while parents and students can view their award and cost projections in real-time.
Student Billing
Automated mailings and notifications simplify the administrative process for student billing. Online payment options are available for students to examine billing statements and financial holds (at once, in installments, or at a later date).