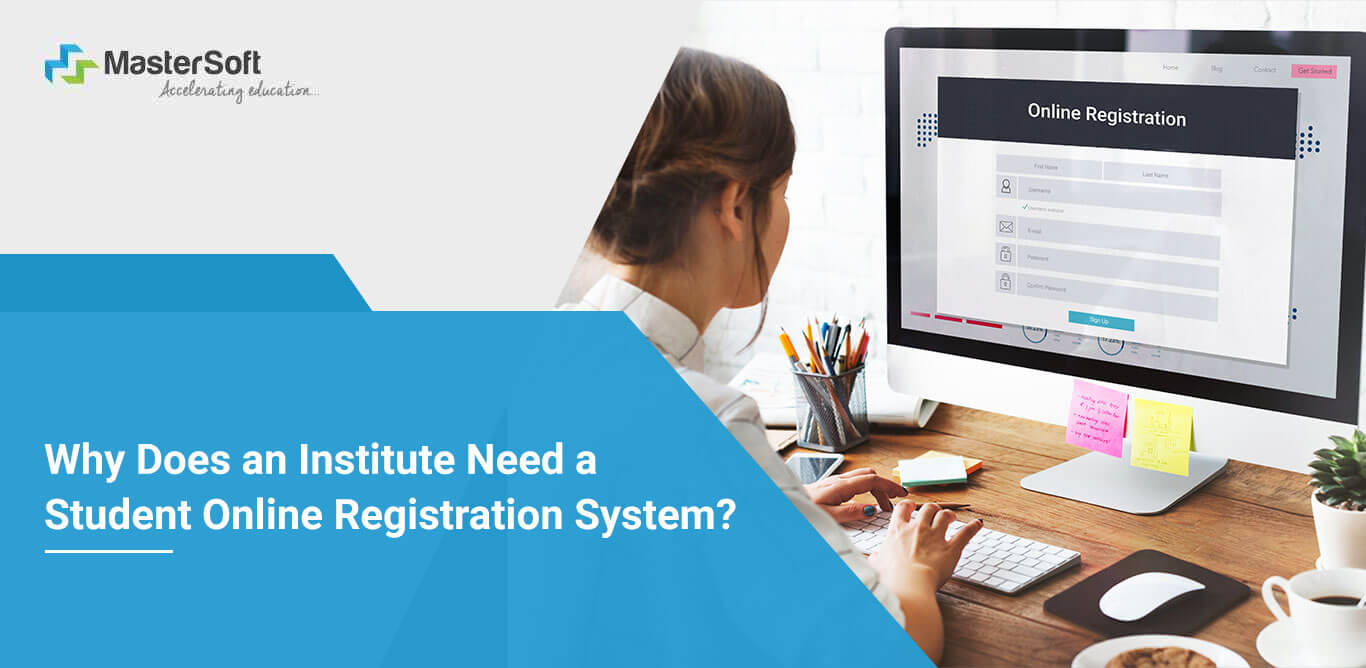 The admission process is one of the vital processes in an institute, which is the main source of revenue. Parents may be anxious to ensure that they have submitted all the required documents for registration at their desired school or college.
For institutes without an online registration system, this process can be time-consuming and extremely cumbersome. For instance, printing out bulk registration forms to be filled out, distributing them to students and parents, and getting the forms back in a timely manner requires more man-hours and takes up valuable time.
What is Registration Management?
The student registration process refers to the onboarding and enrolment of a student in a school, college, or university. It further involves dealing with admission inquiries; compiling data management, tracking an applicant's admission status, generating a merit list; communicating the results of the admission process, etc.
Registration management and online admission systems also include checking grades, corroborating results of entrance exams, and behavioral checks, among others. This process can be highly cumbersome if done manually.
Why Does Your Institute Need a Student Online Registration System?
Does your staff dread the admission process every year with frustrating long queues, misplaced cash, manual data entry, and frustrated students and parents attempting to fill out the forms?
Did you ever wish that your registration process could be any easier and more convenient for the staff and parents?
Do you face human error while manually entering student information?
Do you feel burdened by answering every inquiry and query from students and parents?
Have trouble catering to students who live very far from the institutes?
The manual admission process is highly susceptible to data corruption and can result in errors. There is also a danger of data integrity being compromised. Also, manual data entry requires additional time from the staff to verify the accuracy of the data entered to prevent any errors.
With the increasing adoption of technology across different sectors, the education sector has also digitized most of its day-to-day operations. Schools and colleges have started using smart solutions for the management of their campuses.
A student online registration system manages student management, school admission, college admission, and university admission processes. By switching to an online registration system, the parents can submit the forms digitally via the portal or a mobile app, further making it more efficient for the administrative staff.
How is the Online Registration System Different?
Multiple Languages:
The registration form information is available in different languages, thus making it easier for the parents to fill out for those who don't have English as their first language. The institute doesn't have to worry about keeping multiple-language forms or translators.
Different Uses for Both Payments and Forms:
Online registration for schools and colleges can be used for various purposes, such as student registration, making payments, accessing student enrollment forms, accessing school records, and updating necessary information.
Generate Configurable Forms and Reports:
The institute can generate online standard forms or can create customized forms and reports. Both kinds of forms can be filled with emergency and student personal information, which makes it easier and quicker for students and parents to fill out.
Up-to-Date Information:
Students and parents can easily update information with the school staff having access to the updates. They can also have updated student records regarding their admission status, course subjects, due payments, etc.
Benefits of an Online Registration System:
Saves Time & Money:
Paper-based registration costs money in paper, printing ink, and additional resources in distributing, collecting, and compiling them. Online registration can effectively reduce this cost by digitizing the entire process. The institute can also save hundreds of hours of time spent by the administrative staff on entering and updating bulk records, as well as save the time of parents and students in manually filling out the forms.
Digital Automation:
With a rising trend of technology, the growing need to adapt to advanced levels has been significantly increasing, and hence, schools are thriving more towards automated online registration systems. All the required fundamental functionalities of the student enrollment process are digitized, and the staff can track the entire process and check the status of each student via smart dashboards.
Convenient for Students & Parents:
With an online registration system, students and parents don't have to wait in long lines to fill out redundant forms. Additional information can be quickly updated just by logging in to the portal. Also, payment for tuition fees, school supplies, uniforms, and other school-related expenses can be done online via the online platform.
High Financial Security:
As there is no need to stand in lines to pay the fees via cash or DD, the institute doesn't have to handle cash and deposit it in the bank on a daily basis. With an advanced payment gateway feature in the online admission system software, students and parents can make online payments via debit card, credit card, netbanking, etc. where the fee is automatically deposited in the bank.
Centralized Database:
The student information is filled in and stored in a centralized location with a smooth integrating and updating capability, where the data can be modified and retrieved within a few clicks. The database is integrated with different software such as online payment software, online attendance system, student information system, etc., thus preventing repetitive data filling procedures.
Error-Free Functionalities:
The conventional method of registration creates errors on various occasions, and the institute needs a lot of resources and time to go through the data. The online admission system ensures the entire process is 100% accurate as everything is automated and students can modify the information if there is any error, thus saving significant time for the staff.
Better Analytics:
A modern and advanced student admission system provides a platform for analyzing regular activities and maintaining a detailed note of all the activities taking place during enrollment. The institute can generate MIS reports to check the fee status: total fee collected, outstanding fee reports, course fee collection, etc. In addition, they can get a detailed report on students enrolled in specific courses and programs.
Better Geographical Reach
With a traditional admission system, students who stay far from the institute have to come all the way to the campus to fill out the forms. With online software, the institute can reach candidates from various locations to enrol in the courses without any hassle.
Real-Time Notifications
The staff can have a hard time analyzing the total number of admissions in various courses with a traditional admission process. With an online registration system, they can avail real-time updates regarding daily enrollments with additional details regarding their fees. This provides more clarity for the staff, so it is convenient to go with an online software.
Eco-Friendly Registrations
The online admission system is a paperless approach, as every detail is filled out in a digital form, thus making it eco-friendly in nature.
Thus, an Online Registration System supports the administration staff and simplifies the overall school and college admission process by enabling candidates to quicken the student enrollment process. With hundreds of ERP vendors outside, MasterSoft can help you with a centralized and configurable online admission system, which can significantly reduce the burden of the staff and ensure the highest level of productivity and accuracy.