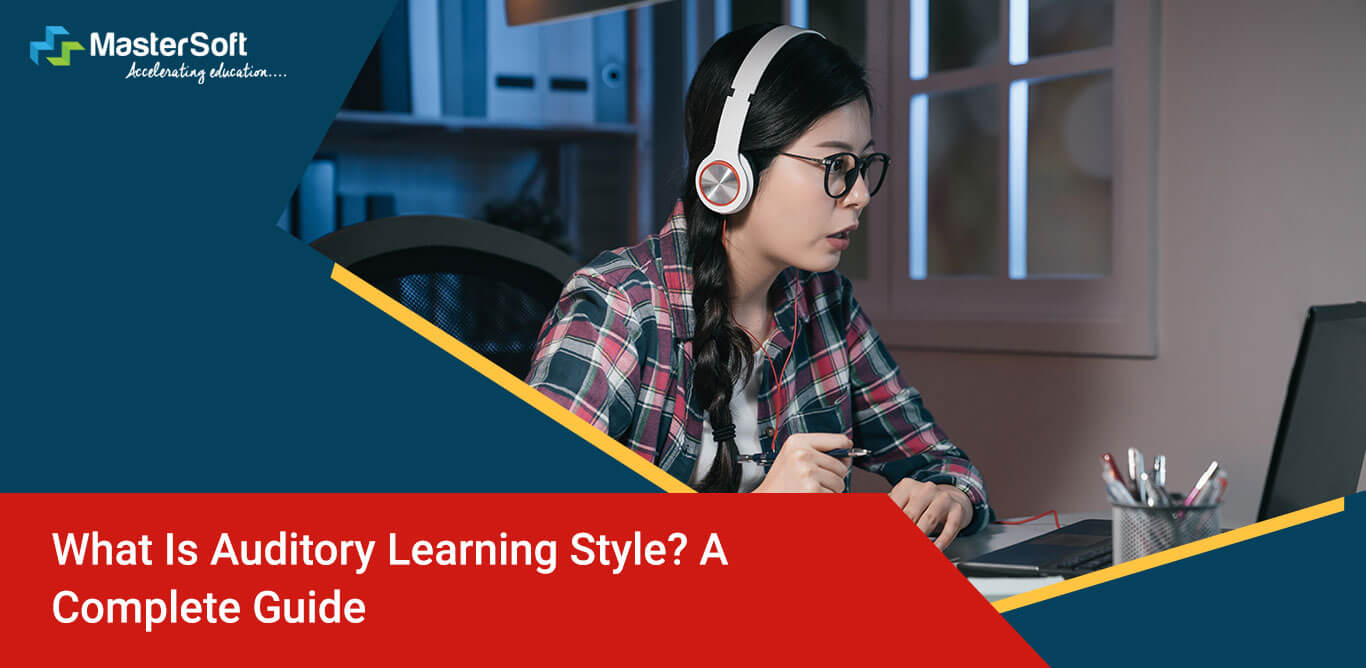 Do you remember the first time you learned subtraction, addition, or multiplication? If yes, you must recall how you finally grasped the concept. It is noteworthy that although teachers may use the same approach for the students in the class, Everyone may not understand everything at the same time. And the main reasons behind that lie in the different learning capabilities and knowledge retention.
No wonder some students reply faster to a complex question while others might take time to analyze and gather their thoughts. So, it is not very far-fetching to assume that if students have diverse learning styles, the faculty must adopt different teaching practices, including auditory learning activities.
Speaking of activities, teachers are well aware of the short attention span of students; hence, they include various teaching activities. However, institutes must utilize visual, kinesthetic, and auditory attributes to teaching as they connect well with different kinds of learning. Because you never know which strategy would fit well with students; however, if you are uncertain, it is ideal for identifying the learning gaps and needs respectively.
What is Auditory Learning?
A distinctive learning style wherein students learn by listening is called auditory learning; instead of reading or writing the study materials, they listen to lectures or pay attention to instructions. Moreover, it is different from other styles of learning, like kinesthetic, wherein students take an active role in academic tasks, including art and crafts, role-playing, and on-site visits or field trips.
In contrast, teachers can combine dynamic activities with auditory teaching techniques and narrate or elaborate on a concept. And in turn, students would listen to them and make a mental note of the information. But people have raised questions about this approach and its application in academic progress.
However, you must understand that there is no hard and fast rule about choosing a singular learning style that all learners must follow. Some may find it easy to retain information through textual and visual modes, while others excel through auditory learning material. On the other hand, teachers can use the latter to enhance the overall classroom environment.
Strategies of Auditory Learning

1. Use Podcasts
The educational system has evolved over time, and institutes or teachers don't need to limit themselves to traditional instructional methods. As a matter of fact, they can combine traditional practices with modern ones; for instance, podcasts are one of the best auditory learning examples. Also, it gives students a convenient option to listen to engaging conversations about many topics.
Likewise, if you are a teacher, you can use various applications or software to create an opportunity for students to make podcasts. Also, when they actively engage in research and get an opportunity to voice their opinions during podcast sessions.
2. Recorded Lectures
Recorded lectures are a common part of e-learning study modules, but teachers do not use them in traditional classrooms. Meanwhile, it is noteworthy that recorded lectures do not substitute a teacher or their instruction; in-person or online classes are of paramount importance. But imagine the struggle a student must endure when they miss a class due to ill health or other unavoidable circumstances.
Recorded lectures could be a huge source of relief for students who failed to attend the classes; they can listen to the recorded sessions and maintain the rest of the class's pace.
3. Question and Answer Sessions
Teachers conducting an impromptu question and answer session is an excellent way to determine the current knowledge level. However, you may note that such verbal sessions are excellent for triggering students' memory and helping them to remember crucial information. Also, it enables them to clarify any misunderstandings in real time.
4. In-Class Activities
If auditory learning relies completely on students learning by listening, what is the use of activities? You can implement auditory learning in the classroom by conducting various in-class activities, including group discussions and power-point presentations. Consequently, it will allow students to take part in fruitful conversations with their classmates and teachers. Also, apart from getting the chance to speak, they would learn different perspectives, which is one of the vital auditory learning characteristics.
5. Collaborative Projects
One can argue that class projects and assignments are purely kinesthetic learning styles or instructional methods. But it is evident that endeavors requiring team building depend entirely on communication; if team members fail to interact, they don't succeed at accomplishing a common goal.
For example, students would divide the responsibilities if you assign a collaborative project, like finding solutions to a real-world problem. Furthermore, all team members will need to do their respective research and communicate with each other. Finally, all the students would learn collectively when the assigned teams presented their projects in front of the class.
6. Utilize Learning Platforms
Why should teachers use learning platforms when they are already present to deliver efficiently? This is a common question that you probably get to hear along with questioning the authenticity of learning platforms. However, you might be aware of educational technology's importance in today's scenario.
Most institutes have shifted to hybrid learning which entails the strategic amalgamation of technology-enabled instruction. Hence, nowadays, teachers use various applications that aid them in providing an enriching learning experience. Hence, they use particular platforms with audio and videos of specific topics, which helps students learn remotely without compromising on quality.
7. Essential Tips for Teachers
How to determine a student's progress? What are the main reasons for their poor performance? Should we blame their learning habits? What are their learning habits? These are some primary questions(factors) that faculty should consider before implementing any specific pedagogy.
After that, they will get a clear picture of a student's learning styles and take the next step towards helping them with an appropriate technique. And if they find out that they respond well to auditory mediums or platforms, they can integrate auditory learning strategies.
Furthermore, they can conduct certain online test questions, including timed questionnaires and video and audio-based tests which will help them identify their learning styles.
Is Auditory Learning Beneficial?
You must be aware that rote memorization is a common practice among many students; however, it is necessarily not the only approach followed by all. Moreover, students follow suitable techniques to retain information for an extended period of time. Therefore, it would be accurate to conclude that the auditory learning method is an appropriate one and its benefits are as follows:
Using auditory mediums to gain information leads to improved listening skills because students need to listen carefully to register their thoughts.
It increases memory retention because it requires you to absorb information instantly.
If teachers integrate teaching styles with the help of the auditory learning guide, it will help to enhance communication skills. Besides, it includes many in-class activities in which students can participate, allowing them to interact.
Consequently, they will excel at comprehending and brainstorming ideas and solutions when they participate in various projects and listen to podcasts.
Furthermore, it will allow them to engage in productive conversations, look at diverse opinions, and learn from them. At the same time, they will get the chance to share their thoughts.
In Conclusion
The practice of including unique techniques like adaptive learning helps teachers to improve students' overall performance. Moreover, when they identify their strengths and weaknesses, it helps to introduce appropriate learning styles like auditory learning.