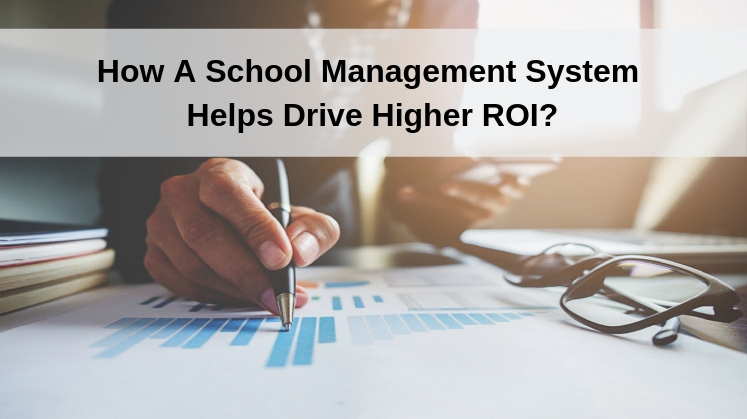 Needless to say a school management system drives progress and helps in achieving institutional goals. But did you know that it also helps drive higher ROI?
There are many ways in which a k12 management system has a positive impact on ROI which are in the form of savings in direct or indirect expenses.
Here is how you can deploy an ERP to help increase your savings and thereby enable higher ROI -
Seamless Communication
Communication is a vital process and activity going on in any organization. Without communication nothing can take place efficiently. The communication process of any school must not only be quick and efficient but also seamless. Any person must be able to communicate and share information with another person with ease.
Mastersoft ERP facilitates easy information sharing by regularly updating all the data with the help of integrated systems. It provides a platform where all the systems and data can be interconnected online with the help of integrated systems. Anyone having the rights can access all kinds of accurate data at any point from anywhere across the campus. This reduces the expenses related to all types of external and interdepartmental communications.
To inform the parents of a 1000 students about monthly parent-teacher meet, a school would need to spend nearly one and a half lac rupees annually which includes the expense of printing and distributing the letters as well as the man hours included in the whole process. With SMS, Email or App notifications integrated with a school management software, the same task hardly requires an expense of 500 rupees or even less.
Setting Budgets Department-wise
A penny saved is a penny earned. Start saving more with the help of smart tools, inbuilt in the ERP, which enable you to allot budgets department-wise. You can generate an income and expenditure statement and trial balance sheet with the accounting module. With insights from these reports, you can decide upon budgets for each department or administrative head.
Moreover, with modular school management system software, you can set limits of particular amounts to specific departments, above which they cannot spend. Automatically triggered SMS or Email notifications can be sent to the authorities if the set limit is exceeded. This way you can closely monitor your expenses and increase savings thereby.
Improved Processes
Various departments, work separately, in any school, and data needs to be shared on a daily basis across all the departments. Handling and managing such large volumes of data requires robust information dissemination channels. These channels can be created using integrated school ERP systems which in turn enhance productivity and efficiency throughout.
The integrated modules reduce data redundancy, repetitive tasks and have a positive impact on the daily school life. Moreover, the human errors are effectively eliminated with automated systems which in turn increase the accuracy and speed of the processes. All these factors surely play a huge role in driving higher ROI.
Cost Of Printing And Paper
As a school, you know how much goes into printing and paper each year. Right from admission forms, formal communications, and letters to parents to paper reports, huge volumes of paper is consumed each year. And the cost of purchasing, printing and managing such large volumes of paper is monumental.
By digitalizing your campus and scholastic activities, much of this cost can be saved. For example, auto generated notifications to parents regarding student attendance, exam results, events and schedules or even homework and assignments can save a lot of paper and printing expenses. Similarly, alerts and notifications to faculty regarding important events and tasks can further help save paper.
Consider a school of 1400 students. The expenses incurred in printing the ID card for 1400 students will be around Rs. 85,000, if outsourced. On the other hand, with an ERP, you can configure the ID card or choose from a set of available templates and generate the ID cards in bulk. The cost incurred will only be around Rs. 5000. Hence you save around 94% of the expenses. This is just a single example, many more expenses can be reduced or saved completely with digitalization.
Cost Of Manpower
More paperwork translates to more manpower required to carry out and handle operations on paper. The cost of hiring extra staff can easily be saved by taking your processes online. Automation means less paperwork which directly reduces manpower cost. Automate your processes such as library management, hostel management, alumni management, faculty management, admission management with ERP and save related expenses.
Most of the operations can be done in bulk, to decrease the processing time and ultimately reducing man-hours. For instance, activities such as generating certificates, processing student enrollment and admission applications can all be done in bulk. This saves a lot of time and considerable man hours, thereby enabling quicker operations with lesser staff.
For more details, you can schedule a free demo Today!!