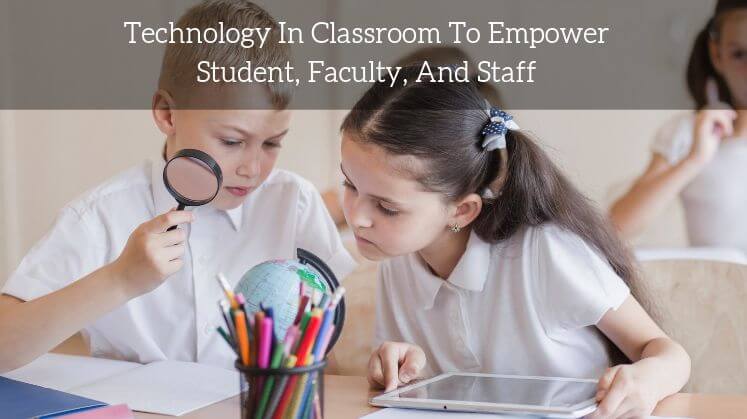 'Teacher enters the classroom, asks kids to open their textbooks, continues with the curriculum, gives an assignment, takes attendance, and leaves the class.'
Long gone are the days where such routine contributed to a typical day in a teacher-student life! Nowadays, not just the teacher but also the students need to perform a lot of activities. For instance, a student needs to manage extra-curricular activities along with academics to escalate personality development, and likewise, teaching curriculum doesn't suffice, teachers need to collaborate and communicate more with students to understand their weaknesses and strengths in order to contribute towards their overall progress.
BUT, one can't change the fact that a day consists of 24 hours! And teachers and students have to spend limited time in a school which makes it difficult to indulge in so many activities. Do you know, on an average a teacher spends nearly 50 % of their time in taking attendance and providing assignments to students! In such a scenario, the only thing that can be a savior is – Education Technology!
We all know how technology has transformed our lives, right? Similar results can be obtained in the education sector as well. Technology in classroom can literally save a lot of time which the teachers, faculty, and staff can utilize for sharpening the skills of their students. When a teacher gets enough time to understand the problematic areas, they can try experimenting with their teaching methodology which undoubtedly will ignite a sense of trust in students and improve their grades. The most reliable technology that can help educators accomplish these goals is Education ERP.
Here's how ERP in Classroom can empower students, faculty, and staff and lead to a better future…
Automated Attendance and Allotment of Assignment
As we mentioned earlier, nearly half of the time in a lecture gets waste on taking attendance and allotting assignments to students. This drawback can be easily eradicated by implementing an effective education ERP or student management system in educational institutes. With an Automated Attendance System, students' attendance can be taken within a few minutes. Furthermore, students can log in to the system with their personal IDs and get instant access to assignments. Such practice can fuel the growth of the entire system by minimizing the wastage of valuable time of classroom.
Dashboard Reports for Performance Analysis
Campus Management Software integrated with analytics dashboards can multiply the chances of academic improvement of students as it is capable of generating detailed reports about the performance of students as well as teachers. Teachers can scrutinize the pain points of students by evaluating the reports thoroughly. It will help them to enhance their expertise and teaching approach as well as help them understand exactly what the students want.
Better Collaboration and Students- Teachers Communication
As teachers can access the performance reports of students, they can arrange a one-to-one discussion with students who score poorly in academics and help them out with new ways of grasping the concepts. They can further provide them study materials to make a difference in their academics.
In addition to these benefits, the student information system allows teachers to identify students who are excelling in various areas along with studies. Educators can appreciate their hard work and efforts by providing scholarships. They can also grant incentives to teachers by tracking their performance. It will boost their confidence, amplify the reputation of the institutes, and help them accomplish their goals.
Have any queries or want to explore more about the Student Data Management Software?