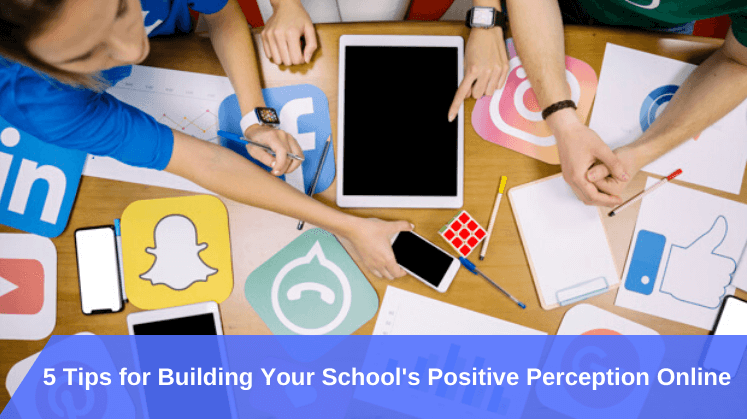 Having a social media account for your educational institution might just help you hit a jackpot in terms of teachers-students engagement, passing on mission & values, collaborating with new prospects, and of course, sharing career-related information & knowledge to help students. What seems to be just a post for many might be the biggest boon for a student striving to achieve something. However, maintaining a social media profile isn't as hunky-dory as it sounds. There's a flipside to it which might backfire all your plans & just ruin the reputation of your institution.
What will you do when your school's social media handle receives negative comments? Will you ignore it? What if you daily start receiving hate comments from a user without any reason? Maybe the comments are being intentionally planted to bring down your school's reputation.
"Our institution has a social media account. We don't want to waste money on further services!"
If this is your attitude towards social media services, then you need to think once again.
"Why?"
I'll answer your - "why," but read out the following case first.
"This school's management & staff is just ridiculous! I am never sending my child to this school again! " – Wrote a user on the Facebook Page of a reputed institution.
I know it sounds wicked, but there are so many people using the liberty of "power of speech" to write anything! This is why just being online is not enough; you need to maintain your social media account to build & maintain a positive image of your brand.
Here are my top 5 tips for building a positive perception of your institution online…
Tip #1: Help Your Staff Recognize the Importance of Being Active on Social Media
Creating an ID on a social media platform shouldn't come forcefully. Your staff must enjoy and embrace this new tool in the digital world! Usually, when educators ask their staff members & faculty to learn about various social media platforms, they create Ids, put some pictures, and that's it. Months and months pass by, but no further activity is detected. In such cases, you can't blame digitization for being useless! Before anything else, you must sit with your staff and help them understand why being on social media can be the next big thing for the institution.
From lead generation to conversion to building healthy relationships with stakeholders, you must help them recognize the potential these channels carry. To clear their doubts, you can invite a social media expert from a recognized company that provides digital marketing services for schools. Once your staff gets comfortable with the concept, they'll assuredly take an interest in learning new things.
Tip #2: Teach the Tactics of Digital World to Your Staff
Merely posting pictures on leading platforms such as Twitter, LinkedIn, Facebook, and Instagram won't do! Every picture has a story to tell, and you must put the story in front of the world smoothly. You must not post the picture as it is, without letting your audience know what it is about. They won't entertain the guessing game! They'll unfollow you straightaway! That's how harsh the competition is!
It doesn't mean you have to write a long caption for every picture that you post. However, as a social media marketing manager of your institution, you need to learn what works for a particular platform. For instance, if we consider Facebook, ideally, 5 to 7 hashtags are good to go for a given post. Whereas, if you contemplate Instagram, the hashtag limit is up to 30! Plus, the language that trends on Instagram is different as compared to other channels. So, you need to learn the tactics and continuously evolve according to the trend.
Tip #3: Engage Your Visitors by Being Hyper-Active & Answering Queries
"I want to sign a contract with your institution. Could you please help me with your contact number?"
Leaving the queries of visitors unanswered might turn down golden opportunities for your institution. Forget about opportunities such behavior will also leave a pathetic impression on the mind of your visitor. The rule is - less engagement is directly proportional to fewer visitors. You must try to engage your audience by keeping a good interaction.
Remember that - no one wants to get associated with a lame brand. So, our tip for you is to stay hyper-active on social media & answer every single query of the visitors. Even if you feel the inquiry is not worth it, you must not ignore it and try to revert politely.
Tip #4: Handle Negativity by Adhering to Professionalism
One can't remove negativity from social media platforms. Criticism & negative comments are bound to come in the digital zone because everyone is free to express their opinion. As a quote by Dita Von Teese says -
"You can be the ripest, juiciest peach in the world, and there's still going to be somebody who hates peaches."
However, the trick is to take it with a pinch of salt & handle it with positivity and professionalism! No matter what the users say about your brand, you must learn to listen to their feedback. If you feel that the user is intentionally doing wrong stuff then, you can warn them or directly block their account. But, I repeat, the first step should be listening. Sometimes, people might have got a misunderstanding that can be sorted by simple interaction. Therefore, try to communicate before making your final move.
Tip #5: Encourage Your Children in a Unique Way
Obviously, social media platforms are all about posting e-content like images, videos, GIFs, etc. But to create a positive perception of your institution, you must carefully filter out the content that you're going to post. Your content must be free from the judgmental aspect, biased opinions, or anything that spreads hatred. You've got an amazing space in the digital world, and you must utilize it to show your positive side to the world. The best thing that you can do with it is – encourage your children. You can share their projects, announce the best students with good grades, attendance, and so on. Harnessing social media platforms for motivating children can boost their learning experience in a way no one can imagine!
To Sum Up
New-age people love consuming content from social media. Be it, children, parents, or any random individual, everyone spends hours and hours surfing their social media accounts. So, there couldn't be a better opportunity for you to fit in the heart of your clients! You simply need to research a little and plan out strategies that would work. When used wisely, social media platforms can become the biggest asset for creating a positive perception of your institution.