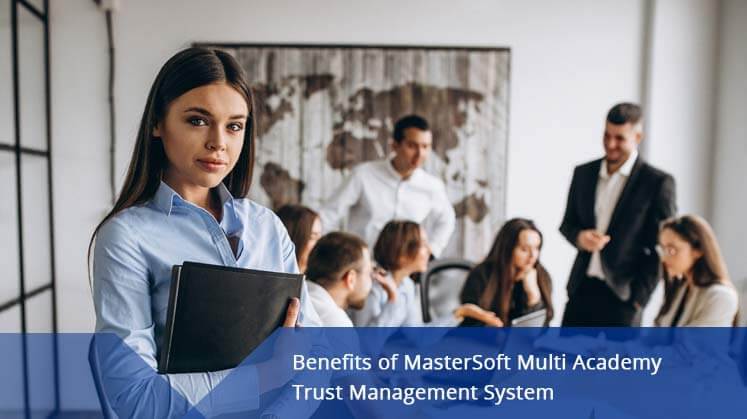 "MasterSoft ERP Solutions help you formulate concrete decisions," says Mr. Sham Somani, MasterSoft MD & Founder
1, 2, 20, 200, 2000 + still counting, and many more milestones to cross! The innovatory mindset of our team has been the most influential "element of success" in the journey of empowering educationalists. Working with all sorts of educational campuses for the last 22 years, we have come across several clients handling Multiple Academy Trusts. To be honest, the role of admin or the higher authorities in such institutions and universities is very different and challenging. In a multi-academy setup, the higher management team needs to monitor and manage the whys and wherefores of all the faculty, assistant staff members, and students in various organizations simultaneously. That's not to say that they aren't capable of managing the staff, but when the range of employees goes 500 from 50, things really become toilsome.
For coming to grips with their day-to-day struggle, MasterSoft team has designed & developed a comprehensive Trust Management Solution. Embedded with avant-garde technology, 100% secured data management tools, the MasterSoft Trust Management ERP System supports Trusts of all sizes and shapes, and makes it easier, simpler, and clearer for the higher management authorities to run the Multi Academy Trust. Capable of tracking even the smallest piece of information, it keeps all the institutions in sync with each other and being touted as a "one-stop solution" by leading names in the education industry.
Rather than relying on a traditional setup, we insist you go through the list of benefits that you can deliberately garner by adopting the software for Trust Management.
Collate Institutional Data from a Single Platform
Considered to be a strategic asset of institutions, appropriate management of data is now more imperative than ever! It works as a valuable resource and helps institutions improve their work processes. With the help of entire institutional data, educators can identify the Key Performance Indicators (KPIs) and drive growth seamlessly. Data is, without a doubt, the king of the digitalized era! Howbeit, when we speak of Multi Academy Trusts, the scenario seems dicey. A lot of data needs to be collected and compiled in a systematic manner, which is, practically a hard nut to crack. MasterSoft Trust Management Software is ideal for such cases. It collects, compiles, and stores the data at a centralized location and enables the management team to access it with ease. It serves them with consistent access to all the required resources such as faculty information, departmental information, data regarding students, and a lot more.
360-Degree Data Security
There's apparently a big issue which is giving sleepless nights to educationalists of Multi Academy Trusts, and that is - Data Safety! Data theft, data breach, and data mishandling have become the major stumbling blocks for the last few years. Cyber-criminals are purposely hacking the personal data of students for heinous criminal acts. One of the key pieces of MasterSoft Trust Management Software is its data security.
MasterSoft Trust Management Solution is a staunch & secured system inbuilt with the latest technology to cope with these growing threats. It has the provision of role-based access that gives admin, the authority to limit the data access. Alongside this, it has an OTP password and encryption facility that ensures complete data security.
Insights on Core Institutional Activities
Being a powerful and intuitive tool for Trusts, MasterSoft ERP System provides educators 24*7 visibility & complete control over entire data. To help educators make smart decisions and attain high-priority goals, the system is further integrated with the analytics dashboard. Well, the first impression of the term "Analytics Dashboard" is usually bemusing. To simplify it for you, let's quote an example. Let's say results are declared and 10 students out of 100 have managed to pass the exam. In such an instance, educators can't directly blame the children for poor performance. There's surely a reason why only 10 students got passing grades, right? With the analytics dashboard, educators can generate & analyze accurate reports to drill down into the students' data and figure out a concise reason. The nub is, with the education ERP software, educationalists get the liberty to evaluate any given department of any of the institutions. This insightful reporting procedure certainly gives green light to better & thoughtful decisions.
To Sum Up
Multi Academy Trusts can seem to be minefields to higher management authorities. MasterSoft Trust Management ERP Software can serve the best to educators and higher management authorities seeking greater involvement in academics ongoings, instant reports, and of course data security. It ensures that educators get access to accurate information and reports presented in simple formats so that they can easily digest it and commence the required actions for institutional growth.
To discover how implementing MasterSoft Trust Management can prove to be a rewarding experience for your Multi Academy Trusts, get in touch with us!